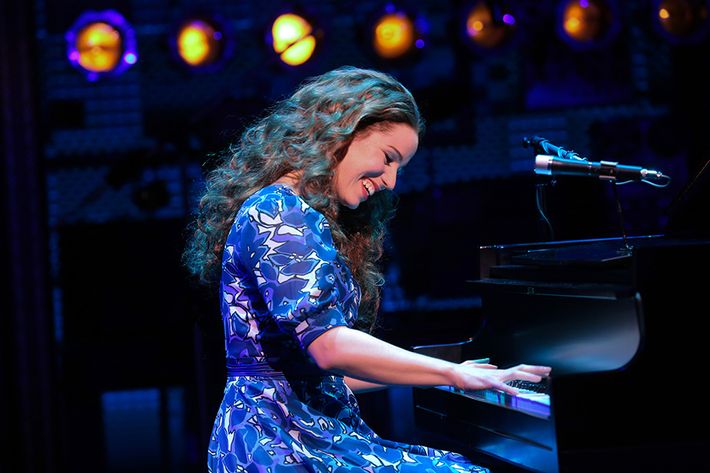 Mother's Day gift guides (and brunches) are a dime a dozen. Here, one of our writers shares why going to see Beautiful with her mom was the best gift she's given her yet.
There aren't a ton of activities my mom, MaryAnne, and I enjoy doing together. The slow pace of my methodical shopping style exhausts her. She's notoriously unadventurous when it comes to eating out (earning her the nickname "vanilla Mare" in our family). And so on. So it was a welcome surprise when I mentioned my friend's enthusiastic review of Beautiful, the musical based on the life and music of Carole King, and she responded that she'd seen it a while back and was eager to go again. In early observance of Mother's Day, we made plans to see it on a Tuesday night.
As we settled into our seats, I was a little surprised at how many men filled seats around us. Frankly, a production focused on the life and career of a prominent woman in music seemed likely to draw a more female-skewed room than some others. Then, two scenes in, a middle-aged man behind me began audibly singing along to the ubiquitous radio hits, persisting joyfully for the remainder of the 2.5-hour run-time. Normally this would have annoyed me, but I was happily engrossed by the music myself.
As the friend who'd recommended the show had assured me, I immediately heard songs I recognized — from "So Far Away" to "It's Too Late" and "I Feel the Earth Move" — but hadn't known were King's. (I knew virtually nothing about the Grammy-winning artist going in.) Many of the older classics featured were familiar, too, and I was even more interested to learn that King and her eventual (then ex-) husband had co-written them for a diverse number of chart-topping acts. Their songs spanned from The Shirelles' "Will You Love Me Tomorrow," Little Eva's "The Locomotion," and The Chiffon's "One Fine Day" in the early '60s to James Taylor's "You've Got A Friend" in 1971. The first act is like watching several shows at once. There's King's personal story, starting as a teenager in the late '50s (and later culminating with her turn as a solo artist in the '70s). But you're simultaneously following the recording industry evolve with early acts like The Drifters through to The Monkees and eventually King herself.
While a staggering amount of music is packed in, each performance is distinct — robust with sparkling, era-hearkening costumes, exuberantly lit sets, and extremely entertaining period choreography. And while the lead talent is outstanding, the show's catalog-review aspect allows many cast members to shine. The nonstop action was so well done that I was actually surprised when intermission arrived. At this time, my mother added some firsthand color to the music history I was just learning about. Having grown up around the same time as King, she noted that she herself had been a fan of The Righteous Brothers and The Supremes. And she, too, had been in awe at finding out so many years later that King and her partner had been behind so many hits of the day. This is a woman who finds my ability to navigate the subway and Instagram impressive, so it was refreshing to be educated by her lived expertise in this case.
Aside from the immersive, pop-music flashbacks, the subject matter was frequently poignant, funny, or both. And for family members separated by a significant age gap, the intergenerational themes — love (particularly marriage and fidelity), work, resilience, and self-actualization — provided common ground. Most resonant to me was the saga's overall raison d'être of a strong woman reclaiming her independent spirit. (I teared up during the second act's emotional, chest-reverberating rendition of "Natural Woman.") It felt meaningful to share the experience with my mom, who came of age in a very different time for women and who's been an instrumental force in my own self-development. Though, it occurred to me at the final bow that my brother would have liked the whole thing, too.
Besides the fact that she said as much, it was obvious that my mom enjoyed our evening out as much as I did. For once, both our phones had been turned off, and we were both fully in the moment. It's testament to the logic that experiences make preferable gifts to material things — especially when your mom isn't into fancy scented candles, or even cashmere. This is a good thing, as I would've inevitably spent hours shopping for either.
Watch what other audience members said after seeing Beautiful below.
This is paid content produced for an advertiser by New York Brand Studio. The editorial staff of The Cut did not play a role in its creation.