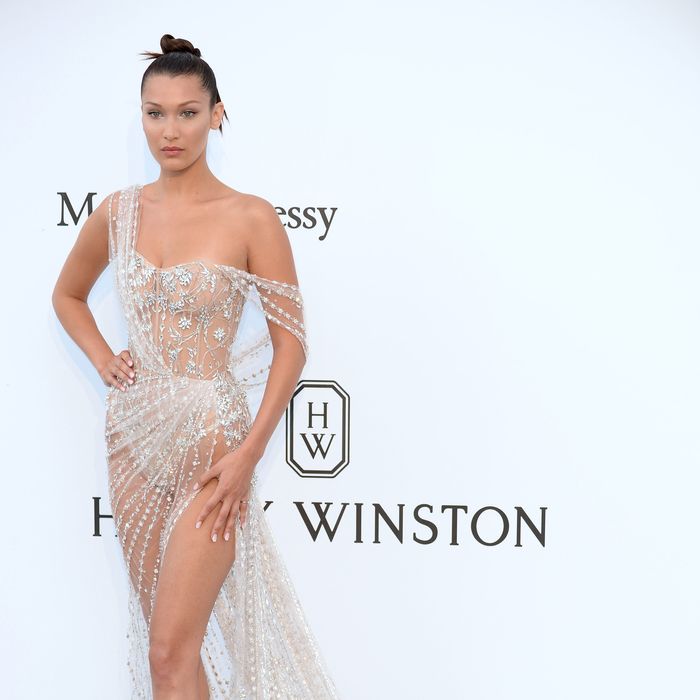 Bella Hadid: campaign chameleon.
Photo: Anthony Harvey / Contributor/Getty Images
While she definitely has a fallback for red-carpet looks, Bella Hadid is proving herself as a versatile face for ad campaigns. This week, she became the face of three campaigns for three separate brands: Nike, Bulgari, and Giuseppe Zanotti.
Her week began with Nike, where she became the first nonathlete to rep the brand. She stars alongside Olympian Elaine Thompson in the "old school" campaign.
On Wednesday, Bulgari announced (and Hadid confirmed on Instagram) that she would be the face of their new perfume, Goldea, the Roman Night. Wednesday is also notable as the day she debuted a pixie cut while walking in vintage Galliano.
Yesterday, Giuseppi Zanotti posted an Old Hollywood glamour shot of Hadid in the brand's Picard heels and a red feathered dress. The campaign, shot by Mario Sorrenti, showcases some of its most glamorous (read: possibly uncomfortable) shoes. Zanotti told WWD, "My collection is a celebration of individual style — something that is independent of time and place and trends."
Bella, do you need a nap?