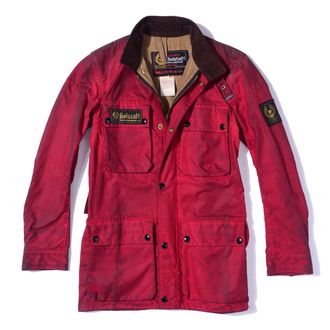 Belstaff creative director Delphine Ninous's favorite: this rare 1970s red wax Trialmaster.
Photo: Courtesy of Belstaff
The British luxury clothing brand Belstaff is partnering with the online fashion-resale platform Vestiaire Collective to sell ten vintage motorcycle jackets from the brand's 1960s and '70s archive. Launching today, the collection pays tribute to the Scottish Six Days Trial — the world's oldest motorcycle event, which inspired Belstaff's signature hand-waxed Trialmaster jacket.
The jacket designs trace small changes in Belstaff's aesthetic over the years. In the 1970s, to look more modern, the brand switched to horizontal chest pockets, a change from slanted pockets of previous decades; the lining and protective patina remained the same. A couple jackets still have Goodyear or BSA motorcycle company badges patched on by their original owners. Most of the coats are navy, a couple are in the hard-to-find red wax — both of the red jackets are being sold for over $2,000.
"What we really wanted to share is both Belstaff's sense of history and its spirit of adventure, which has always been encapsulated by those that have worn it," Belstaff creative director Delphine Ninous said in a statement. Her favorite is a bright red Trialmaster, for the distressed fabric and colors that show through the jacket's wear. "It definitely carries some adventures through it," she said.
All items can be worn or kept as collector's items. The jackets are available online at Vestiaire Collective and on view at Belstaff's flagship store in London. See some of them below.