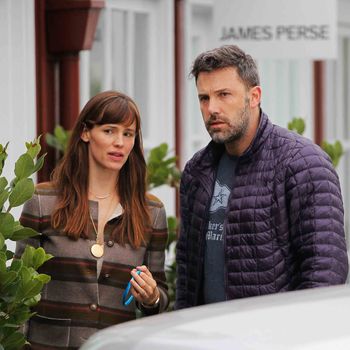 Ben Affleck and Jen Garner.
Photo: Bauer-Griffin/GC Images
After two long years of separation, filled with more amicable church outings and farmers' market visits than tabloids could count, Jennifer Garner finally filed for divorce from Ben Affleck on April 13, 2017. She dragged out the process so long that the public almost forgot the alleged reason the couple split in the first place: Affleck was reportedly carrying on with the nanny. Every celebrity couple adopts some sort of media strategy when they break up; with their near-constant updates about the state of their separation, Garner and Afflecks's was apparently "bore everyone to death."
It worked. I haven't heard the name "Christine Ouzounian" in months, and the Bennifer breakup reads like old news now. Compared to the drama of the Brangelina divorce and the disturbing elements of Johnny Depp's breakup with Amber Heard, the stories tabloids publish about Garner and Affleck seem ordinary. People, the ex-couple's tabloid of choice, has run an untold number of unremarkable updates about the separation over the last several months:
"Ben Affleck Spends the Day With His Kids at Disneyland."
"Jennifer Garner Visits a Cat Café in Her First Public Appearance Since Officially Filing for Divorce."
"Jennifer Garner and Ben Affleck Are Spending Easter Together as a Family: Source."
If your eyes glazed over skimming those headlines, well, that was the intended effect. Celebitchy put it succinctly in a blog about the ex-couple this morning: "We don't need these constant status reports but that's part of their strategy … blanket the press with somewhat boring stories about this average divorce and make it sound completely normal and like it's not even worth paying attention to." Weed through the briefs about jaunts to the cat café, however, and there is an interesting narrative to be found: Affleck just might be dating someone else.
TMZ first reported this news on April 17, just four days after Garner filed for divorce. "We've learned Ben's now dating someone, though 'not seriously,'" the gossip site revealed. "He's moving out of the family guesthouse and into a new home. As one source said, 'He's ready to move on.'"
People, of course, did not report on Affleck's alleged new girlfriend — that would be too interesting. Instead, the tabloid quickly followed up with a vague story about how both Affleck and Garner are ready to date again. "They have not ruled that out in the future," said a source. Then, People published two more stories about Affleck moving out of the family home. In the first report, published May 1, a source revealed that Affleck had found a new place. The second story, published yesterday, provided much of the same information with one crucial update: Affleck had "officially" moved into his new house.
Why did People run two stories about the same old move? Neither mentioned Affleck dating, but as Celebitchy points out, the second report reads a bit differently. The "official" language makes it sound "final … like someone wants us to know this is a permanent thing after so much back and forth." The sources in the story made it clear that Garner and Affleck's relationship is finally, totally over, but instead of coming right out and saying that, they couched it in yet another update about Affleck packing up his things.
Combine the subtext from People's boring, Bennifer-approved update with TMZ's more salacious item about Affleck's new relationship and you get the full picture: Affleck has officially moved out, which means he can officially be seen with a new girlfriend. Will everyone be too bored to notice?