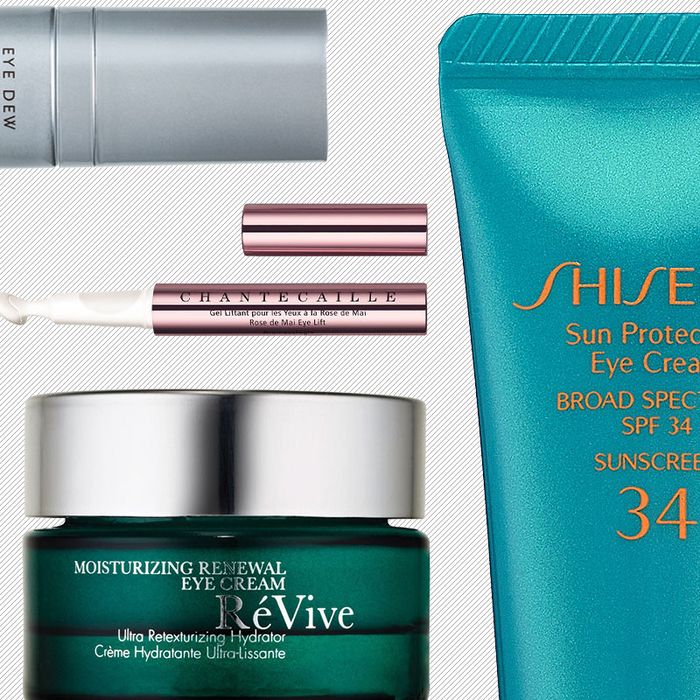 With skin that's one-tenth the thickness of that covering the rest of the body, it's no wonder our eyes need a little extra love. Regular use of an eye cream is the best DIY, no-downtime solution. These Cut-tested formulas each target a specific issue (lines and wrinkles; dry, crepey skin; dark circles), and yield smoother, brighter, and firmer-looking lids.
To Soften Lines
Anti-aging creams take time to work, but this old standby gets our praise for its speedy results. The formula contains a potent yet gentle combination of retinol and hyaluronic acid that begins to fade the look of crow's-feet after only one week.
To Soften Lines
The wrinkle-reducing skin staple of French fashion insiders is making a welcomed debut on this side of the pond. BioEffect's claim to fame is its innovative use of plant-based growth factors. Its gel-like eye serum is housed in a high-tech ampoule that dispenses a precise dose with one click. Given the watery texture, I preferred using it at night.
To Brighten Dark Shadows
Part eye cream, part concealer, this lightweight tinted formula instantly erases dark shadows underneath the eyes for an immediate brightening effect. It performs in the long-term, too: A blend of vitamins and peptides minimize wrinkles and puffiness with time.
To Brighten Dark Shadows
A little of this gooey, opalescent serum goes a long way — a tiny pump brightened my eyes for the entire day. The cocktail of retinol, peptides, and vitamin C has a mildly tacky texture and a noticeable iridescent sheen on the skin. Added bonus: The concealer melts right in.
For Anti-Aging Protection
Sun protection is a key preventative weapon in the war against aging, but an SPF that doesn't sting the eyes is hard to find. Shiseido's hydrating eye cream touts both chemical (octinoxate) and physical (zinc oxide) UV blockers, and sinks into skin without a trace of residue, tackiness, or irritation — all without disturbing makeup.
To De-Puff
One swipe of this balm provides a noticeable cooling effect under the eyes. The formula is made up of a soothing blend of goat milk (to moisturize), peptides, and manuka honey (for vitamins and protein), and soaks into skin quickly. I tossed the tube in my bag and found midday touch-ups over makeup equally convenient.
To Firm
Eye exfoliation sounds frightening, but it's crucial for preventing the buildup of dead skin cells that leave this area looking dull. Dermatologist Neal Schultz's lightweight, fast-absorbing eye cream consists of a mild form of the chemical exfoliant glycolic acid to boost cell turnover, for smoother, firmer, more awake-looking lids.
To Hydrate and Plump
The pillowy texture of this supersoft cream comes from a large dose of shea butter that left my lids feeling smooth and supple until the next morning. A little goes a long way, so don't feel too guilty about splurging.
To Hydrate and Plump
If it's good enough for Gwyneth … The actress-turned-beauty mogul's whipped, buttery eye cream comprises mostly organic ingredients (olive oil, sandalwood-nut oil, and peptides) that are well-suited to dry skin in need of plumping and firming benefits.
To Hydrate and Plump
Rich in texture, this thick, white cream is best equipped for mature, dry skin types. It works to plump up fine lines and wrinkles courtesy of a high-tech blend of proteins, peptides, and the gold standard for hydration: hyaluronic acid.
For a Little Bit of Everything
Orlane's steep price tag is justified by this illuminating serum's ability to combat sagging, puffiness, dark circles, dullness, and wrinkles. Inspired by the brand's cult favorite B21 Cream, this souped-up recipe boasts 21 essential amino acids, including organic pale blue iris stem-cell extract (to densify thinning skin) and ginkgo biloba (to reduce puffiness and inflammation).
For a Little Bit of Everything
If you're wondering why Chantecaille's clear, lightweight eye serum smells likes roses, it's because the ingredients are suspended in a base of pure Rose de Mai water. A white ceramic, cooling applicator tip dispenses the formula, which also contains Persian silk tree and golden chamomile extracts to de-puff, lift, smooth wrinkles, and eliminate dark circles.
If you buy something through our links, New York may earn an affiliate commission.