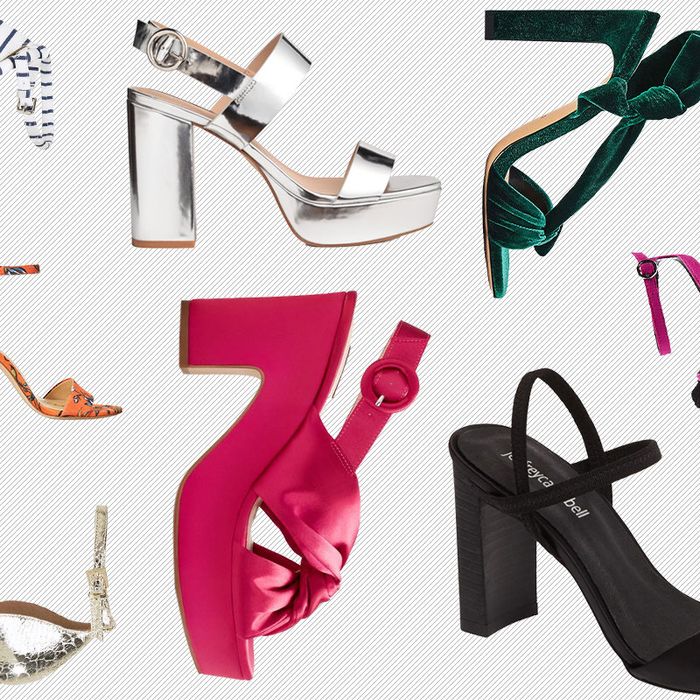 We're approaching peak wedding season, and if a fridge covered in save-the-dates with vague dress codes like "beach chic" fills you with panic about having nothing to wear, worry not. The Cut's devoting a full week to making it easier to get dressed when it seems like you're spending every other weekend raising a glass to the happy couple.
So you've been forewarned by the bride that she's choosing a venue with a grassy surface. You have several options when it comes to choosing what shoes to wear. The first is to stick with your trusty stilettos and slip one of those plastic caps over the heel. The trade off is that they're not exactly very photogenic no matter how unobtrusive the brand claims they look. You could try a fancy flat sandal but you're adamant about being a few inches taller. The only course of action? A chunky heel, whether it takes the form of a sandal, platform, or pump. Luckily they're trendy so you can find anything from a colorful print to a '90s-throwback style, all for roughly $100 or less. Check out our favorites below.
The trick to inexpensive shoes is choosing the right colors and textures. Black patent is a good bet and this shiny silver is another way to make faux leather look real.
Don't feel like getting a pedicure? Try these heels instead of your stiletto pumps.
If you want a more fashion-forward shoe, these knotted silk platforms look as if they came straight off a designer runway.
Photo: afront
Because those flatforms you wore in the late '90s are back, here's another pair of nostalgic-looking black sandals.
A day wedding on a grassy lawn is pretty much synonymous with bright floral heels.
Multiple swinging tassels make this shoe look extra festive.
For when the dress code calls for black-tie but the cocktail hour is somehow on a grassy surface, wear these velvet sandals.
Suitable for a preppy crowd even if you're not the Lilly Pulitzer type.
If you buy something through our links, New York may earn an affiliate commission.