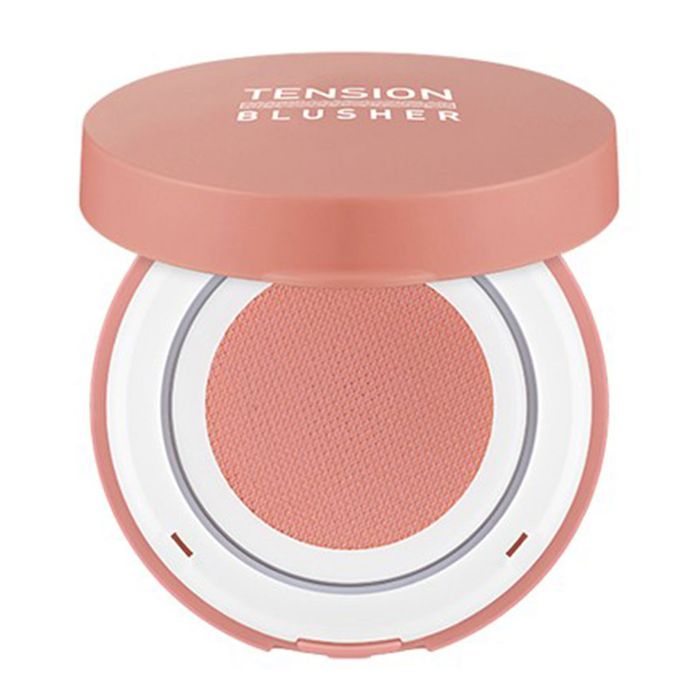 Universally flattering and graciously impossible to screw up, the best blush is a peach blush. You could fight me on this, but you would lose. Pinks are pretty, but they're not for everyone. Reds are modern, but are prone to mimic signs of sickness — or rosacea. Peaches, on the other hand, flatter every skin tone, and — better yet — every skill level.
The peach blushes I love most easily rattle off my tongue. There's Nars's legendary Orgasm, to start. I get nice compliments whenever I wear Clinique's Ginger Pop (which I gleefully apply to the apples of my cheeks with my fingers). I've worn Jouer's Peach Bouquet since my Tumblr blogging days, and Tarte's Glisten (both the pressed-powder and solid-cream formulations) drums up the softest and most believable natural face-flush. While I can say I love all of those (and I do, I really do), I'd like to recommend only one to you now: a Korean "tension blusher" that costs only $14. It's peach; it's handy; it's perfect.
A product of Missha — the budget Korean beauty brand known for besting SK-II's cruelly expensive essence — the peach blush is packaged in a tension pact. Unlike cushion compacts, which deploy a BB-cream-like formula via a nesting sponge, tension pacts release liquid makeup through a net akin to cheesecloth that's been pulled taut around the circumference of compact (hence the "tension" reference). One must lightly tap the top of the net with the pact's sponge-puff applicator to release more of the formula (or in this case, blush), and then use that same sponge-puff to apply the blush to cheeks. If you're familiar with a cushion compact, then the learning curve required to master a tension pact is no steeper than a horizontal line.
For obvious reasons, Missha's Tension Blusher in Peach Sorbet is my favorite shade. Each puff deposits a soft, dewy sheen of warmth on my cheeks. I'm not one of those walking genetic jackpots with pronounced cheekbones, but with Peach Sorbet, my cheeks and jaw look less like one long, continuous entity. That is not nothing. Peach Sorbet is moderately pigmented, so you could dab just a little for a subtle effect, but it doesn't take dab after dab after dab for a vibrant, more intense upgrade.
Cream and liquid blushes have a reputation for not lasting as long throughout the day as their powder counterparts, but I haven't found that to be true with Missha's blush. And though the Korean blush performs equally as well as my longtime favorites, it is also much cheaper. And let me tell you, that, is something.
If you buy something through our links, New York may earn an affiliate commission.