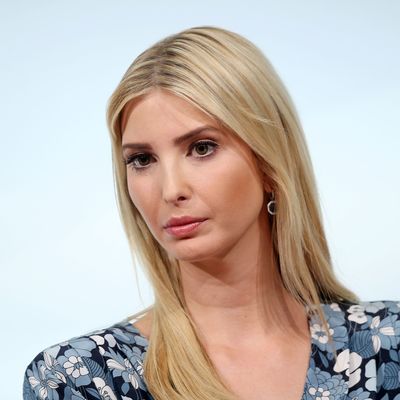 The New York Times printed new details about Ivanka Trump's feminist brand.
Photo: Sean Gallup/Getty Images
"Accomplice," "complicit," or whatever you want to call her, there's no doubt Ivanka Trump has outsize influence on her dad's views. She's been portrayed as a "moderating force" in the White House, but those conjectures are largely based on well-timed press leaks rather than statements the First Daughter has made herself. Unlike her outspoken father, the guarded First Daughter has been much more difficult to pin down.
But a New York Times profile published Tuesday contains some interesting new details about Ivanka, including when she first became interested in feminism (hint: when she realized she could monetize it) and her behind-closed-doors response to that Access Hollywood tape. Here's everything new we learned about Ivanka, whose new book, Women Who Work, is conveniently out today.
1. She clashed with her dad about his response to the Access Hollywood tape.
When the president refused to apologize right away, Ivanka reportedly almost lost it:
Ivanka Trump made an emphatic case for a full-throated apology, according to several people who were present for the crisis discussion that unfolded in Mr. Trump's 26th-floor office. Raised amid a swirl of tabloid headlines, she had spent her adult life branding herself as her father's poised, family-focused daughter. She marketed her clothing line with slogans about female empowerment and was finishing a book on the topic. As she spoke, Mr. Trump remained unyielding. His daughter's eyes welled with tears, her face reddened, and she hurried out in frustration.
2. Her interest in gender equality sprang from a rebranding effort.
According to the Times, some of Ivanka's employees "express surprise at her new policy interest," especially given that she once had to be cajoled into implementing a maternity-leave policy. In fact, those who had known her "at various points throughout her life" said she "had not seemed especially focused on gender politics or policy." But that changed when feminism became part of her marketing strategy:
But penetrating the mass market presented a challenge: Ms. Trump's gilded life felt distant to women who shopped at Macy's. So, late in 2013, she and her husband gathered with a few employees in front of a whiteboard in their Upper East Side apartment. Sheryl Sandberg's "Lean In" had just topped the best-seller charts, and Ms. Trump's team wanted its own catchy yet accessible slogan.

The brainstorming solidified into a new motto: "Women Who Work."

Ms. Trump and her team set about tailoring her image to fit the concept. An internal document lists one of her challenges as "perceived as rich and unrelatable." (An additional one: Most of her followers on social media were men.) Ms. Trump was told to post more down-to-earth pictures on her Instagram feed — less made-up model, more mommy.

"Definitely the brand changed her, and her interests really solidified," said [Abigail] Klem, who took over the day-to-day operations of the Ivanka Trump brand after the election. Soon, her office had a play area where children could use crayons and toys while their parents worked.

3. She also tried to rebrand working moms.
As part of the rebranding effort, Ivanka's team conceptualized a podcast that would feature her as a "chic business guru" interviewing people like Sheryl Sandberg and Spanx founder Sara Blakely. According to the Times, "the pitch described the supposed impact of the 'Women Who Work' brand campaign: 'the outdated caricature of a "working woman" — frazzled, androgynous and entirely one-note — began to crack.'"
4. She wasn't exactly onboard with her dad's presidential campaign at first.
Ivanka was riding high before her dad announced his bid for president; sources close to her described the preceding period as "one of the most fulfilling of her life." And like her dad, who recently told Reuters that he misses his old life, Ivanka reportedly wasn't thrilled about leaving her business and relocating to Washington:
Last week, speaking in her newly repainted West Wing office — stark white with metallic accents, a contrast to the creamy traditionalism of the rest of the West Wing — Ms. Trump appeared alternately energized, defensive and daunted. Behind the scenes, advisers say, she has been frustrated, unhappy about giving up her life in New York, and determined to prevail and make the best of a White House tour that she never expected. 
5. And there are times when she wishes he would phrase things differently.
Javier Palomarez, the chief executive of the United States Hispanic Chamber of Commerce, described one of the conversations he's had with Ivanka in recent months. "Let's talk about your dad," she reportedly said in one of their earliest exchanges. "She asked if he would be '100 percent absolutely proud of everything that came out of your father's mouth,' especially when his father was age 70. She acknowledged that there was a difference between their fathers, Mr. Palomarez said — hers is the president."
6. Although she acknowledges she's largely ignorant when it comes to government affairs, she's still determined to make an impact.
Based on her quotes, it seems like Ivanka was going for an "I know I don't know much, but I'm willing to learn" appeal. At different points, she told reporters, "I do believe that in time I'll get to the right place;" "I'm really, really trying to learn;" "I'm still at the early stages of learning how everything works;" and "There's a lot I don't know about how government works and how things get done, but I feel I know enough now that I can be much more proactive about the type of change and reform that I'd like to see happen." But it doesn't seem like that self-awareness is stopping her from trying to influence policy:
Even though she has no government or policy experience, she plans to review some executive orders before they are signed, according to White House officials. She calls cabinet officials on issues she is interested in, recently asking the United Nations ambassador, Nikki R. Haley, about getting humanitarian aid into Syria. She set up a weekly meeting with Steven Mnuchin, the Treasury secretary.

Other officials added that she had weighed in on topics including climate, deportation, education and refugee policy.