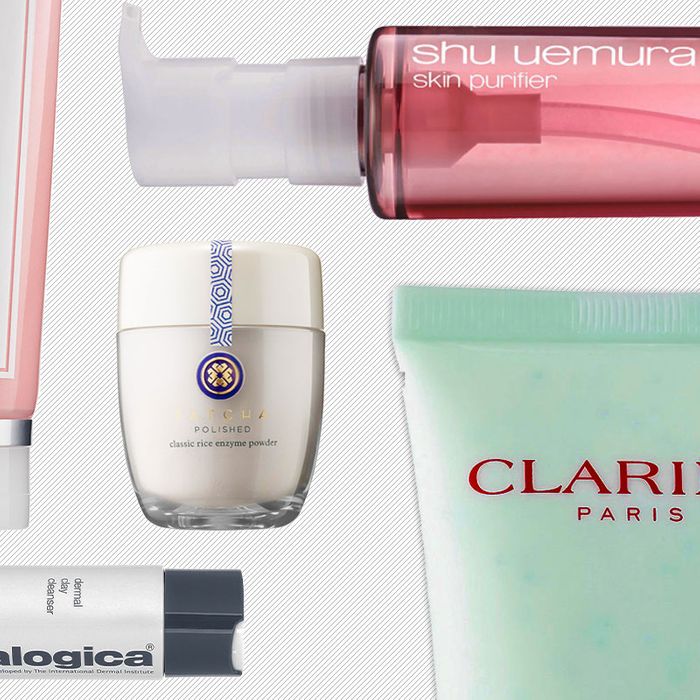 With steamy summer temperatures beckoning, it's time to call in the big guns when it comes to combating oil. Sure, powder-based makeup and blotting papers can help, but to quell sebum before it spills from your pores, opt for an oil-minimizing cleanser. The best ones won't leave skin feeling dry or tight, but rather soft, silky, and mattified. With summer around the corner, we tested bottle after bottle, and found that these ten options stripped away just enough of the slip to leave the face glowing, not greasy.
This thick, white foam serves up a satisfying, shaving cream-esque lather that whisks away sunscreen and makeup after one rinse. My skin felt squeaky clean — not stripped — and the addition of witch hazel extract acts like a gentle astringent on the pores.
Oil buildup makes pores look bigger. Exfoliation is one of the secrets to keeping them invisible. The key ingredient in this anti-inflammatory scrub is a naturally detoxifying and deep cleaning dose of charcoal, plus tiny jojoba beads to help slough off dead skin. When massaged onto the skin there's a mild warming sensation, and the results are similar to using a sonic cleansing brush.
When skin is over-scrubbed, it compensates by producing more oil. The lesson: sebum-prone complexions needs moisture, too. La Roche-Posay's foaming gel washes away excess grease while simultaneously hydrating the face with ceramides, glycerin, and niacinamide so it never becomes too dry.
Combination complexions are extra temperamental, since dry spots can block pores and worsen oil buildup. Clarins's cleanser rinses away grime without over-drying the skin courtesy of tamarind fruit acid (to lift away dry cells), shea butter (to moisturize), and daisy extract (to balance the pH levels).
A little of this gentle, foaming formula goes a long way, so there's no need to apply more than the instructed dime-size dab. A long day of flying left my skin feeling slick and inflamed, and this menthol-spiked cocktail came to the rescue. White willow bark, a natural form of salicylic acid, aides with breakouts and congestion, while Icelandic kelp and glacial water terminate redness and leave skin glowing.
Salicylic acid is a time-tested acne fighter, reducing oil, calming inflammation, and exfoliating simultaneously. Murad's cleanser delivers this key ingredient over eight hours, so this wash is working hard to banish breakouts long after you've left the bathroom sink.
With the help of two types of clay (kaolin and green), this oil-absorber provides a deep clean. Plus, the addition of menthol imparts a cool, energizing jolt, which hung around even after stepping out of the shower.
While it may seem counterintuitive, oil actually cleans oil. Shu Uemura Porefinist is a time-tested oil cleanser that wipes out shine without dehydrating the skin. I applied three pumps to my face then rinsed with water; makeup and muck disappeared in seconds.
There are three main steps to targeting acne: exfoliating, soothing, and soaking up sebum; Kate Somerville's cleanser fires on all cylinders. The formula is infused with sulfur, botanicals, and natural oat extract to not only heal blemishes and de-clog pores, but to ward off future breakouts as well.
The Japanese skincare brand has mastered the art of gentle exfoliation with this green powder that turns into a creamy cleanser when mixed with water. Rice bran sloughs off dead skin, while Japanese wild rose goes to work tightening pores. The lather is so mild, I wasn't convinced it removed my makeup until I ran a cotton ball across my skin and it was clean.
If you buy something through our links, New York may earn an affiliate commission.