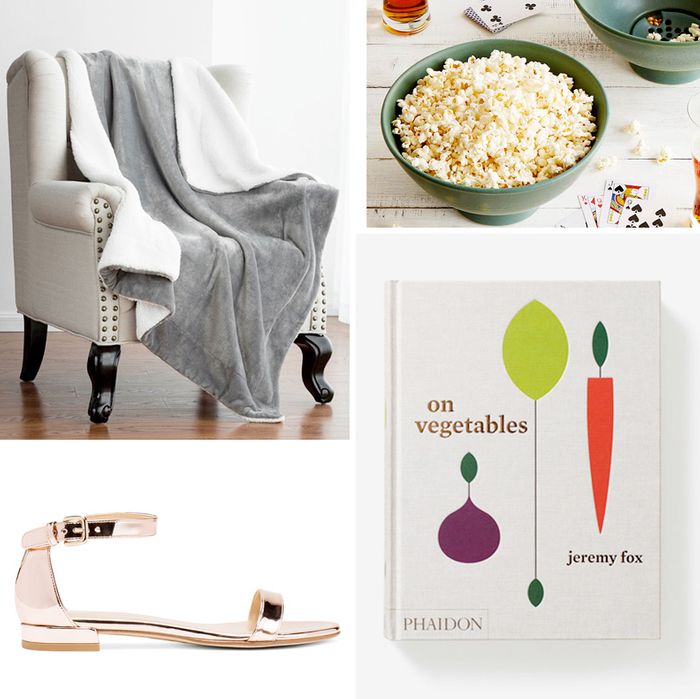 Mother's Day might be a week away but it's getting down to crunch time. You should figure out what you're getting lest you find yourself at the mercy of rushed shipping or even worse — last minute, incredibly overpriced flowers. You've seen our under $50 ideas, suggestions if you want to spend $100ish, but somehow you're still stumped? Since every mom has her own quirks, we asked 12 of our editors about the best present they ever gave or plan to give. Maybe she's all about that hygge life or perhaps she's trying to expand her cooking horizons? Whatever her hobbies are, these are the gifts we're certain will please any picky mom.
"My mom and three of her closest friends meet for breakfast every month to catch up. They alternate hosting at their houses. I bought her artsy coffee mugs from Anthropologie, like these, for Mother's Day a few years ago. She's an interior designer and loves entertaining with statement tableware: pretty plates and dishware, linen napkins with decorative napkin rings, and place mats in colorful fabrics. Any kind of dishware from Anthropologie is a fun gift because you can buy a few different styles to mix and match, and it still looks like you're putting it all together on purpose." –Catie L'Heureux, Associate Managing Editor
"My mom is tough to shop for because she likes practical gifts, but if she needs something practical, chances are she'll buy it for herself. So every time I'm home, I surreptitiously canvas the house to see what I can replace or add to that would make the perfect gift. This year it's her popcorn bowl — she has a big plastic one in red-and-white-striped movie-theater style, but she uses it so much that it's cracking at the corners and held together with tape. I picked out this large green popcorn bowl instead; not only is it sturdy, but it comes with a kernel-catcher. Pair it with a few bags of gourmet kernels, and she's set for movie (or any) night."–Claire Landsbaum, Politics Writer

"Year after year, my mom wants only one thing: stuff for her ridiculous garden. Since sending her 70 pounds of topsoil via Amazon Prime isn't the most appealing gift (I've had to do this in the past), I'm going with these Japanese gardening tools. Not only are they beautiful to look at, they're also incredibly durable and lightweight while offering the right leverage. I can just picture my mom using them to obsessively ferret out every weed to ensure the survival of her precious winter-melon plants." – Diana Tsui, Senior Market Editor
"I'm getting my mom a pretty and simple Mon Purse wallet. I love how high-quality yet not wildly expensive they are. That they're 100 percent customizable, from the color and texture of the leather to the embossed monogramming, makes them feel even more special."–Maura Walters, Senior Editor
"My mom isn't a person who particularly relishes material things (though this has gone out the window when it comes to giving her grandson gifts). For this reason, I usually give her books, fiction in particular: Her favorites tend to feature women persevering against nature, terrible men, or both. Since she's a librarian, the only challenge is gauging whether she's already read the title — not that she'd admit it if she had. Though she dutifully tells me she enjoys every book I give her, I could tell Emily St. John Mandel's Station Eleven was new to her and a genuine hit. This year, I'm going with Jesmyn Ward's stunning novel Salvage the Bones."–Jen Gann, Parenting Editor
"This winter my mom and I went on a yoga retreat and she was worried about her hiking boots holding up. I went for these Keen ones after hearing her complain about ankle blisters caused by the old pair. They're waterproof, highly rated on Amazon, and the pink detail is kind of mom-cute."–Leah Rodriguez, Producer
"My mom's wardrobe tastes can be described as everything I wouldn't have the guts to wear. She's definitely not afraid of a good fashion risk. Whereas I go for dark denim, she will show up in bright poppy-red jeans — and somehow they don't look completely heinous. Since millennial pink has consumed my life in every aspect from dining wear to shoe options, I'm going to take it all the way with my Mother's Day gift. These jeans aren't quite as bright as poppy red, but they're still eye grabbing. Plus Madewell jeans are some of the most flattering for pear shapes." –Indya Brown, Fashion Assistant
"My mom and I were into hygge before we knew the word for it, so for Mother's Day I usually pick a gift that will help her embrace her enduring commitment to being cozy. This highly rated blanket will help her live her hyggest life."–Jessica Roy, News Editor
"For years, I had seen my mom longingly looking at the scarves in Hermès stores. My dad was too clueless to buy a scarf for my mom on his own so when I finally made some decent money post-college, I got my mom her first taste of Hermès silk. I still consider it to be my first real Mother's Day present to my mom because I paid for it with all of my own hard-earned money and scrimped and saved several months for it. But seeing how excited my mom was to open the box and watching her finger the silk made it all worthwhile. We even spent a few hours after she opened the gift diving deep into internet message boards about the various ways you can tie silk scarves, of which there appear to be a zillion. I wasn't even offended when she wanted to go back to the store the following weekend to exchange the scarf I bought her for another pattern." –Kathleen Hou, Beauty Director
"My mom is extremely particular when it comes to fashion, so much so that you would think she was the editor and not me. She has repeatedly dropped hints about needing shoes for summer, but until I saw these sandals at Stuart Weitzman I didn't think what she wanted even existed. Her demands include a bit of heel since she hates for her feet to be flat to the ground. They need to be metallic because she loves bling. Plus they have to feature an adjustable strap around the ankle for comfort but absolutely no straps in between her toes as they hurt her feet. Oh, and they should be made from quality material too. These are a bit pricey but they have made the impossible possible so it's worth it."–Lindsay Peoples, Fashion Editor
"I don't buy things for my mom. I'm not sure I ever really have. But I do love making things for her. I began throwing in high school, which is where my love of clay had stayed until last year. I finally took a class to refresh my skills, signed up as a member at BKLYN CLAY, started my own ceramics biz sprig + arrow, and have been creating planters, mugs, plates, and everything in between. I've been threatening to send my mom all the vases and mugs I don't totally love, which she ecstatically offers to take because she's my mom and loves everything I make. *loving eye roll* After hearing her excitement about a less-than-stellar lemon juicer that should never leave my kitchen (it works, but it was a first attempt with too many flaws), I've decided to make her a lemon juicer of her own — with the appropriate number of handmade flaws."–Raydene Salinas, Photo Editor
"This year, I want to support my mother's ever-changing food interests.
Currently, she is on a sliding scale of vegetarianism, so she'll
appreciate the garden variety of this new all-vegetables cookbook by
Jeremy Fox. She'll surely take on the spring onions and cast-iron
cauliflower first, but when she starts craving something meatier, the
new cookbook by New York favorite Jack's Wife Freda offers a fun
alternative with Mediterranean-inspired recipes for meat and fish surrounding sweet illustrations." –Rebecca Ramsey, Fashion Director

If you buy something through our links, New York may earn an affiliate commission.