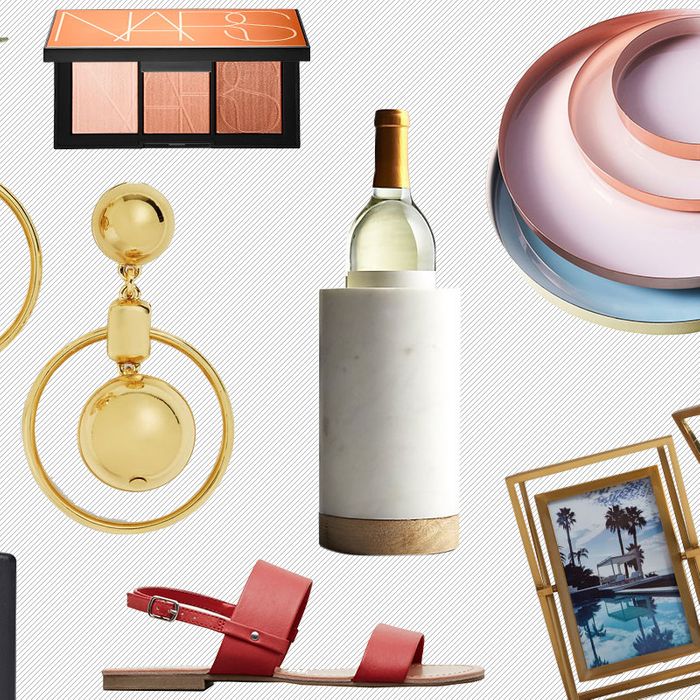 Next Sunday, May 14, is Mother's Day, and chances are you probably haven't bought a gift yet. And while nothing beats seeing your mom and spending quality time with her, it doesn't hurt to bring a little something as well. If your budget doesn't quite allow for a big splurge and you still want to be the favorite child, here are some beautiful present ideas that are $50 or less.
So she's a fantastic cook and you're hoping some of that will rub off on you? Give her these cards and have her share her secrets with you. She'll love the attention and time spent together.
Oversize earrings have been popular for quite some time now. These are hip but not too edgy for Mom.
Swirled glass is much fancier-looking than the plain see-through kind.
A treatment for all those late nights you put her through.
Is she practical? Then she'll wear these stylish flat sandals all summer long.
Handmade by fair-trade artisans in India, she can use it to zone out when traveling to see you.
A pretty dish is never a cop-out if your mom isn't the most organized type.
Slip in a photo of you and the siblings so she can leave it on her desk. Mom can flip it over and use it as a mirror, too.
If she's particular about her morning tea or coffee, grab this stylish mug and add in a package of her favorite caffeinated beverage.
Photo: Courtesy of NARS
An instant way to look a little more glowy and well-rested.
Throw these in the fridge for a soothing, puff-reducing alternative to cucumber slices.
This is a tiny horn spoon that measures out precisely enough for two cups of coffee. Neurotic? Yes, but any type-A design and coffee lover will love it.
Then again, if she's more low-maintenance, she can make a delicious cold brew using this jug. Add coffee grounds in the center, fill with water, and toss in the fridge overnight.
This is one of the pricier items on the list but these food-safe trays are impressive looking, even in the smallest (most affordable) size.
You can never go wrong with cozy slippers.
With notes of iris, juniper, mandarin, and patchouli, she can re-create a luxurious-yoga-studio experience at home.
An indulgent mask that looks weird enough for her to believe that it actually works.
Keeps her rosé perfectly chilled while she's catching up on her Netflix.
Can't stomach the cost of a fancy French enamel stockpot? This one is just as beautifully designed and functional.
A fancy lipstick with a case she'll love pulling out of her handbag.
These shallow bowls stack so you can create a cool centerpiece. Or just give one — the design is unique enough to stand on its own.
To combat the dry, overly air-conditioned air at her office.
Stories + Objects is a site that goes to the source for their products, like these espadrilles, which are handmade in the Mauléon atelier of Basque shoemaker Jean-Jacques Houyou.
If you buy something through our links, New York may earn an affiliate commission.