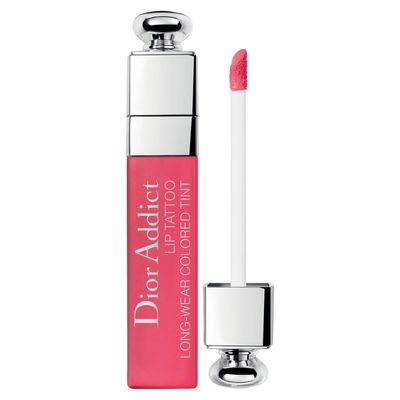 I believe that beauty products should be durable, but not bionic. It's reasonable to expect your morning eyeliner not to smudge at 4 p.m., but it seems a little scary and unreasonable to expect it to last for more than 24 hours. Your lipstick should have a firm grip on your lips, but it shouldn't have a death grip.
Falling into the category of reasonably-long-lasting-but-not-unbelievably-so beauty products is Dior's new Dior Addict Lip Tattoo. Unlike the flood of crazy-long-lasting, super-pigmented Instagram liquid lipsticks flooding the market, this is a light lip stain that subtly and sheerly tints your lips. Imagine if you could sustain a red Popsicle-like lip flush over the course of several hours — that's what this looks like.
This is no Lip Kit, with the formula being a fragrance-free watery fluid that doesn't feel sticky or very much like anything at all, which you use with the provided doe-tip lip wand to dab onto the lips. Fans of Benefit's Benetint or Dior's Cheek and Lip Glow will rejoice — the Lip Tattoo has the same sheer, barely there feeling and look of those two cult products, but with the benefit of lasting much longer. I tried it during Paris Fashion Week, applying it before eating a cheeseburger. Four hours later, my lips had the same even rosy flush of color even after a visit to the Pompidou and several bottles of water later.
Since the Lip Tattoo is a tint rather than a lipstick or gloss, it doesn't dry out the lips and doesn't move even when you apply your favorite lip balm on top. It comes in four shades, two that are more neutral and two that are more rosy-pink in color. My favorite is the Natural Cherry, which is the exact color of a cherry-Popsicle lip.
Dior Lip Tattoo