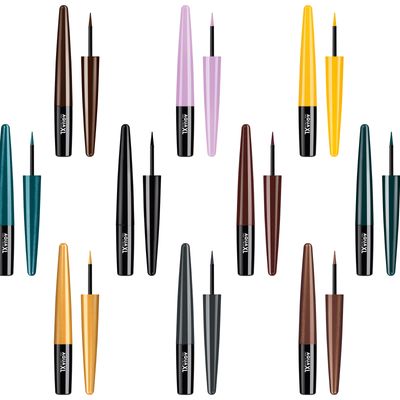 Make Up for Ever Aqua XL Liners.
Conventional wisdom in beauty says that as temperatures rise, the amount of makeup on your face ought to drop. That easily holds true for something like foundation — who wants their skin to be covered in heavy, flesh-tone goop as the July sun beats down? You could extend the arc of that philosophy to items like tacky concealers, viscous cream highlighters, and gooey blushes, too, but I'll have to draw the line at liquid eyeliners. Well actually, make that only one liquid eyeliner: Make Up for Ever's ultra long-lasting Aqua XL Ink Liner.
The new liner is the reimagined version of Make Up for Ever's Aqua Liner Liquid, which the brand quietly discontinued. This recent iteration is topped with a longer felt-tip applicator to give your hands better control in drawing a precise line. Even those green to the art of the cat-eye can manage a corner eye flick with ease.
Cat-eyes will always be fun, but that's not what makes this eyeliner the ideal summer-makeup companion. Instead, it's the liner's array of colors — 15 in all — in zippy, vibrant shades like lavender, turquoise, gold, white, and yellow. These colors pop under the backdrop of a sunny summer day, and they last and last and last.
Make Up for Ever asserts the formula is waterproof, which is entirely believable given that my eyeliner survived a rather sweaty yoga session. Got hooded eyes? Me too, and let me tell you these colors won't smudge or fade away, despite your eyes' best efforts. When you're boiling under the beating sun, this eyeliner won't budge, either. So while it's wise to pare down your heavy face makeup in the summer, this one, at least, is most at home with a thin line on your lid.
Every editorial product is independently selected. If you buy something through our links, New York may earn an affiliate commission.