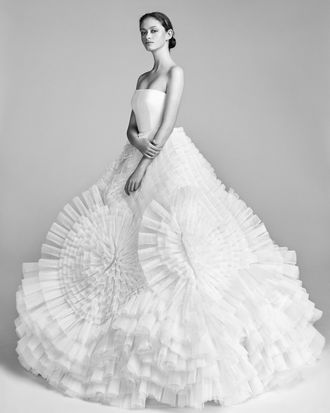 Bridal fashion week can be predictable — every season comes the plethora of expected poufy princess dresses or body-hugging, sexy silhouettes. While those styles are guaranteed to please (and sell!), it's always refreshing to see designers translate such an important day in unexpected, creative ways. This season marked Laura Kim and Fernando Garcia's debut at Oscar de la Renta and they didn't disappoint, going for cool florals in the form of three-dimensional appliqués. Another standout was Naeem Khan, who treated jewelry not as an accessory but as a part of the glittering dress. And others like Carolina Herrera and Monique Lhuillier took classic elements like bow and lace and twisted them into stunning pieces that married tradition and modernity. See all the bridal shows here, but scroll on to see our ten favorite looks.
Carolina Herrera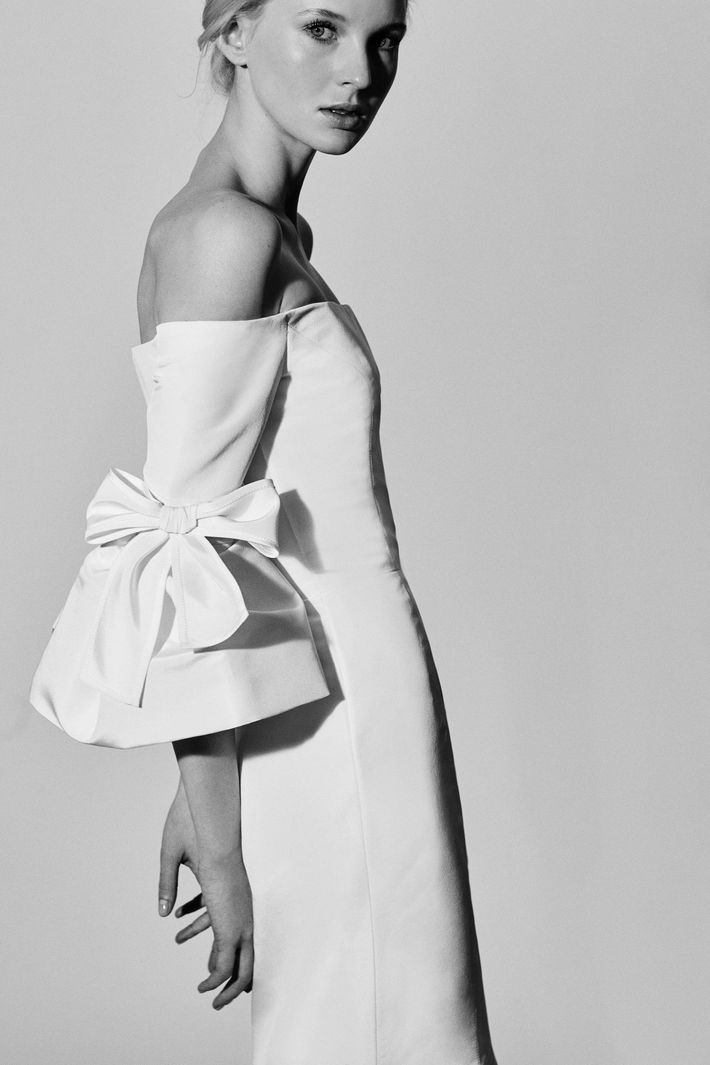 The House of Herrera show was an informal setup that meant you could get close to the models. It highlighted Carolina Herrera's strengths: intricate details and simple elegance. This dress in particular is stunning because of its clean shape and dramatic bell sleeve. The best part? The bow that adds a bit of femininity without overpowering the rest of the look.
Marchesa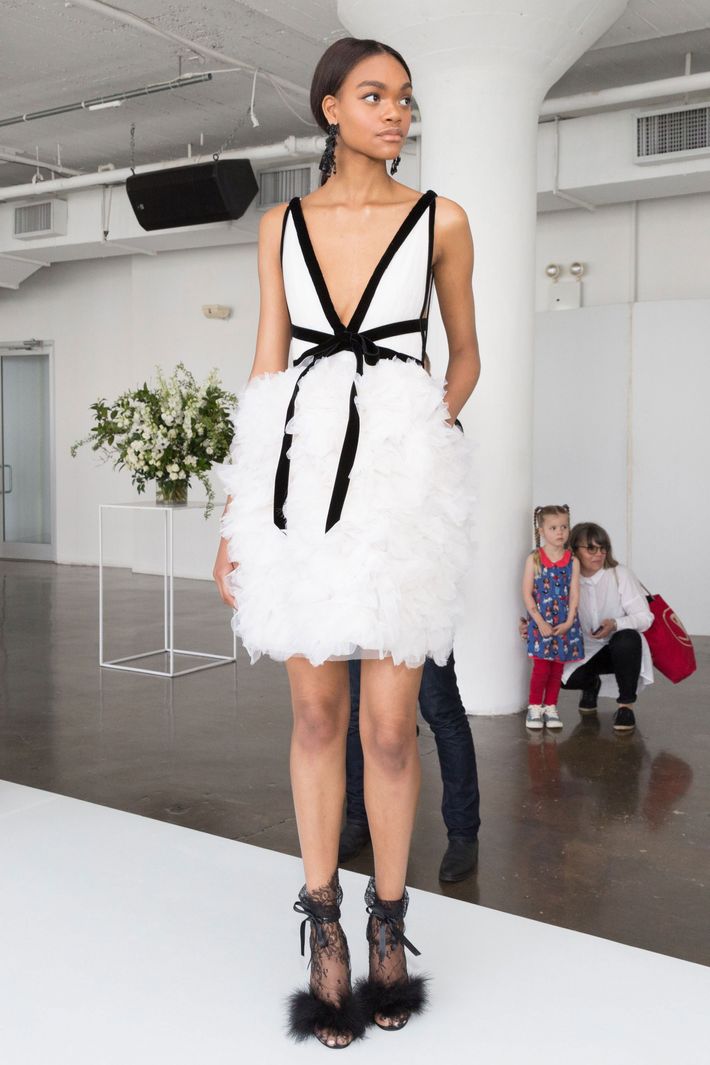 The Marchesa show is always one to look to for trends because they like to have fun with bridal. While there were plenty of princess dresses at the show, this short style stood out. It's extremely fun and made for the bride who isn't afraid to buck convention. Also great? The little styling add-ons like lace socks and furry shoes that really made it feel 2017.
Monique Lhuillier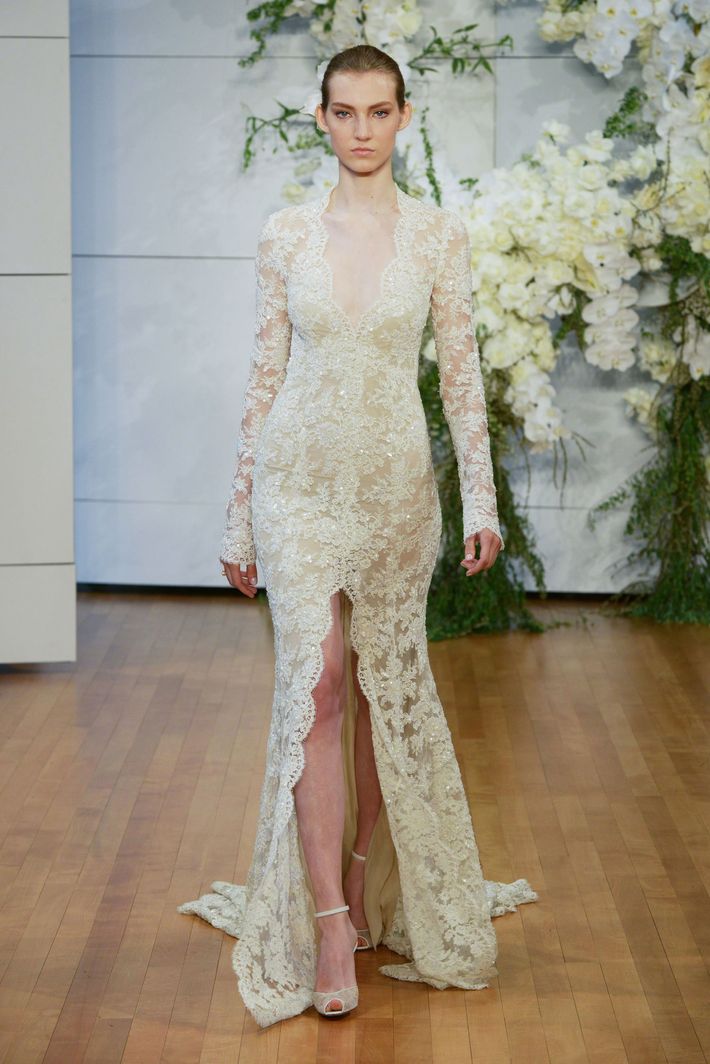 In the past few years designers have loved to use lace in a pared down, demure way, so it was nice to see Monique Lhuillier take the fabric into a more romantic, sultry direction. While this show was on the short side, the tighter edit meant dresses like this one felt extra special. The plunging neckline and high slit is tempered with sheer sleeves and a tiny train so you're showing off just the right amount of skin.
Houghton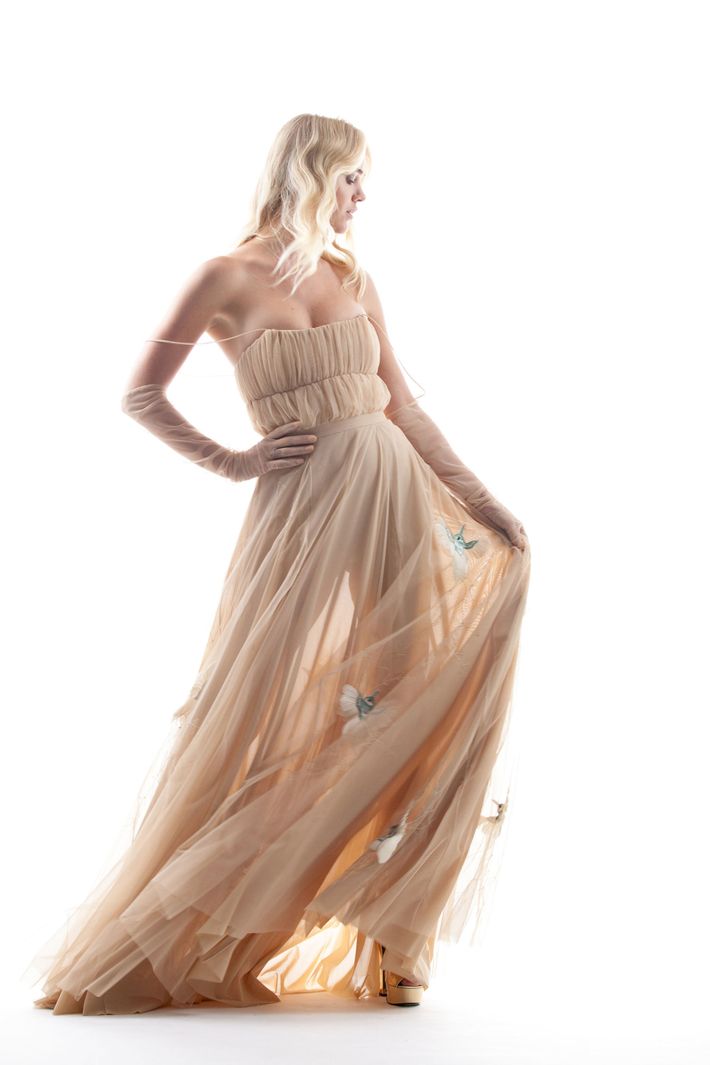 Houghton continues to play by their own rules when it comes to bridal. Designer Katharine Polk enjoys showing brides that they have options: You can wear a pantsuit, crop top, or even color. This nude dress featuring embroidered hummingbirds on the skirt was an immediate favorite for its trendy, youthful approach.
Oscar de la Renta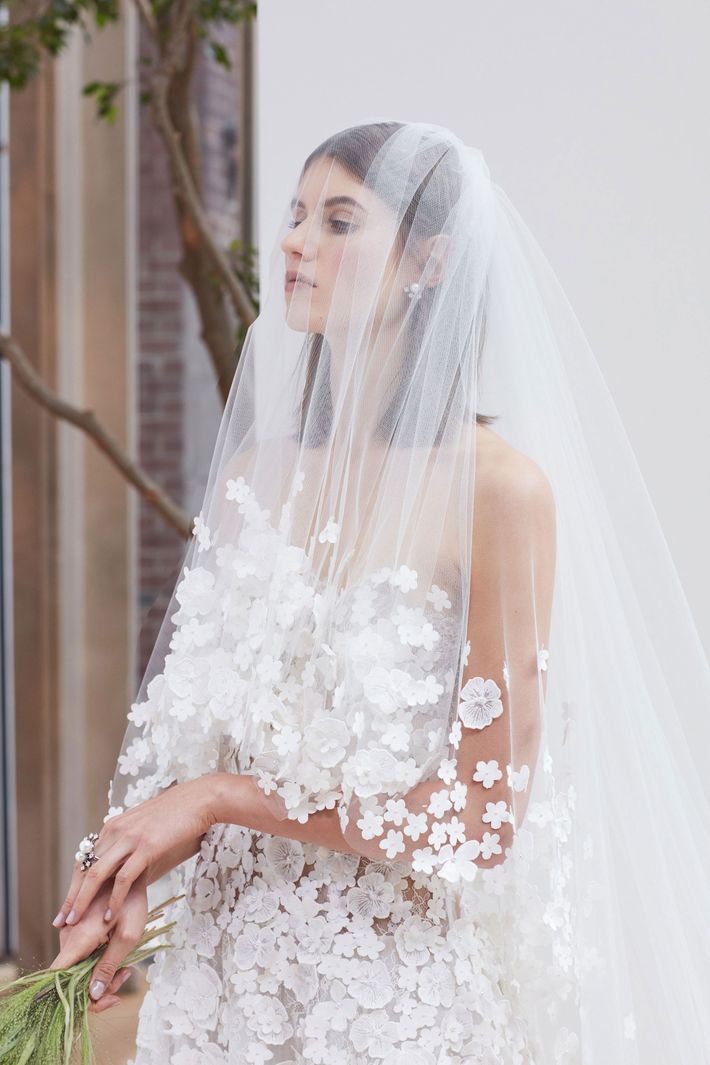 For their first bridal show, co-creative directors Fernando Garcia and Laura Kim did not disappoint. They showed classically beautiful gowns but added in fun accents like a denim jacket with the words "Just Married" embroidered on the back. But this look in particular was spectacular because they took a traditional veil-and-strapless-floral-dress combination and made it feel fresh. They tacked on flowers of different sizes and shapes to create a play on sheerness that was both elegant and just tiny bit sexy.
Sachin & Babi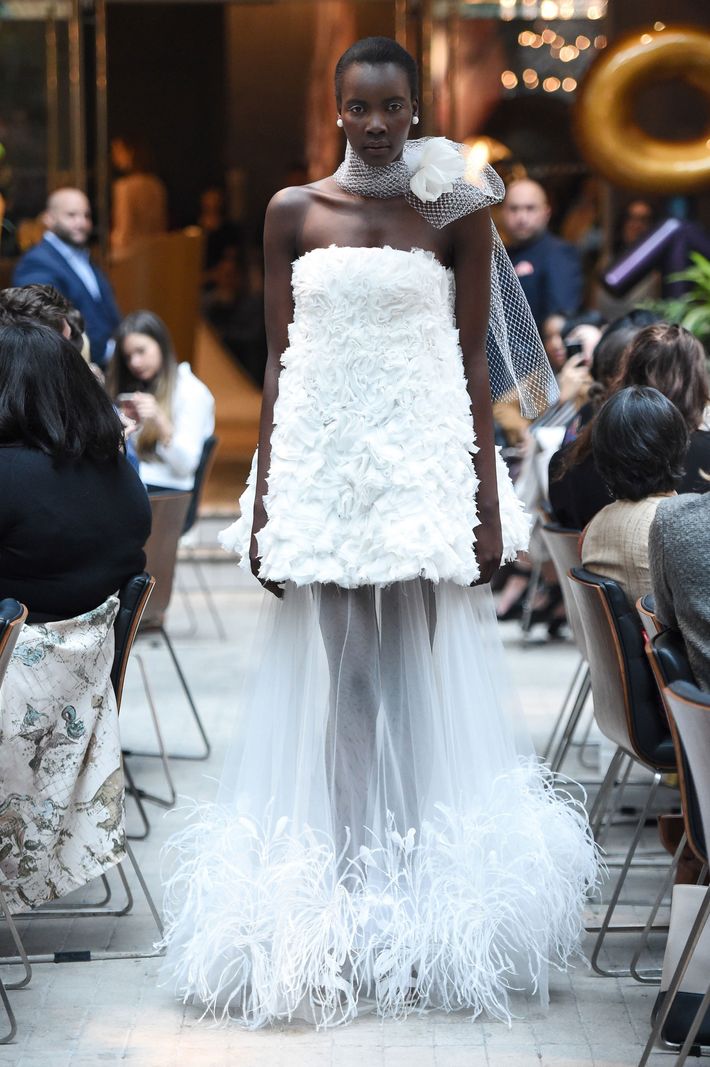 Sachin & Babi showed gowns that had attitude with plenty of feathers, dramatic sashes and crystal embroidery that spoke to the more fashion-forward bride. When this dress came down the runway, you could hear the approval from the crowd. It's both Twiggy (mod boxy strapless top) and Diana Ross (tulle with ostrich-feather hem). If you really want to be extra on your wedding day, this is your chance.
Naeem Khan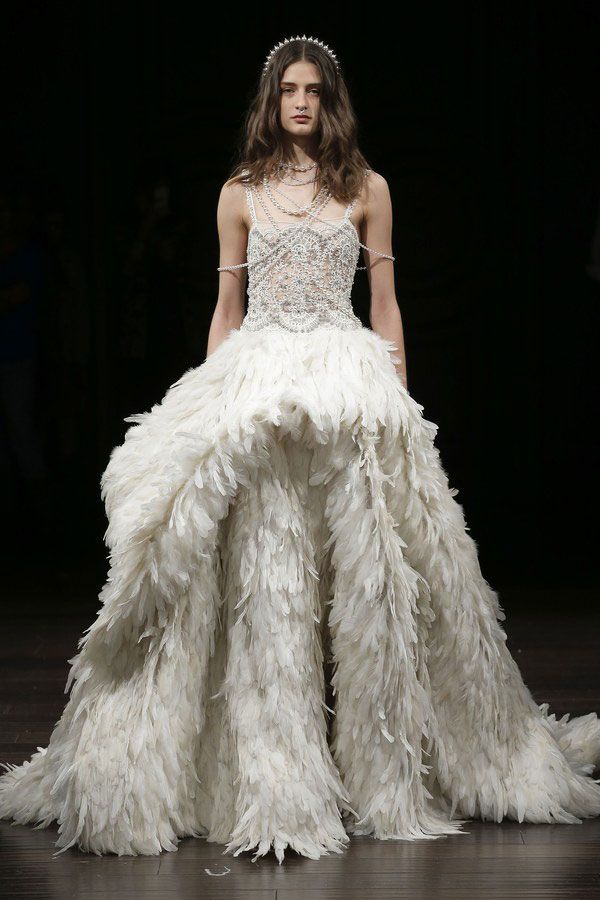 You know that you're getting a show at Naeem Khan every single time because he doesn't hold back on the details. This time around was no different, with this spectacular feather-and-crystal gown that commands your attention. From the tiara to the glittery bodysuit to the skirt that literally looks like it could fly, it's one way to make a memorable entrance.
Lela Rose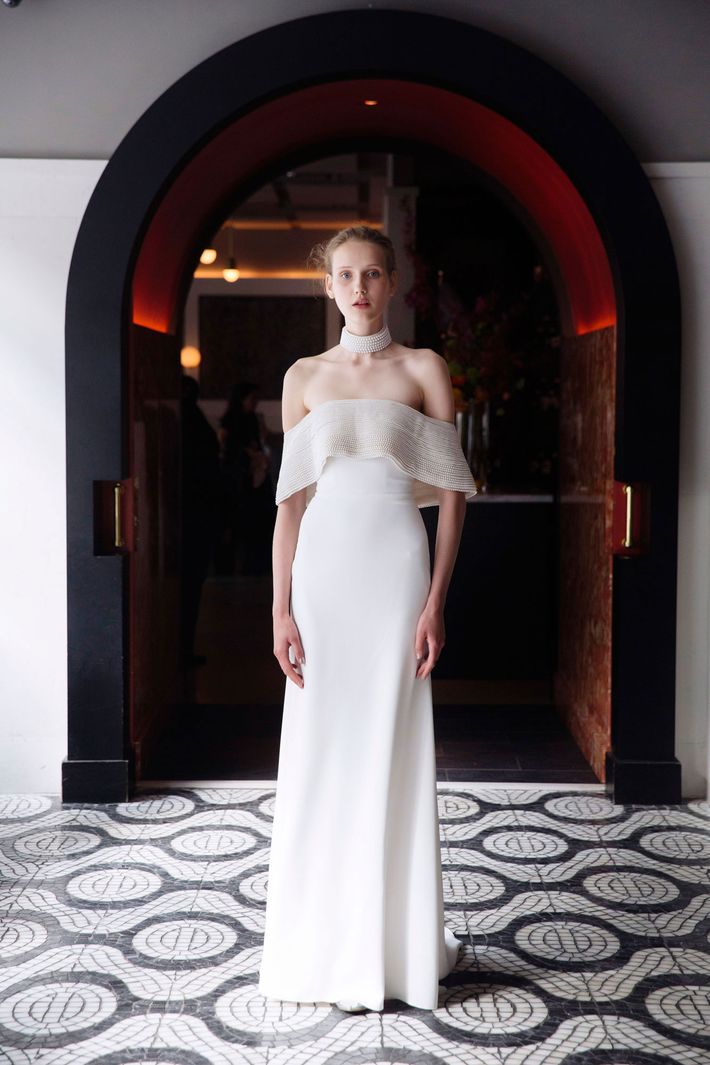 Lela Rose knows her clients want beautiful, classic pieces with just enough of a tweak to keep them fashionable. Take this look — it could have been a simple strapless gown but she adds a surprising finishing touch in the form of curving pearl embellishments that cover the off-the-shoulder top.
Vera Wang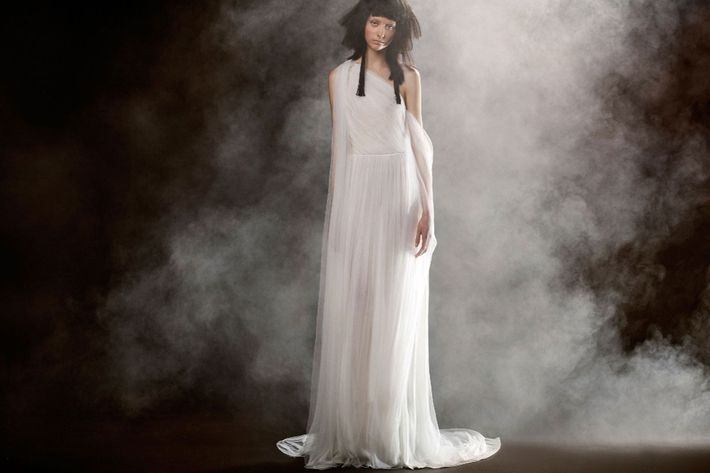 You can't talk about bridal without mentioning Vera Wang. Her latest collection continues to push the boundaries of what a wedding dress should look like. This season, her woman is darker and more mysterious with a Gothic-infused sensibility. That doesn't mean it's not wearable — this diaphanous draped gown can work for any bride's style.
Viktor & Rolf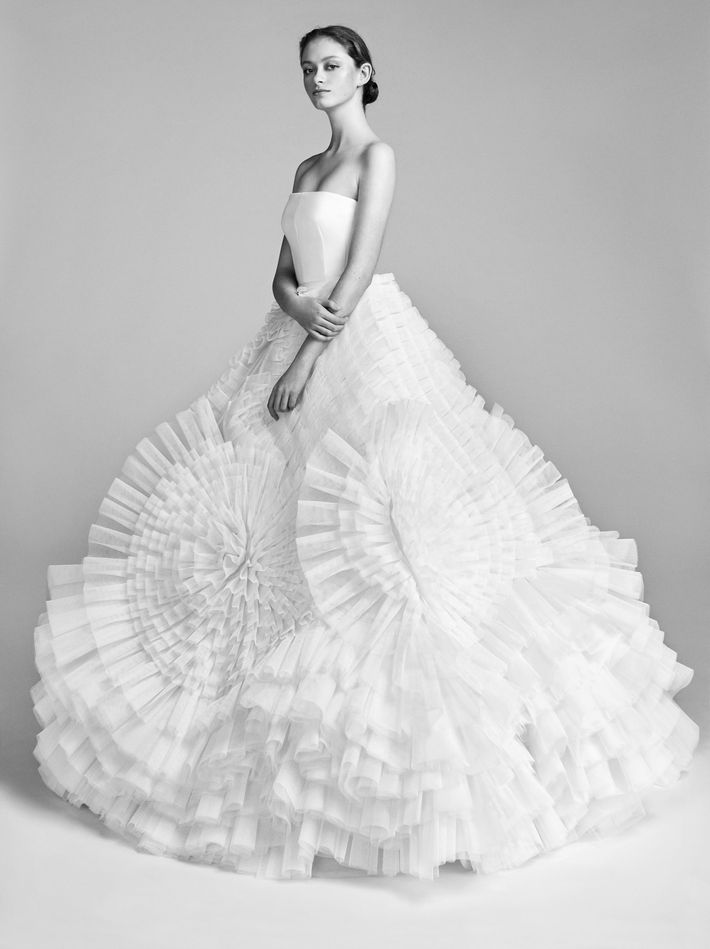 While they're only in their second bridal collection, Viktor & Rolf continue to be a standout at bridal shows. They interpret volume and shapes in a way that's both dramatic and bridal appropriate. Usually you'd think a gown with such a gigantic tulle skirt is meant for the princess-bride type but this look upends that stereotype. The intricate pleating and painstaking layering makes it an avant-garde wonder worthy of any discerning bride.