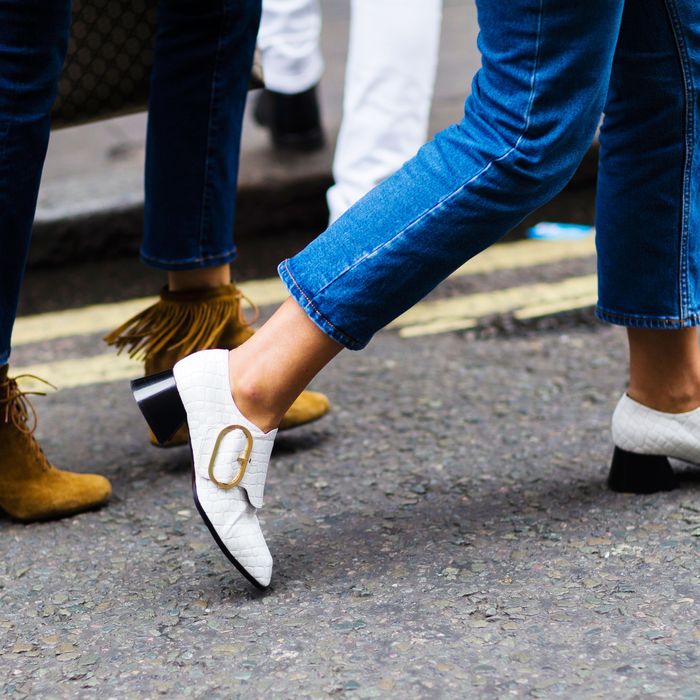 The better part of my winter was spent obsessing over a pair of black-and-white striped patent-leather Dorateymur boots. I compulsively refreshed the Net-a-Porter and Farfetch websites hoping the shoes of my dreams would go on sale. From their so-shiny-you can-see-your-reflection finish to the commuter-friendly block heel, I felt like these boots were made for me. I was on a mission to get them before the snow disappeared and the spring rendered them sweat chambers. Fortunately, the countless hours of online browsing paid off: During a "crazy good" Net-a-Porter sale, I became the proud owner of a pair of gleaming black-and-white patent leather size 41 Dorateymur boots, purchased at the too-good-to-be-true discount of 80 percent off.
The boots have remained in my closet ever since. It's not because they weren't beautiful or didn't meet my expectations, but when your foot is a size 11 (and you don't heed "final sale" disclaimers), shoe shopping on the Internet is a gamble. For one thing, European sizing and American sizing are so greatly skewed that a true conversion is pretty much impossible. The amount of times I've successfully ordered a size 41 shoe — the alleged European counterpart to an American size 11 — is exactly zero. On top of that, online shopping prohibits the very vital test drive, which is especially crucial for big-footed women.

Having learned my lesson the hard, painful way, I've resolved to buy shoes that do not feel like modern-day torture devices on my feet. The internet is full of guides to shopping for size-11 shoes written by people who do not have size-11 feet, so here are some tips from a person who feels your pain (metaphorically and physically).
If you have big feet, sneakers are your best friend. They have a way of stretching and molding to feet over time and most brands carry extended sizes (up to 12 and 13). One upside for ladies with size-11 feet is that we're able to wear men's sizes in popular styles that usually sell out among their female counterparts. Take Rihanna's creeper sneaker: Through navigating the often paltry size-11 shoe market, I've found that there's little if any difference between women's and men's sneakers, give or take slight variations in colors. So when Rihanna's new creeper sneaker was sold out on the women's section of Nordstrom, I slyly made my way over to the men's section of the site to find a size 9 ready for my cart. Usually the conversion from women's to men's is a two-size difference. Same shoe, same fit — just bigger sizes.

Trendy Is Okay, But Your Feet Will Pay
Inexpensive, trendy size-11 shoes are hard to come by, but I've had success at Asos, River Island, Zara, Topshop, Aldo, Steve Madden, or Nordstrom. Zara has the most runway-driven styles (V-cut mules and velvet lace-up heels, for example), but there's a caveat: The brand's size-11 shoes are the first ones to sell out because they're so rare. If I find a pair I love, I buy them immediately because they'll be gone the next day. Another tip: Do your shopping online. Most retailers with brick-and-mortar locations max out around size 10 in-store.

If You Have More Money to Spend
Unlike fast-fashion labels, where trends are of the essence, contemporary brands place a bigger emphasis on timeless styles that hold up better in the long run. Labels Everlane, J.Crew, Sam Edelman, Matt Bernson, Loeffler Randall, M. Gemi, Stuart Weitzman, and Mansur Gavriel are invested in qualities like fit and comfort. If I somehow amassed a small fortune, I'd buy Stuart Weitzman's Nudist sandal in every color. It's a comfortable single-sole heeled sandal that won't leave you with unsightly blisters or that dreaded toe overhang, and it's available up to size 11.5 in various widths (super slim, narrow, medium, and wide). For the crowd with even bigger feet, the good news is Loeffler Randall carries extended sizes up to 11.5, while Sam Edelman and Stuart Weitzman both produce select styles in size 12.

The luxury fashion world is a notoriously size-exclusive place, but surprisingly, when you reach the apex of luxury, the availability of shoe sizes is much greater. For instance, Net-a-Porter and Nordstrom have some of the largest variety of styles for size-11 feet, ranging from classic styles like red-carpet favorite, Manolo Blahnik's BB pump, to more of-the-moment styles like Gucci's Horsebit loafers and Miu Miu's gingham-laced ballet pumps. Of course, you will have to contend with European sizing. And as evident with my boot debacle, a U.S. 11 and an Italian 41 can mean vastly different things, no matter how wide or narrow your feet are. As a personal rule, I automatically go with a size-42 shoes when shopping Italian and French labels. Sure, it feels somewhat limiting — the number of brands that actually carry sizes 42 is actually pitiful — but there is solace in the stock of brands that do. Jimmy Choo, Manolo Blahnik, Prada, Bally, and Gucci are some of the better brands to remember for faithfully catering to larger sizes; not just because the quality is top notch from the stitching to the leathers used, but also because they have some of the chicest styles from season to season. For the best evening shoes Manolo Blahnik has some of the most comfortable heels I've ever tried (Carrie Bradshaw didn't love them for no reason!). The curve of the arch is not too high and the insoles are lightly cushioned, lending just the right amount of support, while the leathers feel more pliable so they aren't as constricting on the feet. As a timeless everyday shoe, it doesn't get any better than a pair of Gucci loafers.

If you buy something through our links, New York may earn an affiliate commission.