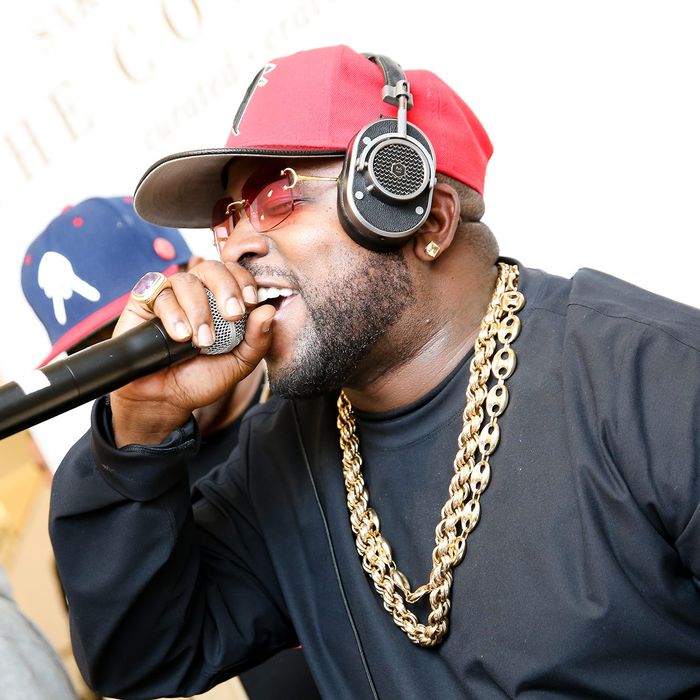 Big Boi, Lululemon aficionado.
Photo: BFA
Rapper, songwriter, and DJ Big Boi is no stranger to bold fashion, colorful hats, and large furs. But the former Outkast member is also a fan of high-low mixing — or, more specifically, athleisure-designer mixing.
While DJing at Saks's launch party of The Collective, the newly renovated contemporary floor of Saks Fifth Avenue's flagship store, he told the Cut that shopping for his wife introduced him to his new favorite shirting brand: Lululemon.
"My wife actually turned me on to this, Lululemon," he said, gesturing to his long-sleeved, black athletic top, paired with Saint Laurent jeans, special-edition Air Jordan 6s, and brightly patterned crew socks of his own design.
He explained: "I have Lululemon everything. For Christmas [my wife] wanted Lululemon because she has everything else: Chanel, Gucci, Louis Vuitton. I went to go shop for her [at Lululemon]. I was like, 'Wait, this is men's?' And I started trying stuff on. I went and bought ten of the same shirt in black and blue and gray. It's all about comfort."
That may be true, but in his latest video with Adam Levine for the new song "Mic Jack," Big Boi wears a floor-length white mink with a red-brimmed hat, floral pants, and an uncomfortable-looking astronaut suit with gold teeth.
He said he wants to "look like the music" but admitted, "You wanna look good, you gotta pay to play." Meaning: If you can get away with wearing a Lululemon shirt instead of a tight astronaut suit, seize the day.