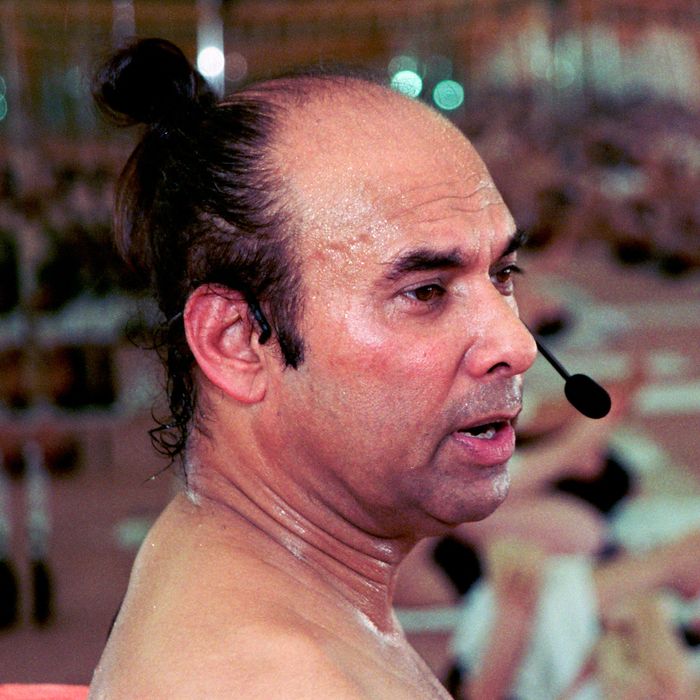 Bikram Choudhury.
Photo: Bob Riha, Jr./Getty Images
In 2016, speedo-loving hot-yoga founder Bikram Choudhury was ordered to pay more than $7 million in a lawsuit alleging he sexually harassed and unceremoniously fired his former lawyer. However, Choudhury allegedly hid his assets and fled the country to avoid paying the judgment, and a California judge has now issued a warrant for his arrest, ABC News reports.
Minakshi "Miki" Jafa-Bodden was serving as general counsel for Choudhury's Yoga College of India when she was allegedly asked by the hot-yoga guru (who created the sweat-inducing Bikram Yoga) to help cover up allegations that he had sexually assaulted and raped a yoga student. Since 2013, Choudhury had been hit with six civil lawsuits from women who accused him of rape and sexual harassment, and Jafa-Bodden was allegedly in the process of looking into those allegations when the yogi made his request. The attorney refused, and subsequently lost her job.
Jafa-Bodden then filed her own suit against Choudhury, alleging he also sexually harassed her and subjected her to obscene comments, before unfairly firing her. In January 2016, a jury agreed and ruled in her favor. As ABC News reports, Choudhury was ordered to pay almost $6.5 million in punitive damages, as well as $924,000 in compensatory damages.
According to KABC-TV, Choudhury has not paid the judgment, and a process server for Jafa-Bodden has since tracked Choudhury down to Thailand. He also apparently tried to ship his "fleet of 43 luxury cars" overseas to avoid having to turn them over as part of the judgment. As a result, a Los Angeles judge issued an arrest warrant for Choudhury on Wednesday, and set his bail at $8 million. Under the warrant, Choudhury would be arrested if he returns to the U.S.