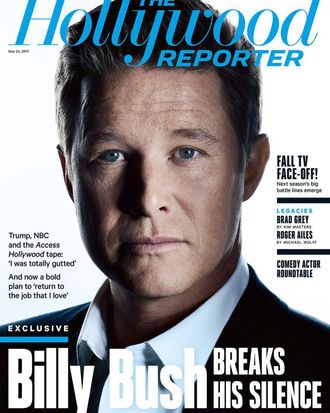 In October, a tape of a conversation between Donald Trump and former Access Hollywood host Billy Bush emerged in which Trump bragged about sexual assault. After the tape was released, Trump dismissed the comments as "locker room banter" and went on to win the presidency, while Bush ended up getting fired from his Today co-hosting gig. But now, Bush is speaking out about the tape in a new interview with The Hollywood Reporter, explaining that he doesn't actually consider Trump's now-infamous "Grab them by the pussy" comment to be typical locker room talk.
"I'm in a lot of locker rooms, I am an athlete, and no, that is not the type of conversation that goes on or that I've participated in," Bush told THR.
The conversation between Trump and Bush occurred in 2005, back when Trump was "the biggest star … on TV, period," Bush said. Bush claims that part of his job at the time was to, "in a chameleon-like way, connect with people." If he had been filming with Martha Stewart, Bush explained, he would have spoken with her about an "organic garden." But with Trump, he usually chatted about "golf, gossip, or women."
Bush, who also reportedly has a history of making inappropriate comments about women, went on to tell The Hollywood Reporter that he had thought Trump was being "provocative" and "performing" with his remarks. "When he said what he said, I'd like to think if I had thought for a minute that there was a grown man detailing his sexual assault strategy to me, I'd have called the FBI," Bush said.
The former Access Hollywood host added that the backlash he faced since the tape was released apparently gave him a "deeper understanding" of women's struggle for equality. "When a woman watches that tape — and this is what really hit me — they may be asking themselves, 'Is that what happens when I walk out of a room? When I walk out of a meeting, is that what they're saying about me? Are they sizing me up?'" he said. "I can't live with that."