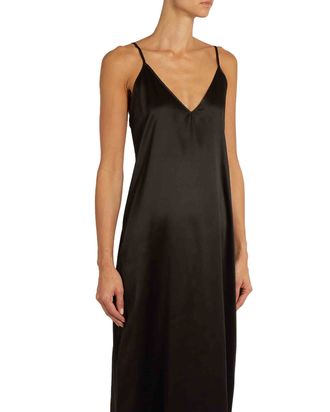 We're approaching peak wedding season, and if a fridge covered in save-the-dates with vague dress codes like "beach chic" fills you with panic about having nothing to wear, worry not. The Cut's devoting a full week to making it easier to get dressed when it seems like you're spending every other weekend raising a glass to the happy couple.

In the past three years, I've been fortunate enough to have friends who opted for local, New York City–area weddings. Since I didn't have to pay for plane tickets or hotel stays, I was able to buy one new item for each event. When it was a cocktail affair, I found a black lace Tibi top (on sale) and wore it with a high-waisted Aritzia skirt. For another that called for black tie, I splurged and used Armarium, a rental service that provided me with a rainbow-colored, shredded-silk Marco de Vincenzo dress for the reasonable fee of $200.
Unfortunately, my luck has run out. This year I have three weddings to attend, all of which have wildly different dress codes (cocktail chic, rustic sophisticated, and elegant tropical were some of the descriptors each bride threw my way) and require an overnight stay. There's the outdoor estate wedding in upstate New York with a fashion-forward crowd that requires me to look my best. In the fall, I'm heading back upstate for a low-key evening at a converted barn. Two weeks after that, I'm attending a traditional Hawaiian wedding in Oahu. There's no way I could buy three new dresses for these events; I was determined to find one that could work for everything.
I combed through my usual go-to websites (Need Supply, Net-a-Porter, Barneys Warehouse) in search of something relatively affordable, elegant, and suitable for my minimalist aesthetic. I came across this simple black slip dress from Raey on Matches. At $187 it hit the sweet spot, especially since it was made from a luxurious crepe-backed silk. It's hefty and lies nicely against my body — there's no weird clinging to my hips or thighs. The double-V neckline is a little racy but not too revealing, and the midi length is formal enough that it can pull double duty for both black-tie and cocktail occasions. Best of all, the design is discreet. No one will notice that I'm wearing it over and over again.
Which is exactly my game plan: I'm going to wear this dress to every event and mix up my accessories to suit the dress code. Fortunately, there are plenty of stylish, affordable earrings available at the moment, making it much easier on my wallet. For the fashion-forward wedding, I'll wear dramatic, oversized glittery hoops and simple black-heeled sandals. When I hit the barn wedding, I'll recycle the shoes and switch to minimalist, marble-and-faux-gold danglers. In Hawaii, I plan to have bright-red tassels swinging from my ears and an ancient pair of tropical-print silk sandals on my feet. And trust me, if next year is as travel-filled as this one, I'll be sure to repeat this stylish uniform as many times as needed.
Fun Earrings to Wear With It
If you buy something through our links, New York may earn an affiliate commission.