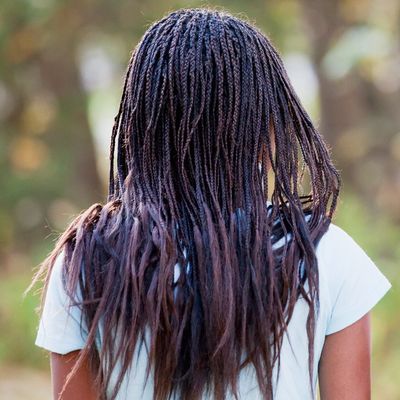 Parents of black students at the Mystic Valley Regional Charter School in Malden, Massachusetts, say their children are being disciplined specifically because of their hairstyles.
The Boston Globe spoke to parents who say that, since April, there's been extra emphasis on punishing black students who wear braids. Colleen Cook, mother of 15-year-old twins, says her daughters have received several detentions that last for an hour before and after school, been banned from prom, and kicked out of extracurriculars. Annette Namuddu's daughter, who is 15, was suspended.
"They marched black and biracial children down the hall" for hairstyle examinations, Cook told the Globe. Kathy Granderson, who has a 14-year-old biracial daughter at the school, says she "was one of about 20 girls taken down to administrators' offices last week and asked whether their braids contained any 'fake' hair."
The school, which bans hair extensions, released the following statement, explaining why:
One important reason for our students' success is that we purposefully promote equity by focusing on what unites our students and reducing visible gaps between those of different means. Our policies, including those governing student appearance and attire, foster a culture that emphasizes education rather than style, fashion, or materialism. Our policy on hair extensions, which tend to be very expensive, is consistent with, and a part of, the educational environment that we believe is so important to our students' success.
Parents make the counterargument that this disproportionately affects black students — and it certainly is far from the first time such hairstyles have been banned from school settings.