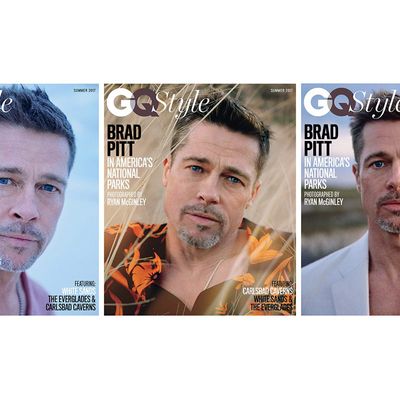 Angelina Jolie gave her first interview about the great Brangelina divorce in February, and now it's Brad Pitt's turn. The actor posed for the May issue of GQ Style, and he got decidedly more candid than Jolie about everything that happened in September and after. In one of the photos, taken in (oh, boy) three of America's great national parks, Pitt has tears in his eyes. And Pitt chose to conduct the interview in his kids' "childhood home," which he now lives in alone, because Jolie has full custody of the kids. All of this paints a deliberate picture that Pitt is lonely, remorseful, and a little bit pitiful. Here are some of his most interesting quotes from the interview.
On opening up emotionally after the divorce: "I'm personally very retarded when it comes to taking inventory of my emotions. I'm much better at covering up. I grew up with a Father-knows-best/war mentality — the father is all-powerful, super strong — instead of really knowing the man and his own self-doubt and struggles. And it's hit me smack in the face with our divorce: I gotta be more. I gotta be more for [the kids]. I have to show them. And I haven't been great at it."
On quitting drinking: "I do remember a few spots along the road where I've become absolutely tired of myself. And this is a big one. These moments have always been a huge generator for change. And I'm quite grateful for it. But me, personally, I can't remember a day since I got out of college when I wasn't boozing or had a spliff, or something. Something. And you realize that a lot of it is, um — cigarettes, you know, pacifiers. And I'm running from feelings. I'm really, really happy to be done with all of that. I mean I stopped everything except boozing when I started my family. But even this last year, you know — things I wasn't dealing with. I was boozing too much. It's just become a problem. And I'm really happy it's been half a year now, which is bittersweet, but I've got my feelings in my fingertips again. I think that's part of the human challenge: You either deny them all of your life or you answer them and evolve."
On whether he misses alcohol: "I mean, we have a winery. I enjoy wine very, very much, but I just ran it to the ground. I had to step away for a minute. And truthfully I could drink a Russian under the table with his own vodka. I was a professional. I was good."
On his newfound hobby, sculpture: "This house was always chaotic and crazy, voices and bangs coming from everywhere, and then, as you see, there are days like this: very … very solemn. I don't know. I think everyone's creative in some way. If I'm not creating something, doing something, putting it out there, then I'll just be creating scenarios of fiery demise in my mind. You know, a horrible end. And so I've been going to a friend's sculpting studio, spending a lot of time over there. My friend [Thomas Houseago] is a serious sculptor. They've been kind. I've literally been squatting in there for a month now. I'm taking a shit on their sanctity."
On (oh, boy) his new appreciation for R&B: "I've never heard anyone laugh bigger than an African mother who's lost nine family members. What is that? I just got R&B for the first time. R&B comes from great pain, but it's a celebration. To me, it's embracing what's left. It's that African woman being able to laugh much more boisterously than I've ever been able to."
The entire interview is worth a read; click here.