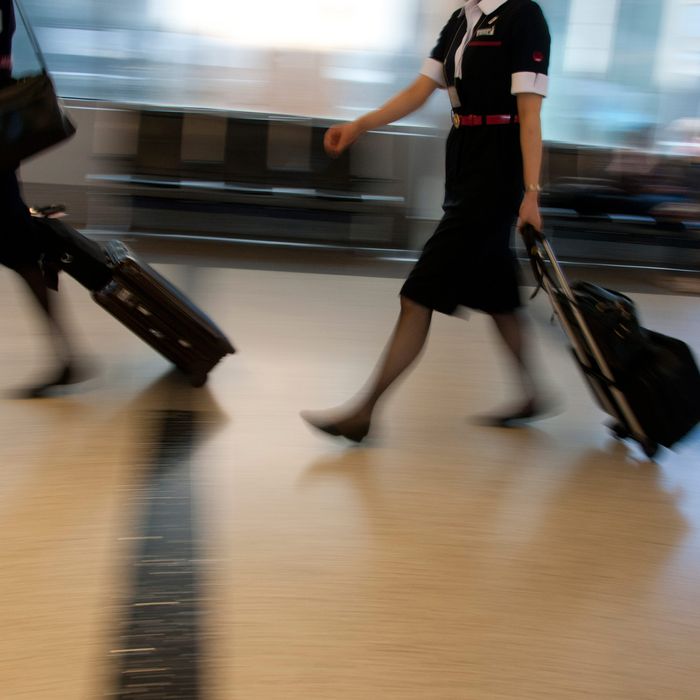 Photo: Mitch Diamond/Getty Images
Two Frontier Airlines flight attendants filed a sex-discrimination complaint against their employer on Tuesday, NBC reports. The two women say they were unable to pump breast milk during their shifts and as a result, had to take extended unpaid leave.
Flight attendants Jo Roby and Stacy Rewitzer have each worked for Frontier for over a decade. "No one should have to choose between being the mom she wants to be and pursuing the career she loves," Roby said in a statement provided by the ACLU, which helped file the complaint. She says a manager told her to take a leave of absence if she wanted to breastfeed, and that it was unsafe to pump breast milk in an aircraft bathroom during her shift. (The airline industry is exempt from the Affordable Care Act's requirements — a private, non-bathroom place to pump — for workplaces with more than 50 employees.)
The flight attendants' complaints come one year after four Frontier pilots filed similar complaints, also to the Equal Employment Opportunity Commission: According to the pilots, Frontier Airlines failed to provide breastfeeding and pregnancy accommodations, such as a place to pump and a ground assignment during the final months of pregnancy.
In a statement provided to NBC on Tuesday, Frontier Airlines claims it's compliant with national and state laws, going on to say: "We have made good-faith efforts to identify and provide rooms and other secure locations for use by breast-feeding flight attendants during their duty travel."
Galen Sherwin, a senior staff attorney with the ACLU Women's Rights Project, told NBC she sees things differently. "Frontier's policies are discriminatory at a structural level and need to be changed," the attorney said. "How is it that a job that is majority female still fails to take into account pregnancy and breastfeeding?"