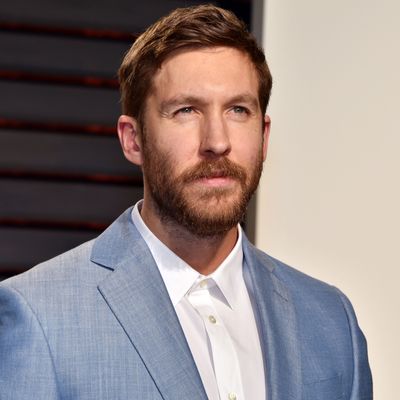 Calvin Harris.
Photo: 2017 Getty Images
Currently the song I've been recommending to people over and over again and putting on every playlist is "Rollin." It's everything you could want out of a Song of the Summer: a great beat, solid features by Future and hip new R&B singer Khalid, and quotable lines about sipping codeine.

The last line of the song is "I hope it hurts you when you hear my name," which is probably a dis directed at Taylor Swift. But it's also as if Calvin Harris could foresee the emotional roller coaster involved in liking this song — his song. Somehow he knew how the haters would feel when they heard it, liked it, asked who it was by, and upon hearing the answer thought: Crap, I like Calvin Harris now.
Previously I've had two opinions of Calvin Harris. The first is that, as a producer/musician, he's sort of like a potato — starchy, reliable filler that needs flair to be exciting. A potato needs chives or bacon or sour cream. Calvin Harris needs Rihanna.
The second opinion: Axe Body Spray and Ultra Music Festival had a baby and that baby was Calvin Harris. Actually, that baby was Adam Richard Wiles, but Adam Richard Wiles thought, this is no name for a Scottish electro-dance-pop-nu-soul DJ/Producer/Underwear Model/Singer-ish who will rule the Vegas turntable, and so chose a professional moniker that was somehow even blander than his given name. All of which is to say that there's always been a sort of aura of douche around Calvin Harris, one that's extended to his music.

Harris's entire catalog consists of music to which meaty jocks can fist-pump (i.e., "Summer" and "Feel So Close") or songs that make are the aural equivalent of a "Let's take a popper to the dome and SoulCycle forever" (i.e., "How Deep Is Your Love" — admittedly, a song I enjoy). It's the kind of music you'd hear in a commercial. (In fact, "Colours" was used in that Kia commercial with the terrifying giant driving hamsters.) To his credit, the songs with Rihanna ("We Found Love" and "This Is What You Came For") are just good enough to keep him from just totally disappearing into the world of overpriced Vegas pool parties. Just.
Right now, someone might attempt to employ a line of defense that's something like, "Okay, just because he makes highbrow jock jams for men who live in Bonobos doesn't mean he is himself a douche." To which I respond with this Instagram, more or less Harris's Aura reading:
And then there was everything associated with Taylor Swift. To recap, in 2016, he broke up with Swift because he was, reportedly, "intimidated by her success." Then, while she was on her replacement-boo world tour with Tom Hiddleston, T. Swift dropped the bomb: She revealed that she in fact wrote his most recent hit and biggest banger, "This Is What You Came For," under the pseudonym "Nils Sjoberg." He went on a regrettable Twitter rant, got real petty, hid in a stairwell, and tried to redeem himself with what seemed to be a breakup song, "My Way," only to later declare that it wasn't about T. Swift, but rather about working at Safeway.

But breakups, they humble us all. They offer us a moment of reckoning and of reinvention. And this is Calvin Harris's. He's released three singles in quick succession — "Slide" (feat. Frank Ocean and Migos), "Heatstroke," (feat. Ariana Grande, Young Thug, and Pharrell), and now my favorite song ever, "Rollin."
Obviously the songs are great — effortless, sun-soaked bangers (there is no other word) that are prime for drinking Lime-A-Ritas on the beach. For the first time in a long time, he's making smart choices. Instead of making sanitized, soulless attempts at frat-party anthems, he's embracing everything great about Top 40 right now: a breezy tropical vibe and the full roster of inventive R&B and hip-hop artists who have put out music in the past six months. (Travis Scott, Kehlani, Future, Big Sean, John Legend, Khalid, Ariana Grande, Schoolboy Q, D.R.A.M., Nicki Minaj, Lil Yachty, PartyNextDoor, and Snoop Dogg are all featured on songs.) Their collective shine is actually making me forget about Harris weirdly fondling his own nipple in the above Instagram.

But what these singles really reflect, is Harris's determination to prove us all wrong. They are so good because nobody is better than when they are trying to prove their ex wrong. These songs are the musical equivalent of getting dumped, losing 60 pounds and posting the thirst trap to end all thirst traps on your Instagram. He's working on overtime to show us — and himself — that he can write a song as good as "This Is What You Came For."
Congratulations Calvin, you did it. I am significantly less ashamed to express excitement for the new album to drop in June. Even though it's punishingly called Funk Wav Bounces Vol. 1 — nobody said reinvention was easy.