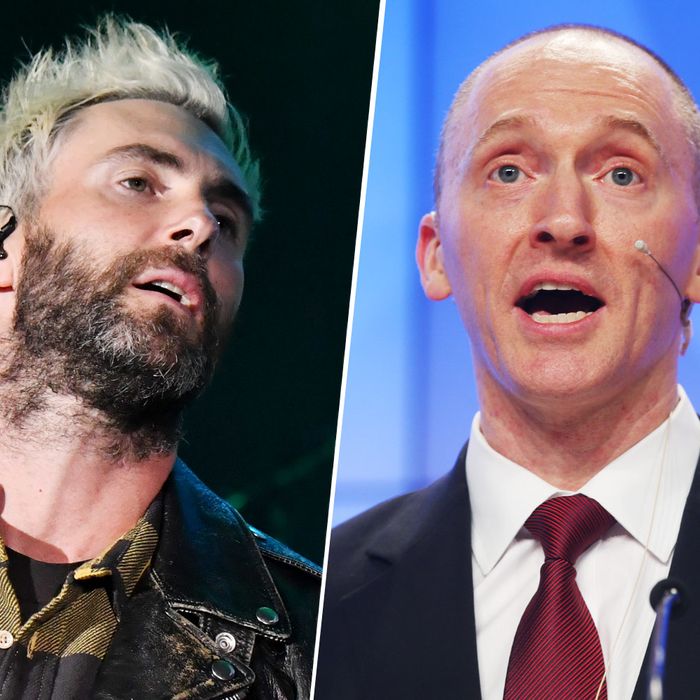 Maroon 5 frontman Adam Levine, former Trump adviser Carter Page.
Photo: Getty Images
When you're a former Trump Advisor being investigated by the FBI for possible ties to Russia, the question is not whether or not to quote American pop-rock band Maroon 5 in furious dispatches to the Justice Department, but rather, which Maroon 5 song to quote.
In a ten-page letter obtained by CNN, Carter Page reportedly called out the "integrity" of the FBI, writing, "your unbiased leadership in authorizing the release of this information can manifestly help prove how completely unjustified this entire witch hunt organized by the Clinton campaign and the Obama Administration has been all along."
He went on to quote the 2002 Maroon 5 song, "Harder to Breathe."
"A song from popular culture accurately describes many of the matters usurping a vast proportion of your time and America's attention given the primary focus of the mainstream media today," Page wrote, before turning to the lyric: "Like a little girl who cries in the face of a monster that lives in her dreams."

Page included a footnote in his letter with the URL to the music video for the song.

Please do not tell Louise Mensch about this, we cannot bear the resulting tweetstorm attempting to draw connections between various Maroon 5 lyrics and the Kremlin.