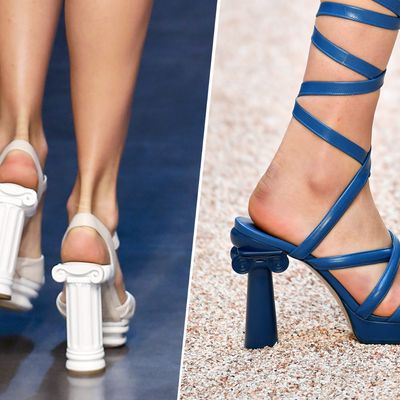 Left: Dolce & Gabbana heels from 2014; Right: Chanel heels from 2017.
Photo: Getty Images
Stefano Gabbana is not one to shy away from a fashion controversy. On Instagram, the Dolce & Gabbana co-designer reposted side-by-side images of Chanel's Ionic-column heels from Wednesday's ancient-Greece-themed cruise show and a similar Dolce style from 2014. The photo was originally posted by the Instagram account @whodiditfirst, which traffics in these kinds of side-by-side comparisons. "It's just a repost," the designer wrote, forgoing any other commentary. (We've reached out to a rep for Dolce & Gabbana for comment, and will update this when we hear back.)
Update, 5/8/2017: A rep from Chanel emailed us the following statement:


"Although these two shoe models share a common feature - the column heel - the design and aesthetics of the column, in addition to the design of the shoe as a whole, are significantly different. This indicates that Greece nourishes and will continue to inspire artists, creative designers, writers and philosophers throughout the world, thanks to its exceptional culture."
Gabbana also used his account to apologize for some design lifting of his own, admitting that he and Dolce were "inspired" by a SEX necklace Vivienne Westwood showed in 1989 for their own 2003 collection. "Okay it's true!!! We were stupid and ignorant when we did this!!!" he admitted. "We say SORRY to the Genius #viviennewestwood as we pay much attention to her work!!" The Dame doesn't have a personal Instagram, so who knows if she received the apology.