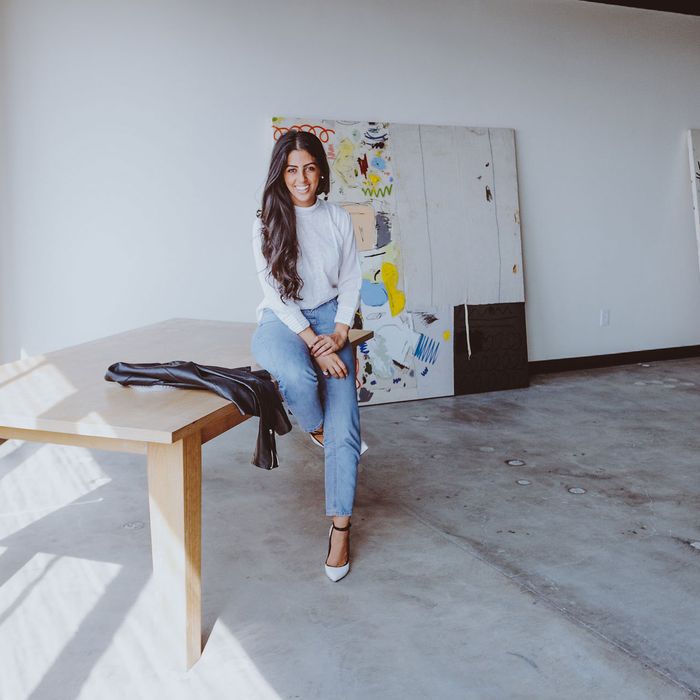 Chelsea Nassib describes her younger self as "a kid who loved to paint, and never stopped." It was a passion that would eventually lead her to start Tappan, her art-world shake-up of a business, in 2012. After getting her BFA from the University of Michigan in 2010, Nassib took a day job working for an interior designer. "I wanted to be an artist," she says, "but when I graduated the path was very unclear. In art school we were taught a lot of theory and practice but not really the business of art." Fortuitously, Nassib ended up selling paintings to many of her boss's clients, but was frustrated by the dearth of opportunities to show her work to a wider audience. Out of these obstacles, the idea for a solution — which would take the form of Tappan — began to germinate.
The concept started as an online gallery, a place for emerging artists to show their work and for collectors to obtain it at reasonable prices. "At the time, buying art online was not as mainstream as it is today," Nassib remembers. "People still believed art wouldn't go online. But friends from school and friends of friends let us put their work up for sale, and five years later, here we are." From its digital beginnings, Tappan's evolved to include a brick-and-mortar gallery and space for artists-in-residency, a talent incubator of sorts, brand collaborations, and a consultancy/advisory service for clients and collectors. While her company is many things to many people, Nassib is able to sum up her work succinctly: "My job is to discover emerging artists and connect them with collectors."
And connect she does. The entrepreneurial powerhouse now has a team of ten working in Tappan's downtown L.A. offices; plus the Koreatown Atelier, which is half-gallery, half-free-studio-space for Tappan artists, and an avenue for collectors to visit and connect with talent. (Tappan's weekly e-newsletter is also a must-read for art aficionados.)
Below, Nassib spoke to the Cut about nurturing emerging talent, her favorite artists, and the many wonders of the Muji calendar.
What were some of your objectives in starting Tappan?
I got the idea to start a business where I was able to connect artists who wanted to go on to major galleries but needed the support of collectors to be able to pursue their careers. We're still doing that, investing in them — we have an artist manager dedicated to helping them grow. From the collector side, it's also incredible to help people discover and buy at reasonable prices. We assist with curating and advising for bigger clients, and we have a team who can help you do commissions.
What's your workspace like?
We have an open floor plan, but in terms of what I like I'm pretty clean, minimal, and uncluttered. I have a thing for knolling and the space is also filled with our artists' work. In my office I have pieces by Cheryl Humphreys and Kelsey Shultis; in the bigger space we have Jonni Cheatwood, DeerDana, Michael Gittes, Michael Wall, Lola Rose Thompson …
What's on your desk?
I have my big screen, a Voluspa Ambre Lumiere candle, a Muji notebook and calendar, pens, and folders so there are no loose papers around. The two books on my desk are Art in Theory by Harrison and Wood and Ways of Curating by Hans Ulrich Obrist.
Who are your favorite artists right now, established and emerging?
Established: Jonas Wood. Emerging: Kelsey Shultis.
How do you stay organized?
I love being organized — I use both my phone and my notebook. I use Google calendar but also have everything written down in my Muji organizer. One page is a calendar and opposite is a to-do list. It helps me to write it and see it written down — I highly recommend it.
What's on your reading list?
I'm currently reading The Divine Matrix, which is about quantum physics and talks about the web of energy that connects everything in our lives and the world. I definitely recommend it. Next on my list is Tools of Titans which is compiled from Tim Ferriss's podcasts.
What are you listening to on repeat?
The Big Little Lies soundtrack. We have a big speaker for the whole office, and we usually listen to music while we're working.
Where in the city do you live and where are your favorite neighborhood spots?
I live in West Hollywood — I frequent Sweetgreen on 3rd, Marvin, Izakaya … Son of a Gun is delicious, and Beverly Hills Juice Club.
What do you never leave home without?
My Hydro Flask and Aquaphor — L.A. is a desert so it's very dry.
Would you ever live anywhere other than L.A.?
My family all lives in L.A., but growing up I romanticized other places, Italy, South America, so when I was younger I did a lot of traveling. I had done Semester at Sea and nine months in Argentina where I worked as an artist's apprentice. I came to realize everybody all over world is the same.
Do you have a big family?
I have three brothers, and I'm the first of the four. Then I have 20 cousins on dad's side alone. We're all super close in age. It's a nice situation.
Are other members of your family involved with art as well?
No, we come from a family of entrepreneurs, but not in art. A lot of my cousins are in real estate, one is the co-founder of Sweetgreen; my cousin Jasmin founded Cult Gaia, the bag company. So, different industries, but lots of self-starters.
What's your astrological sign?
Gemini. My birthday is May 22, so I'm on the cusp of Taurus, but I identify more with Gemini. Geminis have a sense of adventure, they love to be social, and they are good at communicating. A lot of people think they're two-faced but another reading — which I prefer — is that they're able to communicate with many different kinds of people in different ways.
What's in your bag?
My Muji notebook, a pouch with pens and Prismacolor markers just in case I need to doodle, my wallet, my Hydro Flask, and my book. I'll switch between a Cult Gaia bag and a Madewell leather bucket bag.
What do you doodle?
I draw a lot of people's faces.
What would you be doing as a career in an alternate universe?
I think I'd be a landscape architect living on a ranch in Ojai. I actually think that's the dream — it doesn't have to be an alternate universe!
Who's your dream dinner companion?
I'd love to share a meal with Yayoi Kusama or Frida Kahlo. Either way it would be a very weird night.