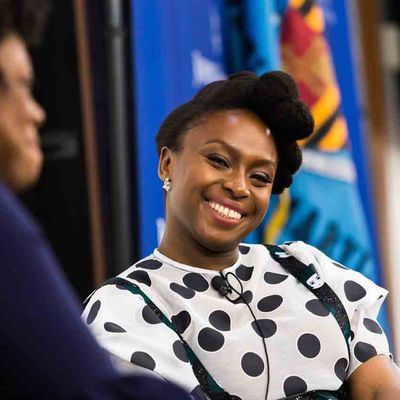 Chimamanda Ngozi Adichie in a Nigerian design.
Photo: Shedrick Pelt/facebook
Over the past year, acclaimed feminist author Chimamanda Ngozi Adichie became the face of British retailer Boots' No7 beauty brand and sat front row at a Dior show during her first Paris fashion week. And now, Adichie is using her style-icon status to help support local designers from her native Nigeria through her Wear Nigerian campaign.
In a Monday Facebook post, the author explained that the Nigerian government's "disastrous economic policies" have cause the country's local currency to decline in value, which has led to a reduction in "disposable income, a change in values, a disorientation of the middle class, and most of all, to a debilitating sense of uncertainty." As a result, Adichie has decided to wear mostly Nigerian brands for public appearances to help promote local designers as part of her new Wear Nigerian campaign, which she is highlighting on an Instagram page run by her nieces Chisom and Amaka.
"In the past few weeks, I've bought more Nigerian brands than I ever have in the past. I've discovered new names," Adichie wrote on Facebook, adding that she's been filled with admiration for the many men and women running these businesses in Nigeria. "I'm particularly interested in 'inward-looking' brands, those for whom dressing Nigerian women is as important as other goals."
Her new fashion choices have presented a few issues here and there — she's had to change some "dodgy zippers" and has come across some "poor quality fabrics" — but by and large, Adichie has been a fan of her new looks. "Overall, I love the clothes, their cut, their whimsy, their color, their flair, their ability to make me feel like myself," she wrote on Facebook. "Their makers, from designer to tailor to button-fixer to okada-delivery-person, deserve to be supported."