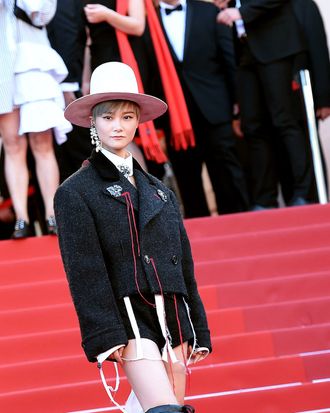 Chris Lee at the Cannes Film Festival.
This year's Cannes Film Festival has proceeded apace, with thigh-slit, carpet-dusting gowns, usually featuring a sweetheart neckline and some kind of Gobstopper-size gems. The event's red carpet reliably brings out everyone's inner 1950s starlet, which is why it was so refreshing to see Chinese pop star Chris Lee — who's become known for her androgynous style — changing things up.
Lee is a muse to Riccardo Tisci, and has made the scene at Gucci and Givenchy, usually in a well-tailored suit. She even collaborated on a collection with Alexander Wang. And yesterday in Cannes, she continued her sartorial winning streak, wearing an ensemble by John Galliano for Maison Margiela Artisanal, consisting of a deconstructed-wool-jacket trailing threads, worn with shorts, over-the-knee boots, a single earring, and a Gaga-esque pink hat. It was what an E! commentator might call "a lot of look," but at least it was refreshing in a sea of taffeta.
Like the Met Gala, the Cannes red carpet tends to suffer from a paucity of imagination, so it was nice to see someone breaking the mold. Also tacking in an unexpected direction: Marion Cotillard, who eschewed her typical bombshell style for a T-shirt dress and artfully folded jeans from up-and-coming Belgian/French label Y/Project — proof that casual staples can get a new life on the red carpet. Keep up with all of the looks from the festival in our regularly updated slideshow.