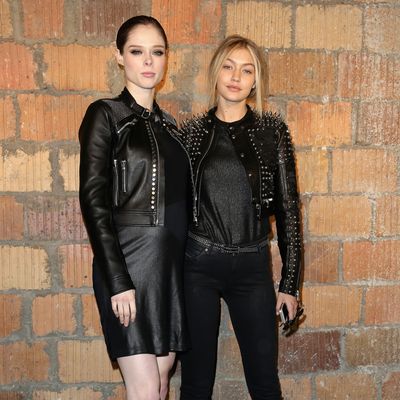 Coco Rocha thinks Gigi and Bella Hadid are the real deal.
Photo: Chelsea Lauren/Getty Images for Mercedes-Benz F
It's no secret that Gigi Hadid and Bella Hadid are having a moment as models in the fashion industry and in pop culture (what with their immense social media presence and pop star boyfriends). They've had plenty of detractors along the way, but now supermodel Coco Rocha has chimed into an ongoing conversation about whether or not the Hadid sisters deserve the 'supermodel' title. In short: yes. You can all count Rocha as a big fan of Gigi and Bella.
In an Instagram post she also shared on Twitter, Rocha laid out her support for the sisters pretty clearly, lest there be any confusion: "I've been doing this modeling thing for a minute and I'd just like to say, for the record, @gigihadid and @bellahadid are the REAL DEAL. #Supermodels are back and I never thought it was possible."
Bella and Gigi Hadid are among the current darlings of the industry and their immense popularity on social media is inextricably linked to their personas and role within the new generation of "it girls," (along with Kendall and Kylie Jenner). Of course, their immense popularity has also been a source of tension, with some arguing that their fame bought them a shortcut to the "supermodel" status. Included in that bunch of critics are supermodels from the older vanguard like Stephanie Seymour, who infamously called Gigi and Kendall Jenner "bitches of the moment." The debate as to who is worthy of the title got so heated that at one point, Tyra Banks also stepped into the mix, basically asking whether everyone could just play nice.
Rocha's endorsement might ring loud and clear, but the comments thread on her Instagram photo continued the back-and-forth debate about the Hadid sisters. Whichever side one takes, though, one thing is clear: Bella and Gigi are still the names on everyone's lips.