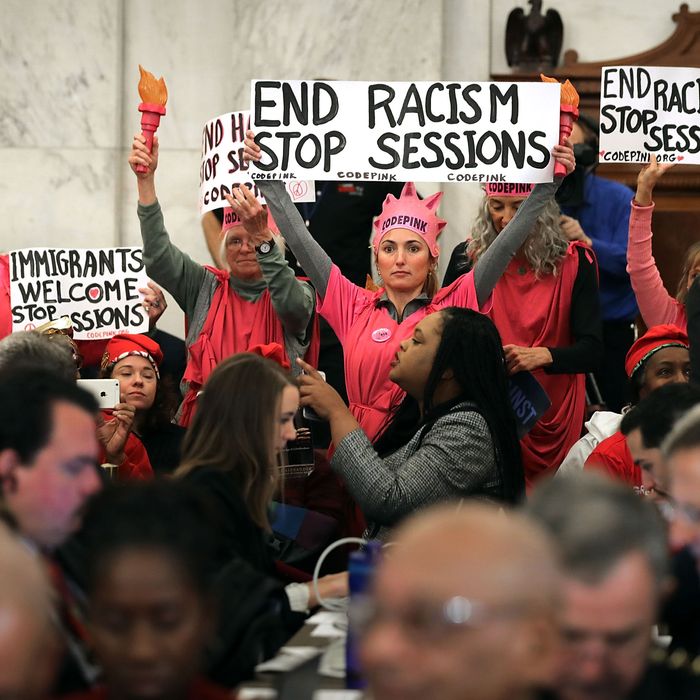 Code Pink protesters at Sessions's hearing.
Photo: Chip Somodevilla/Getty Images
On Wednesday, a jury convicted three Code Pink protesters on charges of disrupting Jeff Sessions's attorney general confirmation hearing in January. The protesters now face up to 12 months in prison, the New York Times reports. One of the convicted protesters, 61-year-old Desiree A. Fairooz, maintains that all she did during the hearing was laugh when Senator Richard Shelby said Sessions had a "clear and well-documented" record of "treating all Americans equally under the law."
The verdicts were returned after a two-day trial in Washington. Fairooz was found guilty of disorderly conduct and parading or demonstrating on Capitol grounds, the Times reports. Two other activists she was with during the January 10 hearing, Tighe Barry and Lenny Bianchi, were acquitted of disorderly conduct, but convicted on two separate charges of parading or demonstrating. During Sessions's hearing, Barry and Bianchi dressed as Ku Klux Klan members and pretended to support Sessions before the hearing started.
Fairooz, of Virginia, told the Times that she was "really disappointed" by the verdict, and that her attorney will file post-trial motions to set the verdict aside (as it was too early to discuss an appeal). "We'll face that music when we get to that," Fairooz told the Times, adding that she will continue to protest in the meantime. "I'm so disgusted with so many different aspects of our current government."
During the trial, Bianchi, who is representing himself, said he only protested before the hearing began because he didn't want to be arrested. Barry's attorney argued that while the protesters created a "spectacle," they didn't actually disrupt the proceedings.
As for Fairooz, critics of Sessions — who was denied a federal judgeship in 1986 over allegations that he made racist remarks, opposed federal legislation to extend hate-crime laws to cover LGBT people, and voted against reauthorizing the Violence Against Women Act twice, among other things — think her outburst was understandable. Yet, a Justice Department lawyer argued on Tuesday that Fairooz's "loud bursts of anger" disrupted congressional proceedings and thereby warranted a criminal charge.
The three activists pleaded not guilty to the charges, rejected a plea deal, and demanded a trial, the Times notes. "None of us planned to get arrested," Fairooz said. "We just wanted to be a visible symbol of dissent."