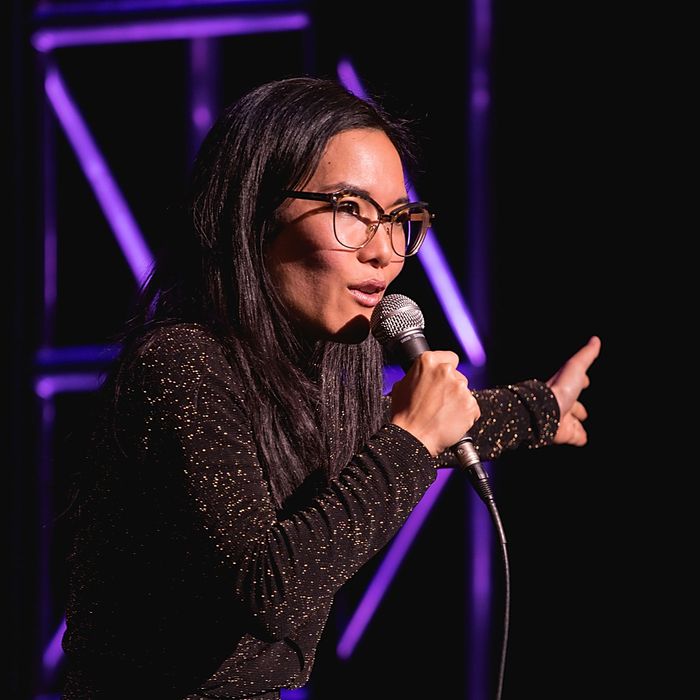 Ali Wong in her H&M jumpsuit.
Photo: Rick Kern/WireImage
It's been almost a year since Baby Cobra debuted on Netflix and Ali Wong's life is a little insane. Not only is she working on her first book, she's also currently touring the country (with more dates being added as demand grows). This past weekend she hit up New York City in a series of six sold-out shows at Town Hall. After longtime friend and comedian Kevin Camia warmed up the crowd with funny, raunchy takes on being a newly single Filipino-American man, Wong took to the stage exclaiming, "I heard that the entire Asian population of NYC was here!" to loud cheers.
It's a stark contrast to when Wong was filming Baby Cobra and touring in her native San Francisco. At that point in her career Wong lamented that she was relying on the likes of Groupon to fill seats. Now, she's in such demand that she's performing twice a night in major cities like New York, Vancouver, and Anaheim. If the punishing schedule is taking a toll, you'd never guess. At the 10:30 p.m. show, Wong danced around, gestured enthusiastically, and sold jokes in the same loud, energetic tone that made her Netflix special such a huge success.
Wearing a glittery H&M jumpsuit and shiny ballet flats, she launched into a rant about her newfound mom status and its many challenges. Even the outfit was a nod to her new existence — she joked onstage about being drawn to sparkly items now as a result of her own inner spark dying post-baby. In reality, the purchase was made in true Ali Wong fashion. "My gold jumpsuit is obviously a holiday item. But of course I purchased it during the next season when it was on sale for $19.99. For me, it is the perfect intersection of pajama and fabulous," she explained. "Before, when I performed at clubs, and especially right after I gave birth, I always wore sweatpants. Then at my first theater show after Baby Cobra, my friend and fellow comic Louis Katz told me, 'I think you should stop wearing sweatpants now.'"
While Baby Cobra touched on dating, being pregnant, and her miscarriage, the new show is really about the roller coaster of emotions during her first year as a parent. Wong isn't afraid to delve into the challenges of breastfeeding (it wasn't pleasant and she stopped at eight months) or the grossness that comes along with checking for poop-filled diapers (you put your face up close and take a open mouth whiff). It's raw, relatable even if you're not a parent, and absolutely terrifying for someone like me who is of the age where nearly everyone around her has a small baby. I tell her after the show that she scared the shit out of me and my husband, "The highs are high and the lows are low. But it's corny as fuck to gush about the highs so you'll hear me mostly complain about the lows," Wong reassures me.
You can tell that the highs are pretty good despite her jokes — baby Mari and husband Justin are keeping her company as she travels. Wong even shouts him out at the end of show as he's in the theater lobby dutifully slinging posters and navigating his fair share of curious fans. "Selling posters became a great way for my husband to become involved. He actually really enjoys meeting the people who spent money and took out time to see me live. It's a nice send off for the audience, to see this man in the flesh I've been talking about onstage," she says. Hey, who wouldn't be curious to check out the guy on the receiving end of ass-licking jokes?