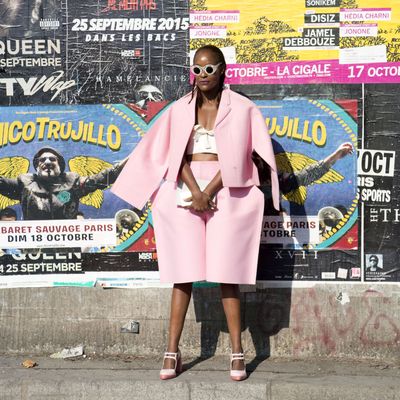 Michelle Elie in CDG.
Photo: Kirstin Sinclair/Getty Images
Rei Kawakubo's fascinating, reality-defying designs for Comme des Garçons are captivating on the runway, and will surely draw crowds to the Costume Institute next month. But if you're the one wearing the three-armed jacket, pencil in extra time for sidewalk interrogations. "You have to really plan ahead how you're going to get from point A to point B, and be ready for confrontations and conversations and people interacting" with what you're wearing, says Michelle Elie, the designer and street-style star who regularly wears Kawakubo's most outré designs. Elie once got into a taxi wearing one of the sanguine pieces from the Blood and Roses collection. Her cabdriver told her, "I don't understand what you're wearing, but I do have to say you look exceptionally outstanding, and keep it up." When she tried to fashion-splain Comme des Garçons to him, "he didn't know much about it, but he did say it was the best thing he'd seen all day!" she recalls.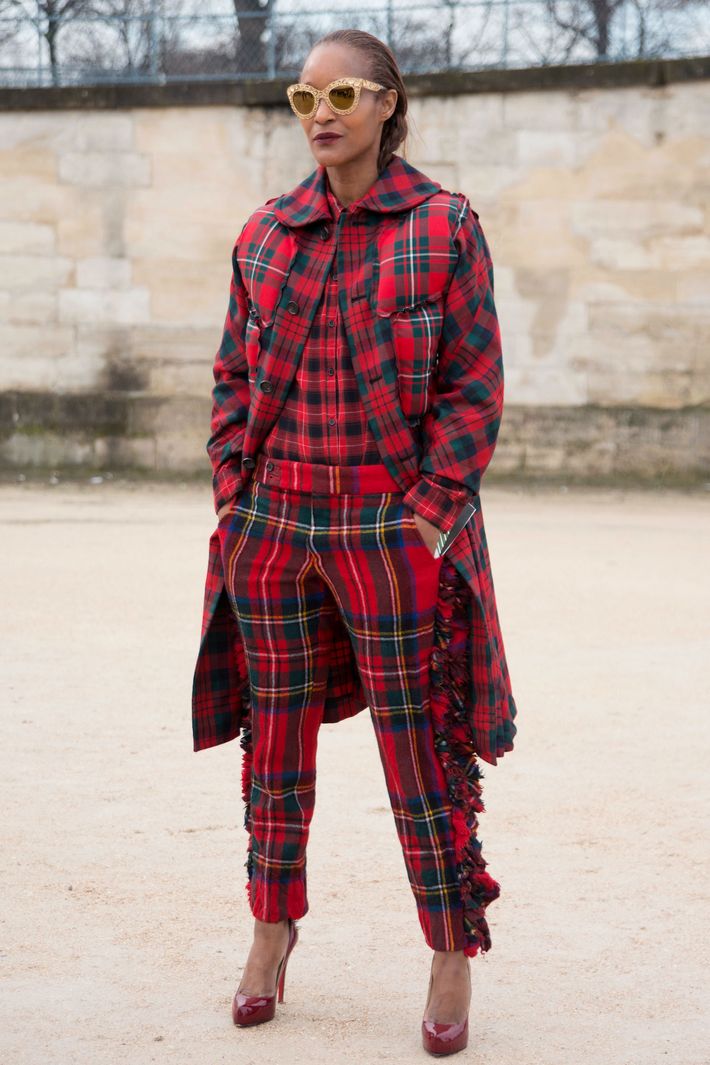 While CDG can delight, it can also be lethal — at least to crockery. Katharine Zarrella, the founder and editor-in-chief of Fashion Unfiltered, has knocked over glasses and dinner plates when dining in Kawakubo's extra-wide looks. She once walked past a group of drunk men having brunch on Tenth Avenue while wearing a protruding piece from the spring 1997 Body Meets Dress — Dress Meets Body collection. "Holy shit, that chick's got six boobs!" one yelled. ("Obviously, his math was off, because if you include my two actual 'boobs,' I had eight," she says.) She also gets incessant questions from passersby about whether she made her clothes herself, and the ever-present, "Can you sit in that?"
"But the funniest reaction I've ever gotten has to have been from a little French girl at a hotel in London," she says. "I was walking down a dark corridor to the elevator wearing a tulle skirt and jacket, with various appendages from the fall 2016 collection and a pointed black hat from the spring 1989 Comme des Garçons NOIR collection. When the girl noticed me, she started screaming at the top of her lungs. Her father turned around to see what was going on and also screamed. Then the three of us burst out laughing. On the elevator ride to the lobby, the girl told me she thought I was a witch."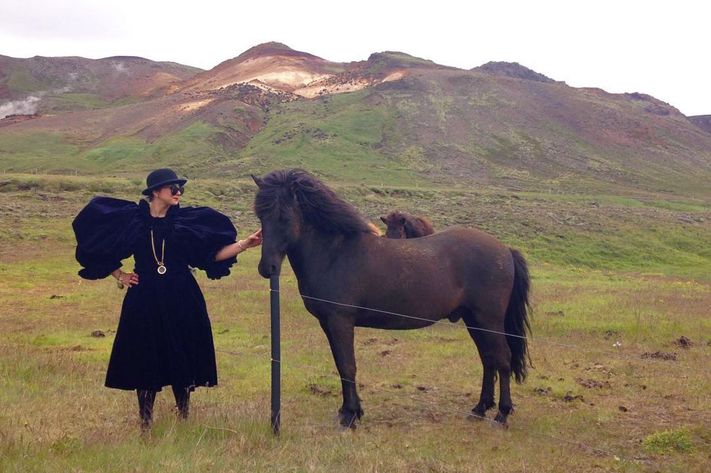 Even while teaching a seminar in the Icelandic wilderness, Zarrella stuck to her sartorial guns. "Naturally, I only packed insanely voluminous CDG pieces and eight-inch Alaïa platforms," she says. "I ended up wearing a puffy, blue velvet dress from the Blue Witches collection while roaming the Icelandic outdoors, and a black pony tried to eat my sleeve (to be fair, it's a pretty delectable dress). I liked him, so I called him Rei for the remainder of my stay."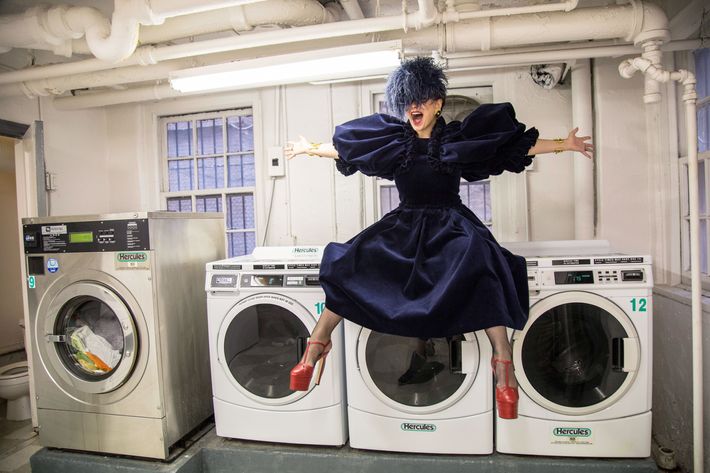 You might think that Kawakubo's wares are not for the shy, but for Suzanne Golden, who spent much of her life in Donna Karan careerwear before converting to the Church of Rei in 2000, the clothes have helped her overcome a self-effacing nature. "I find that maybe I'm not so great at expressing myself verbally, but I put on her clothing and I feel that I'm making a statement of some kind," she says. "As to what that statement is, I leave it to others to determine or figure it out. Many times, people that I don't know will come up to me and say, 'Oh my God, I love what you're wearing! What do you do?'" When she tells them she's a jewelry designer, "They'll say, 'I knew it, I knew it …' The clothes make one think that you're different." Golden gets plenty of comments from virtual passersby, as well — now that she has built up a following on Instagram, where she's found a community that responds to her maximalist-outfit posts.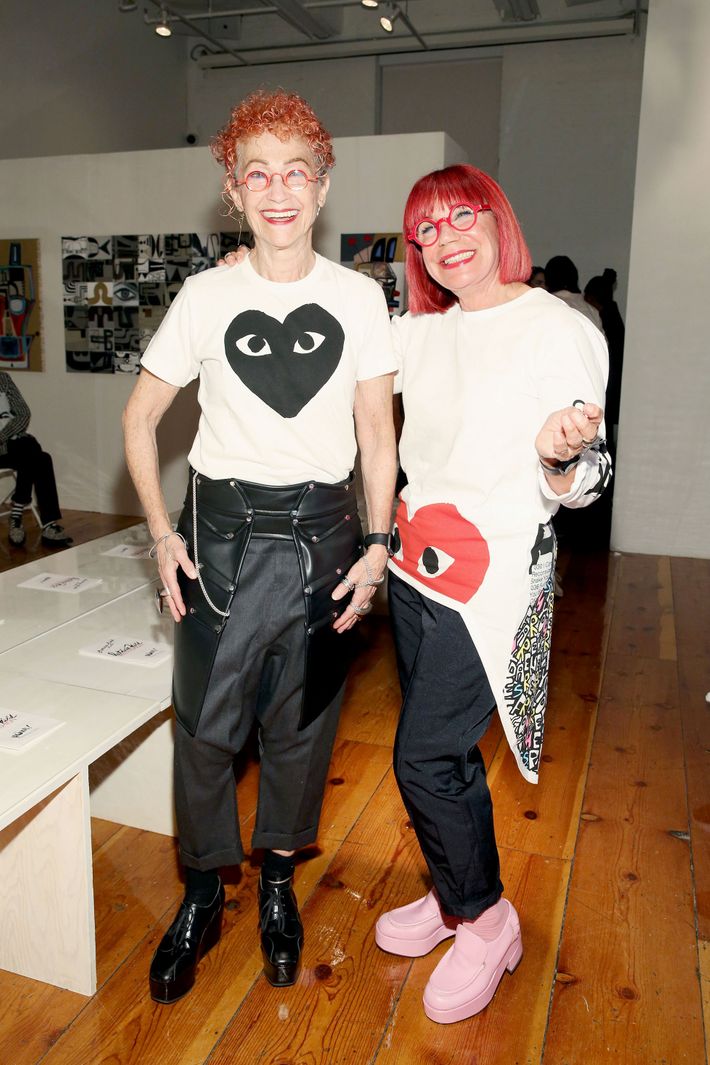 Zarrella is happy to field the questions and stares that come with her outsize attire. "The clothes give me a boost of confidence when I need it, and also help me communicate how I'm feeling on any given day," she says. "Naturally, I get more than a few looks when I walk down the street, but I wouldn't have it any other way."