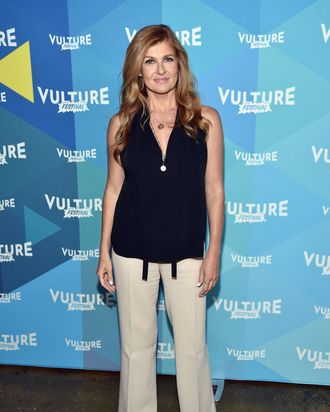 Photo: Bryan Bedder/Getty Images for Vulture Festival
It's not a coincidence that Connie Britton is known for playing real, multifaceted women (with great hair). This weekend at Vulture Festival, Britton told us she fought hard for her complex characters. And over the last decade she has consistently pushed back against writers, directors, and producers who gave her obvious plot lines and flat roles.
"I really really want [my characters] to be reflective of the women that I see in the world," Britton said. "It certainly isn't my experience that suddenly when you get into your 40s you are irrelevant and don't have anything to offer. It is in fact just the opposite, and that is the story I want to tell."
With Friday Night Lights, Britton made sure that Tami and Coach Taylor didn't have any affairs — a dramatic trick TV writers love employing — and instead were real partners. She also fought for Tami's career.
"I [was] kicking and screaming that this has got to be a strong woman," Britton said. "It was [showrunner Jason Katims's] idea to have her become a counselor at the school because that would enable her to be involved in those parts of the stories but also it was a great opportunity for us to create all this conflict between Tami and Coach, which is also a very real thing, the wife getting a job […] and Pete Berg did not think it was a good idea. But Jason really fought for that […] and I think it was such an important factor in who Tami became."
While playing Rayna Jaymes on Nashville, Britton made sure the role wasn't another watered down story of a has-been musician jealous of a young star. She also insisted on portraying Rayna as a woman struggling with balancing her career and family.
"I remember there was a moment where she was just going to go off on tour and leave the girls," Britton said. "I really pushed back […] I wanted Rayna to care about that. I wanted that to be something that was not okay with her, and I wanted her to be that kind of mom […] dealing with the conflict of wanting to be a career person, and always having been a career person, but so deeply invested in being a mother."
After making a dramatic exit from Nashville, Britton isn't sure what will come next. She says she would like to start developing her own projects, and likes the idea of playing the iconic Texas politician Wendy Davis.
"She's an amazing woman, and she has an amazing story," Britton said. "I would love to do it. It's always in the back of my mind, and I would just want to find a great writer."