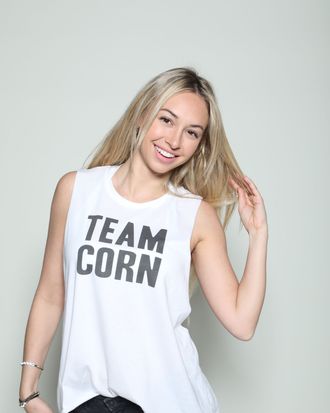 Corinne Olympios — frequent napper, cheese-pasta aficionado, vanquisher of mean girls — was the undisputed star of last season's Bachelor (sorry, Nick Viall), inspiring countless conspiracy theories and winning viewers' hearts with her singular brand of DGAF straight-talk. Now, with her new line of 'Team Corn' clothing, in partnership with Riot Society, die-hard Corinne fans have the opportunity to emblazon themselves with some of her most memorable catchphrases, from "Platinum Vagine" to "Dude I need Sushi." We talked to the reality star and self-proclaimed "very serious businesswoman" about her new line of apparel, the importance of napping, and her plans for the future (while she was keeping mum on future franchise appearances, we're keeping our fingers crossed).

How I start my mornings: I start my morning with about three cups of coffee and then some eggs. I like scrambled eggs with avocado, which I'll either order if I go out for breakfast, or I'll make it myself. I kind of just go throughout my day going through what I need to do, and afternoon is when I do my workouts.
How I like to sweat: I love Barry's Bootcamp and I've recently gotten into Flywheel. I try to do Barry's at least twice or three times a week; Flywheel I've just started so I'm doing it once a week. Otherwise I'll just work out in a regular gym. I'll do the elliptical for 15 minutes to start, then I'll move on to squats, lunges, and different sorts of abs and I'll do some arms — then I'll go back on the elliptical or the treadmill.
To me, wellness means: Wellness to me means taking care of your body, not doing anything you shouldn't be doing, good hygiene, working out when you can, eating right and drinking a lot of water. Never stressing about being too healthy too much because you'll just drive yourself nuts, you have to enjoy life.
On 'cheese pasta': It's honestly just elbow pasta boiled in water: over-boiled, I like them super soft. Add a little salt to the water, drain the over-boiled water, put it back into the hot pan and just add a whole bunch of cheese, like more cheese than pasta, and you just mix mix mix until everything's melted and creamy together. No added salt and no added butter, just the pasta and the cheese. And my guilty pleasure is fried-macaroni-and-cheese balls from Cheesecake Factory. Oh my god, they're so good.
On napping: Beauty sleep is always important. I nap at least once a day, if I ever have time, and my nap attire is usually in Team Corn clothes. With my running around right now it's really hard, so if I get 15 minutes in, I'm lucky. But I'm really good at falling right asleep.
My biggest wellness struggle is: My mental health. I get so crazy about trying to stay healthy I have to remind myself, like, okay calm down, it's going to be okay. I think just being in control of my anxiety sometimes. It's kind of just closing my eyes and saying, you're freaking out — stop. It's my little mantra to myself.
On Bachelor fame: I didn't really plan anything, I kind of just did what I wanted to do. They stress it enough that there are no rules on The Bachelor, so I didn't have anything to follow, I was just doing me. I think people just get too scared to step outside of what you think you're supposed to do. Mostly I was really happy, although they could have shown more of the sensitive and intimate conversations Nick and I had, because it was more than just a sexual attraction, we also had a really amazing chemistry. For instance, the night I napped through the rose ceremony it was actually his birthday, and I wrote him a birthday card and he came and found me after — it wasn't filmed, but it was a really nice moment we had.
On designing the 'Team Corn' clothing brand: Putting things that I've said that people really loved and reacted really well to from the show onto T-shirts is really awesome. I didn't really think anything of it seeing all that stuff, but people really stuck with it and rolled with it and loved the lines and were using them all over social media, so I was like, you know what? Okay. My next big steps are probably going to be a book and a makeup line. My ideal reality show would just be showing the world how my life is, just about me and my life and my family and how I'm starting my businesses and building my platform for my brand.
Staying healthy on The Bachelor: There are no workouts on The Bachelor. There's no time, there's no place to really do it. It's really hard. That's why you see some of the girls gain a little bit of weight towards the end of the season. I was only able to work out maybe three times total, and that was improvising with very little space. In terms of eating, you can give the team some of your requests from the grocery store, but it's really hard to be healthy and keep to what you like to eat. Honestly it got to the point where everything I asked for was just wrong, so I started ordering just pickles. Like, how can they get pickles wrong?