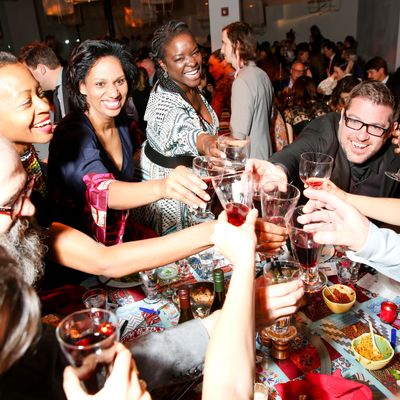 The Creative Time x Opening Ceremony Gala.
Photo: Benjamin Lozovsky/BFA.com/Benjamin Lozovsky/BFA.com
The Met Gala's body wasn't even cold before Creative Time's annual fundraising gala kicked off on Wednesday night, but just like second husbands, this go-round, you could actually let your hair down and have a little more fun.
Held at City Point, Brooklyn's new shopping mall, the gala had guests congregating in a hallway between a Trader Joe's and a Century 21, and a bathtub made of ice held a bathtub-themed Bombay Sapphire cocktail, which was a lot tastier than it sounds. Ice was one of two or three discernible themes for the evening (perhaps as a nod to life's impermanence?); flags were another, international cuisine was another. Oh, and Motown. At the end of the night, there was Motown.
Galas (and parties that require you to dress up, for that matter) are, by design, not fun. The dinners are too formal, the conversations too stiff, the fact that you are even there as a person with only one "nice" outfit a constant nagging sensation pecking on your skull. But this night was organized as a celebration of Opening Ceremony's Humberto Leon and Carol Lim, and wherever Opening Ceremony goes, an improbably entertaining party follows.
"We decided to help Creative Time curate this down to the dessert, to the dance party, to the tablecloths," Leon told me. "We've gone to a thousand galas and they're normally really boring. We decided, if we're going to be honored, let's actually make this fun."
But fun for Leon and Lim never comes at the expense of self-awareness and political engagement, and the Creative Time gala honoring them was as much the most fun gala you could ever go to as it was demonstrably political. The flags raised to the rafters of the dining room commissioned by Creative Time were embroidered with statements like, "RESIST" and "Dignity has no nationality." Yoko Ono, Alex Da Corte, and Marilyn Minter, among others, contributed their own designs. And if you weren't invited to the gala, starting on Flag Day, you can catch a new flag flying from various flagpoles around New York every month.
Midway through dinner, curated by Mission Chinese Food's executive chef Angela Dimayuga and nonprofit League of Kitchens, members of Creative Time's board, as well as Lim and Leon, stood up at separate moments to say their "pledge" to public art, design, and combining both as an act of resistance. The short speeches were unsurprisingly political, and when Waris Ahluwalia, the night's emcee, stood to make his, he asked the crowd of 450 to "stand with us." We did, albeit toddling after one too many bathtub-themed cocktails.
Conversations around the value of public art in "a time like this" were many, and the conclusion inevitably was that we still really need it. A board member at Creative Time recalled when the nonprofit staged Waiting For Godot in New Orleans mere months after Hurricane Katrina had struck. At first, people were outraged, he said, but then every evening, the seats were full. Creative Time's other well-known projects — Kara Walker's Sphinx and the "towers of light" that shine yearly from ground zero — have served similar, cathartic purposes. Corny as it sounds, art still helps us process chaos.
At the night's close, guests danced to Motown and ate soft-serve in blue wafer cones. Elvira Dyangani Ose, Creative Time's newest senior curator, told me about the time she feels most creatively inspired. "Any time a project comes from a place or a feeling of urgency," she said. "When the situation requires it, you have to put your soul and your spirit forward in full force."
On my way out, I checked in on the event's several ice sculptures made by Jordan Wolfson, assessing their decadence four hours later. Surprisingly, many of them still appeared reasonably solid.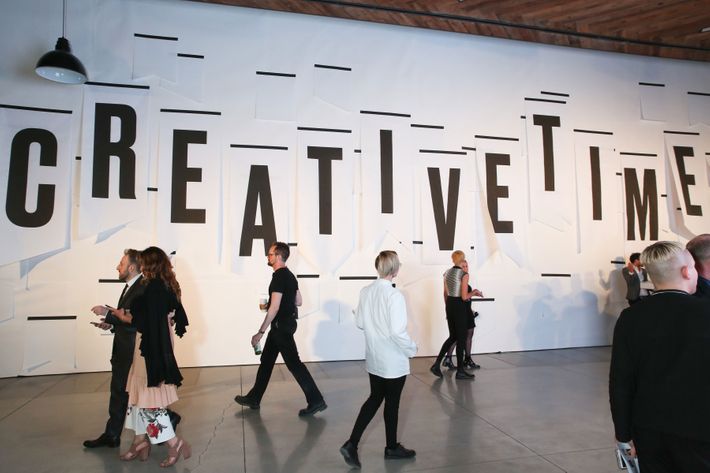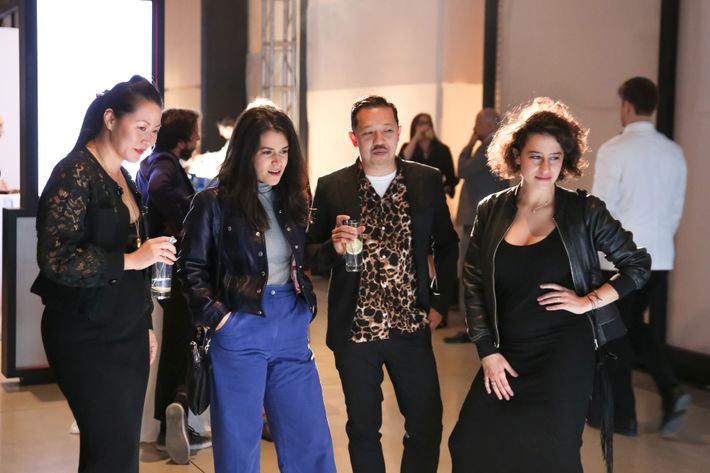 Carol Lim, Abbi Jacobson, Humberto Leon, Ilana Glazer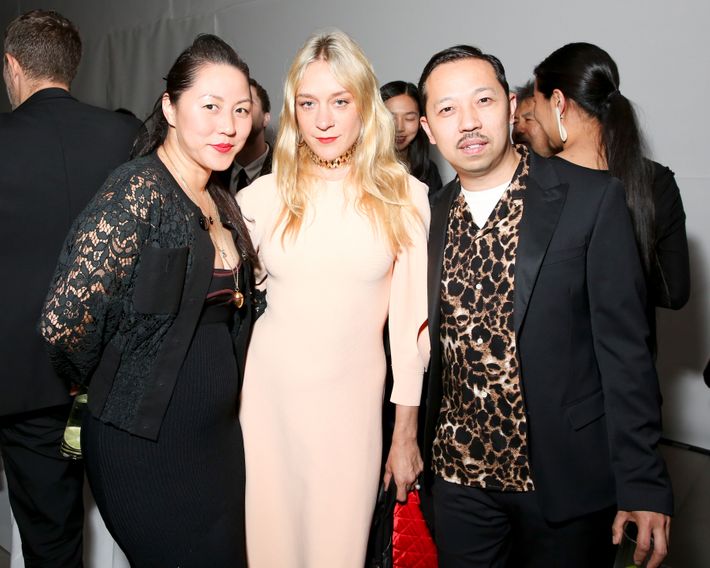 Carol Lim, Chloe Sevigny, Humberto Leon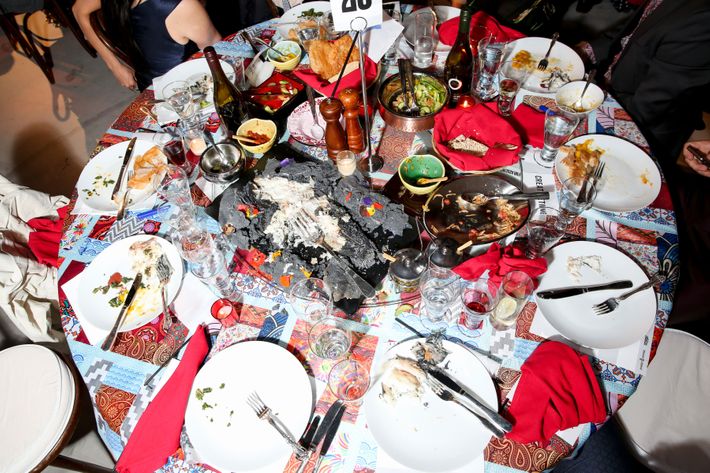 The spread.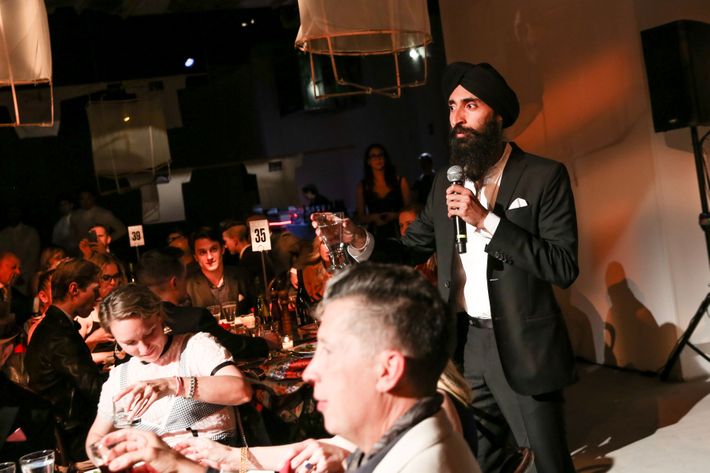 Waris Ahluwalia.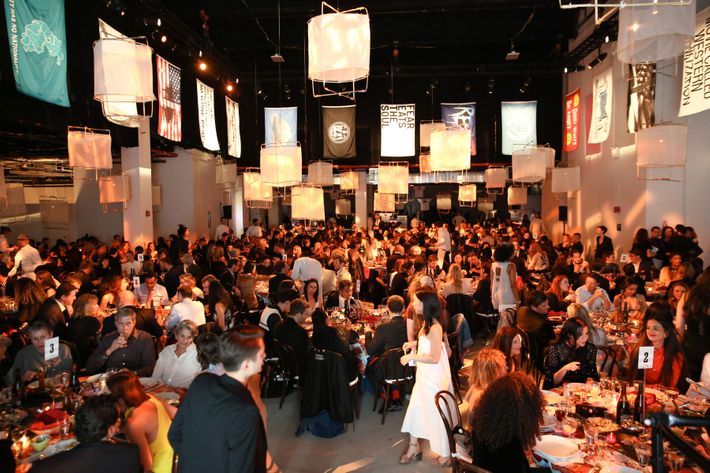 The scene.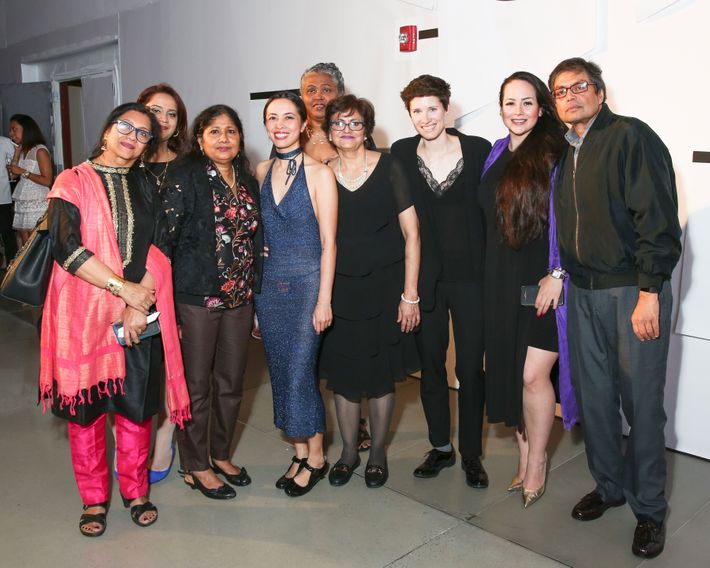 Angela Dimayuga and her Leage of Kitchens guests.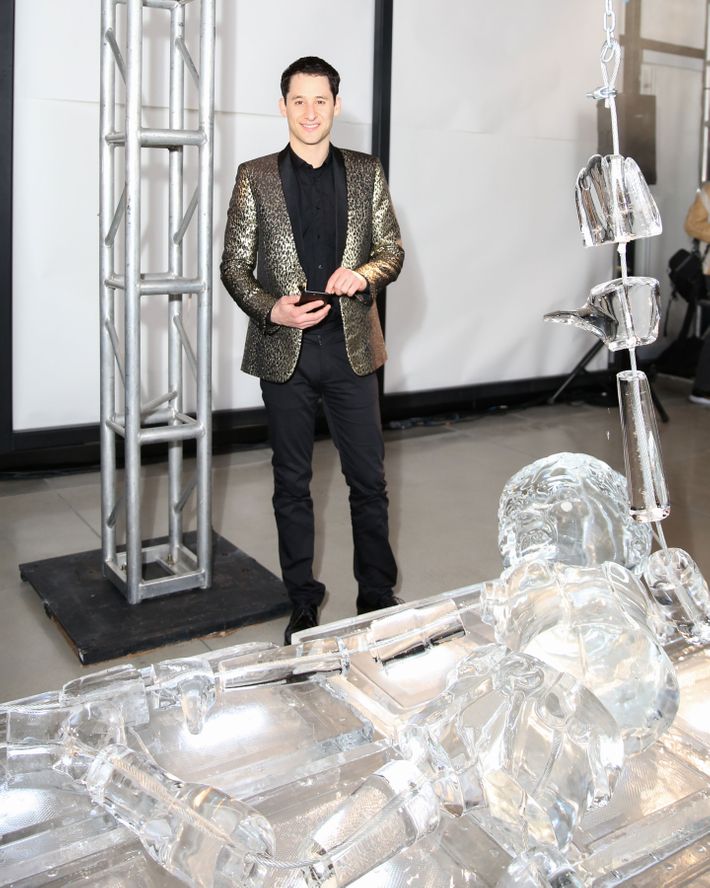 Jordon Wolfson.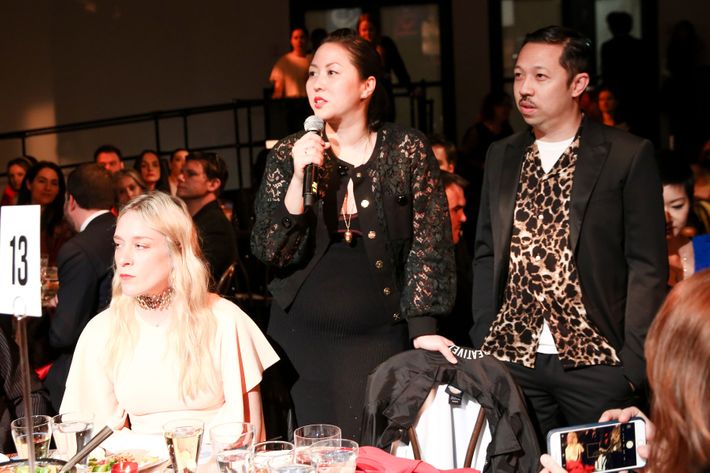 Chloe Sevigny, Carol Lim, Humberto Leon.