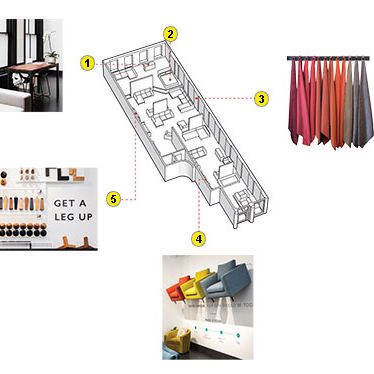 First Look
On May 15, Chicago-based furniture shop Interior Define will debut in New York with customizable couches, sectionals, chairs, and beds (68 Greene St.).
1. Help desk: Employees assist with the customization experience using giant swatch rings and an iPad that allows customers to see different configurations.
2. Beds: Low-slung bed frame with flange seams displayed with a Tuft & Needle mattress and Parachute bedding (from $1,300).
3. Fabric wall: A 77-foot wall lined with fabric options organized by color, including reds like ruby-red suede and sunset-pebble weave and blues like sapphire velvet and ocean sateen.
4. Sofas and chairs: Three Owens chairs (from $900) hanging on the wall by eyelet hooks, each upholstered in a different color and leg style; an updated Chesterfield sofa (from $1,500).
5. Leg station: Four floating metal wall shelves displaying eight leg options, including chrome, oak, and walnut.
2x2: Minimalist Wall Clocks
Telling time isn't so much the point.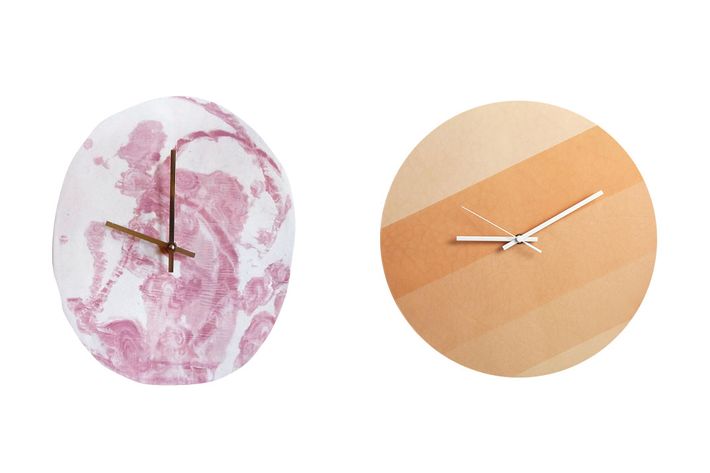 Pricier
Ceramic: Blush Clock, $350 at workadayhandmade.com.
Wood: Sunclock by Lina Patsiou, $274 at pamono.com.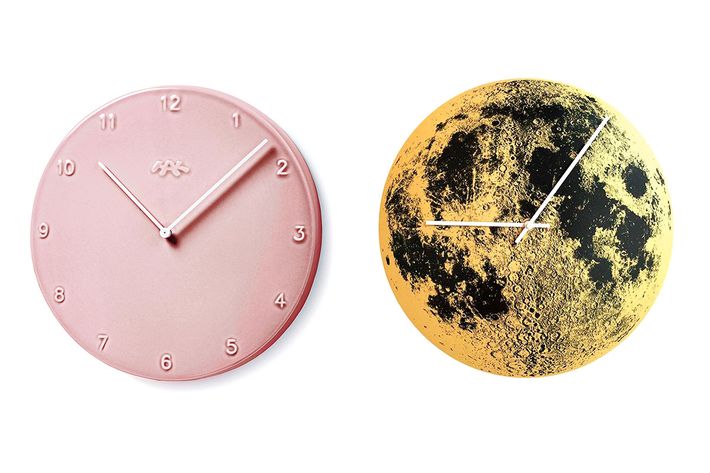 Cheaper
Ceramic: Ora Wall Clock, $129 at royaldesign.com.
Wood: Little Lark Gold Moon Clock, $150 at kaufmann-mercantile.com.
Ask a Shop Clerk
Annie Bruce, owner of the new unicorn-themed accessories shop Brooklyn Owl (252 Flatbush Ave., Park Slope).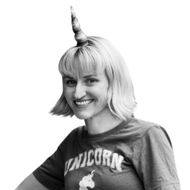 So why is the shop called Brooklyn Owl?
"I used to be known for the owl hair clips I sold at the Brooklyn Flea. But then I started making unicorn horns and had the idea to make the shop a place where customers can actually be transformed into unicorns. First, we let them choose a horn to wear — they come in rainbow, sparkly stripes; some are printed with cats' faces (from $14). And once they put on their horns, they get to go on a hunt for self-affirming phrases that we've hidden around the shop — like 'I am amazing.' Once they find a phrase, they have to say it into our magic mirror. And then the lights turn on and the mirror speaks back."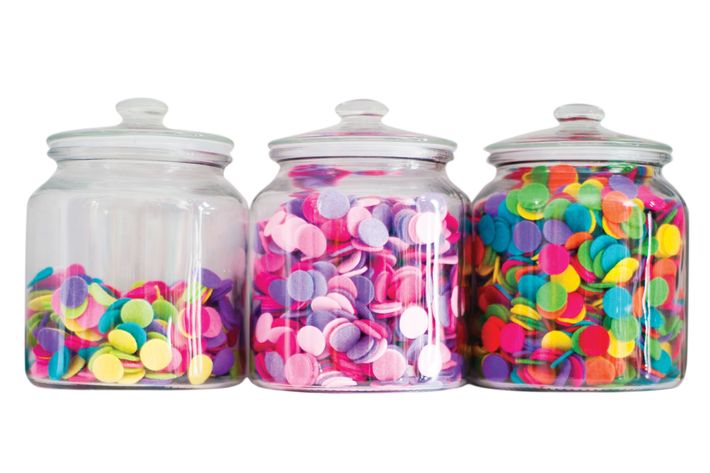 He Said, She Said
On April 15, Haro Keledjian and Sari Sloane, the husband-and-wife team behind Intermix, opened kids' shop Ever After (349 Greenwich St.).
Sari: Last week I saw three girls about 12 years old come in by themselves. They went right back to our in-shop photo booth to take pictures of themselves, then looked through the clothes. They didn't buy anything — I don't even know if they had wallets.
Haro: I saw some girls buying stuff from the boys' section, like graphic tees from Chaser and Prefresh (from $30).
Three in One
The West Village's new épicerie-slash-retailer Clover Grocery (259 Sixth Ave.) has chickpea spaghetti, feminist T-shirts, and Burmese tableware.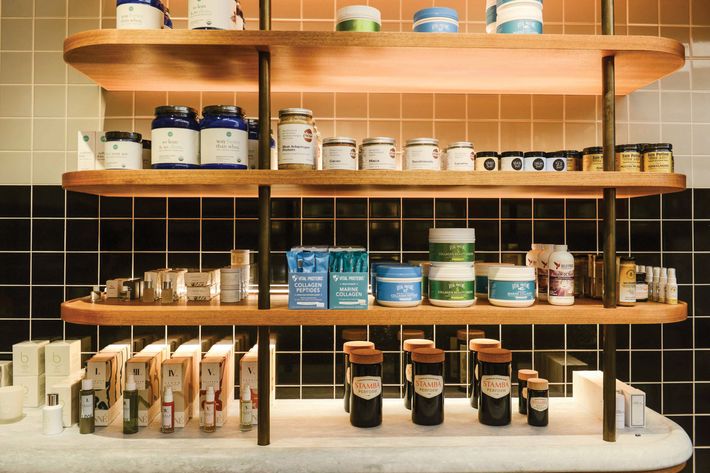 1. Health
Yuzu tonic with wildflower honey ($6), quinoa tagliatelle ($13), and jarred cumin-maple barbecue sauce ($9) stored on a mahogany shelf.
2. Fashion
Alison Lou mushroom brooches in baby, mama, and papa sizes (from $110); a rack of Prabal Gurung "Femininity With a Bite" T-shirts ($195).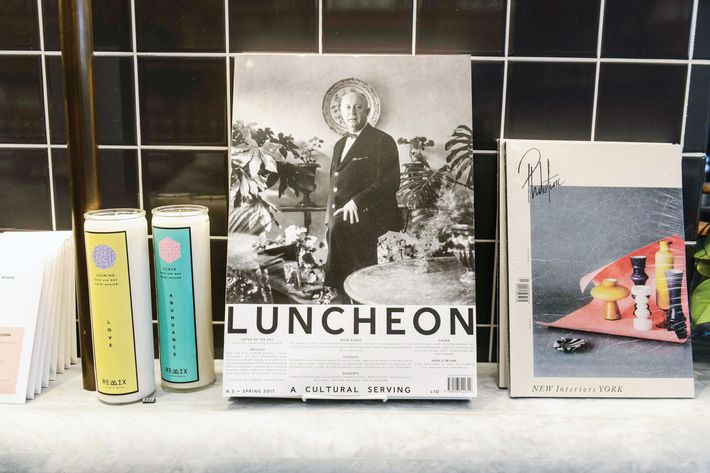 3. Home
A shop-in-shop of designware, with copies of Luncheon magazine ($20); pebble soaps ($15); and Hill House mini monogrammable pillowcases ($80).
Top Five
Denise Williamson, publicist and owner of the fashion-and-botanicals-focused 180 the Store (180 Duane St.), on her favorite veggie suede shoes, titanium-studded sunglasses, and asparagus plants.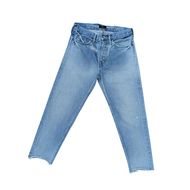 "These light-wash Chimala jeans ($506) are made with 13-ounce denim by a husband-and-wife team in a small factory in Japan. I love their raw hem."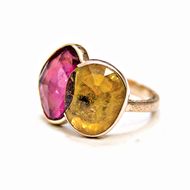 "This Kataoka ring ($4,870) is made of two fused tourmaline stones and is set on hand-blended rose gold. It's inspired by overlapping flower petals."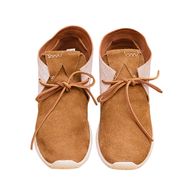 "Our Huron Moc Folk ($660) shoes are made of two pieces of leather that are sewn together over a brown veggie suede, which lets your feet breathe."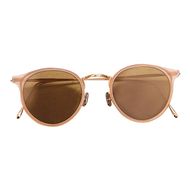 "These Eyevan 7285 sunnies ($438) have titanium nosepieces and temples. They're hand-cut in Japan and have flat lenses that take out the glare."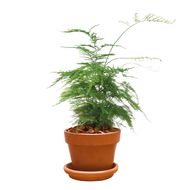 "Our asparagus ferns ($20) are soft and wispy, with spindly arms that look like asparagus shooting out of the ground. And they purify the air."
*This article appears in the May 15, 2017, issue of New York Magazine.