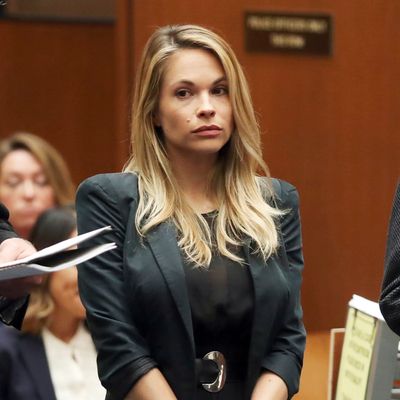 Dani Mathers in court.
Photo: 2017 The Associated Press
Last week, former Playboy model Dani Mathers received a sentence of 30 days community service and three years' probation after pleading no contest to invasion of privacy charges. In her first interview since the trial, Mathers opened up about the public outcry to the case, saying, "I had my privacy taken away after I took someone else's."
Nearly a year ago, she sent a photo of a nude woman in an LA Fitness gym locker room to her Snapchat followers, along with the caption "If I can't unsee this then you can't either." She was widely condemned for body-shaming the other woman and banned from all LA Fitness locations for life. Mathers also landed herself in trouble with the law, as taking and distributing a nude photo without someone's consent is illegal in the state of California.
"This is something that I'm never going to forget happened; I'm going to continue learning and growing from," Mathers told ABC News. She also doubled down on her claim that she had just meant to send the photo to a friend, rather than all her followers.
As for the 70-year-old woman at the center of the case, Mathers said she's never met her but would like to. "I never meant to hurt her," she added. "And that I hope that she could forgive me. I don't expect her to forget. I don't expect her to like me. I just, I really want her forgiveness."