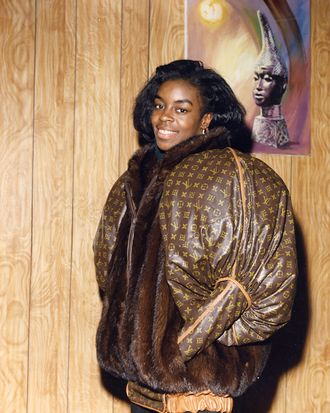 Diane Dixon.
Photo: Courtesy of DapperDanOfHarlem.com
Following the Gucci 2018 cruise show in Florence this week, a vintage photo of a black woman wearing a mink coat with puffed sleeves made of Louis Vuitton fabric began making the rounds on social media. The design of a particular jacket from the cruise collection appeared to have been heavily inspired by this image, which can be credited to legendary Harlem designer and infamous hip-hop-style bootlegger Dapper Dan. Gucci has since admitted that the Look was an homage to the famous '80s statement piece, though they did not reach out to Dan to collaborate. As the image made its way around social media, Diane Dixon got in touch with the Cut to tell her story about the circumstances surrounding how she got the coat, and what it was like to wear the original.
In the summer of 1988, I met Harlem hip-hop legend Dapper Dan. I was training for the Olympic Games at the time. I had already won a gold medal in track and field at the 1984 Olympics. My coach was very strict and he didn't want me going out on the weekends, but I liked hanging at 125th Street.
When I first started going around 125th Street, it was the thing to do on the weekends — go up there, stay all night, hang around celebrities, and Dap would be there all night designing things and asking our opinions on things we wanted made. I saw Mike Tyson, Floyd Mayweather, DJ Spinderella, Salt-N-Pepa. It was the Who's Who of the '80s; that's where all the action was happening. We would wait for Dap for hours because everyone wanted to talk to him. We had car phones or used pay phones back then, so the best way to network would be to just be at his store, having fun, and he would come up with ideas, and he would make it on a whim.
The first thing he designed for me was the interior of my red Mazda RX convertible. He had it for like six months, and I told him I needed my car back! I remember he did the whole interior in MCM logo for $900.
So we were hanging out one night, and Dap was making a lot of custom pieces for celebrities, and I picked out a few patterns. He kept designs in a book, and told me whatever I wanted, he would make it. He would sit down with a pen and paper and sketch it out in front of you, and it would be ready in a couple days. That was his genius: taking your thoughts and making it into something cool.
When I was 12 or 13, I remember loving designer fashion. I had my own style. I used to wear fur coats to track meets. That time in black culture was very much about "dress to impress." Dap and I clicked because I loved fashion, and wearing custom pieces. We liked designer things, but we wanted to do something different.
Originally, I wanted an MCM coat. MCM came out in 1983, and I had the sweatsuit, the glasses, even though it wasn't cool Stateside yet. But Dap always knew ahead of time what was going to be hot. He was way beyond Gucci, Louis Vuitton, and Prada when they were just doing logo bags, and he was doing logos on clothing. So when he started sketching out the coat, because the mink was brown, he changed the sleeves to Louis Vuitton.
I was 25 when that photo was taken. Dap took the photo. We were doing a fitting for it because it was really big and bulky, and it really didn't fit me, so it had to be altered a couple times. The coat cost around $3,500 or $4,500 because it was real mink and one of a kind. I spent the majority of my time in hot climates training for the Olympics, so when I came back to New York in the winter, I'd wear it to parties or to the club, and everyone would fall out and say how fly I looked. A lot of my friends remember the coat and still talk about it to this day. I'm not sure where the coat is now — I think I sold it back to Dap in the '90s when he was going under. He was trying to collect his most memorable items. But I may still have it somewhere.
He was famous for always doing something that no one else was doing. He approached designers to collaborate with him, but they told him it wasn't chic enough. Back then, and obviously still now, mainstream fashion brands didn't give him respect. They looked down on him and thought logos on clothing were only for minorities, even though he was open to anyone coming to his store. Better late than never to be recognized, but I hope he gets his due. All the designs that come out now are so plebeian; it's the same thing over and over again. No one's thinking outside the box, but that's what Dap did. It makes me feel good to say I was part of his history; and it feels good to know that, besides being part of the track-and-field history as a black woman who still holds world records, I'm also part of a fashion statement that was made back then that's still relevant.