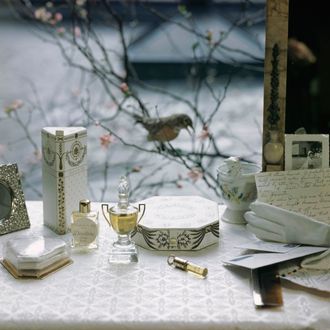 Photo: Frances McLaughlin-Gill/Condé Nast via Getty Images
"Go to her closet and smell her clothes," someone told me after my mother died last September. Inhale every last bit, they explained, because soon the scent would fade.
On a recent trip to visit my father, I found myself standing on the plush caramel-colored carpet of the walk-in closet they had shared, my mother's clothes still hanging — all her pants, including her favorite mid-rise Gap jeans, slipped carefully through matching hangers.
I buried my face in the soft arms of her sweaters. The family friend had been right; what I smelled was nothing, just the real-time scents of Dad's dinner heating in the microwave, laundry tumbling in the dryer, and the salty whiff of their rescued dachshund's urine that lurked inside my parents' home since Mom had gotten really sick.
Time, I was learning, is a great steamroller, flattening memories and turning well-loved belongings into pilled black leggings and stacked-up pairs of scuffed ballet flats. Ashes to ashes, stuff to stuff.
My eyes fell on a small vanity crowded with my mom's lotions and skin creams, eye makeup and perfume. A wig that had approximated her cut and color — which she wore a handful of times — rested on a white Styrofoam head. I went to the shelf and one by one, I opened the products. With each container her presence rebuilt itself — their soapy, cosmetic scents floating forward like invisible ribbons. I had found my new dead-mom fix.
As a beauty copywriter for brands like Bobbi Brown Cosmetics, Erno Laszlo, and Creed Perfumes I rarely get the chance to meet the products I am tasked to describe. The order of operations usually starts with some marketing spreadsheet Fwd: Fwd: Fwd'd to my inbox with a thumbnail photo of the tester package and a grab bag of claims from the lab. It's my job to alchemize this jargon into something tactile with words like creamy, cushiony, velvety, rich. Each line of copy should be an invitation — a curling, come-hither forefinger begging you to open the cap. And yet, deep down, I know I am bullshitting. The serums and CC creams are imaginary to me. Sometimes, when I am feeling snarky, I tell people I write fiction.
Sifting through Mom's half-used products, feeling the weight of their packaging, I felt instant relief, like finding a misplaced ring swimming in a forgotten pocket. There, under the silver lid of her Lancome Progrès Eye Cream — a formula she religiously trekked to Macy's for — were the contours of where her finger had run across the surface of its white cream.
That eye cream was the lone department-store product she used; her skin-care routine was admirably steadfast and barebones. "I've never had a pimple," she once told me, not to brag, but to illustrate her complete and striving sympathy during my long stretch of cystic teenage acne. This was all pre-YouTube-tutorial, and we would fumble our way through the skin-care aisle at Walgreen's loading the basket with Clearasil Daily Face Wash, Humphrey's Witch Hazel, Oxy Pads, and Niki Taylor–approved Cover Girl Clean Make Up plus a bag of fresh wedge sponges. The attack plan my 14-year-old complexion required confounded us both.
It was true: My mother's skin was paper-dry and her one relief was Nivea's Original Skin Oil — with its clean, inimitable scent of sweet citrus and powder — which she slathered all over her face and neck morning and night so that her skin always shone. (When the formula was discontinued in the mid-2000s, an Amazon find named Dorothy's was the only match for its motor-oil-esque viscosity.)
Once slicked up, my mother would then apply toothpaste-thick Retin-A (she believed the Nivea provided a good buffer against tretinoin's peeling side effects). As a child, I remember her buying the vintage-looking blue-and-white metal tubes from Janssen-Cilag pharmaceuticals by the box-load, without a prescription, during road trips to Tijuana. A doctor once told her it was the only thing that was proven to fight wrinkles; whenever she was mistaken for being younger she would brush the compliment off then shrug to me later, "I told you: Retin-A."
The satisfaction of picking through her products made me forget about all her clothes. A beauty regimen is more intimate, more specific to a woman than a scarf. Like the self-tanner smell of my mom's L'Oréal Paris Sublime, a new addition to her routine that spoke to the medical treatments that had made her photosensitive. All her life my mother looked for the sunniest spot in the room, but her stem-cell transplant meant a sunburn could awaken her immune system to her donor's cells launching a war on her organs. Neutrogena Dry Touch SPF 100 had become my mother's most surprising beauty habit.
I prefer to think of her before her illness though, specifically her cheerful lipsticks (she trafficked in salmon pinks). The bullets of color always wore flat — something I can never get my own weird stalagmite lipstick shapes to do. Her go-to was Hot Coral, a Revlon Moon Drops shade I loved for its emerald-green plastic case. When I scored a tube of Rose Sugar Lip Gloss during a copy project at Bobbi Brown, I complimented her every time I saw her wearing it — the luster made her look modern and showed me the power of changing one small thing on your face.
She would hate if I never mentioned her hair, a Sisyphean exercise in growing it out thanks to overzealous stylists and the short, sporty 'do they seem to give every woman over 55. Ripped magazine pictures of Kim Cattrall and Goldie Hawn were always showing up on my mother's desk as inspiration. "I wonder if these actresses ever tell people how many stylists they have and how much money it takes to have that hair at this age," she often spurned. What I wish I could tell my mother now is that in certain family photos she had managed to have Goldie's hair all on her own.
In the short time that my mother slept atop the rented hospital bed in the guest room of my parents' house — a rotating cast of hospice nurses notating her pulse and oxygen levels on the hour — a visit from her medical massage therapist left me with a persistent and magical idea. As she placed doTerra essential oils on my mother's collarbones, she told me that scent is the last sense to leave us; that some say we can still smell for a short time after we are clinically dead.
Later that night, around three in the morning, as my father snored in my parents' bedroom alone and my brother tossed on the living-room couch, my mother slipped away.
When it was time to say good-bye — when the solemn-faced mortuary driver and his pony-tailed assistant stood by in our hallway — I prepared my mom as though she were leaving the house for lunch with a friend. I patted Progrès beneath her eyes and swiped Bobbi's shimmering lip gloss over her lips. I combed her thinning bangs across her forehead and, as my brother and I looked down on our put-together mom, it seemed as though she had just laid down for a short nap. The very last thing we did was take turns spraying her neck with Sung, a jasmine-y fragrance my mother adored for which my brother haunted the clearance bins of Marshall's to find.
She was ready.
My mother's official cause of death was Graft Versus Host Disease, or GVHD for short. It can happen when a bone-marrow donor isn't a perfect match (my mother's was anonymous). The donor cells attack your own body's organs — in my mother's case, her lungs — and her skin stiffened like petrified wood no matter how much Organic Coconut Oil we put on it. She called herself the Tin Man and when I look at the unopened box of Philosophy's Renewed Hope in a Jar I bought for her the week before she passed, I cry like a baby now.
Losing a loved one is like living inside a locked box; I go pawing at its solid walls, searching for the hidden trap doors of memories. For now, the quickest trigger is the handful of products I have saved — my mom's eye cream, Sung powder puff, and the tube of lipstick she last carried in her purse: L'Oréal Tropical Coral #444.