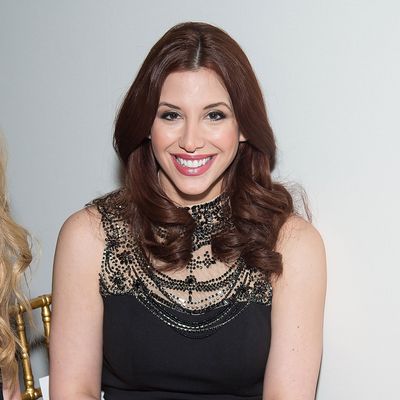 Diana Falzone.
Photo: Michael Stewart/WireImage/Getty
Yet another woman has filed a gender-discrimination claim against Fox News today, bringing the total number of lawsuits against the media company to at least 15. Fox News online reporter Diana Falzone filed suit in New York Supreme Court alleging she was demoted after publishing an essay in January on Fox News' website about suffering from endometriosis. "The male-dominated senior management of Fox News obviously objected to the fact that a female on-air host had disclosed that she suffers from a women's reproductive-health condition, which, in their eyes, detracted from her sex appeal and made her less desirable," the lawsuit claims.
Falzone has appeared on Fox since 2008, on Hannity as well as the Fox Business Network with hosts Neil Cavuto and Maria Bartiromo. She also hosts online shows on Fox News' website.
In the suit, Falzone says she cleared her essay with her supervisors, Refet Kaplan and Chris Kensler, executives at Foxnews.com. In the piece, Falzone goes into detail about her experience with endometriosis, which affects an estimated 176 million women globally. "It was just days after my 33rd birthday when my doctor delivered the worst news of my life: I will likely never have a child and fulfill my greatest wish of being a mother," she wrote. "When hit with the news that I am infertile, I could not stop crying. And not only was it very unlikely I'd ever conceive, my health was in jeopardy."
Falzone says that after the piece ran, Kaplan told her that the "Second Floor," referring to the network's top executives Bill Shine and Jack Abernethy, no longer wanted her appearing on-air. According to the suit, Kaplan said Falzone was "permanently banned from ever appearing on air on any Foxnews.com, Fox News Network, Fox Business News Network or any other Fox News medium and would never again be permitted to host her own shows or conduct her own interviews." Falzone claims that a producer later told her she was also banned from doing voice-overs. When Falzone asked Kaplan why she was being demoted, he declined to say, according to the suit.
Falzone says she filed a formal complaint on the 21st Century Fox "hotline" that the company set up last year to report harassment, but the company did not address the matter.
Falzone is being represented by Nancy Erika Smith, who also represented former Fox News anchor Gretchen Carlson as well as contributor Julie Roginsky.
A Fox News spokesperson did not respond to a request for comment.