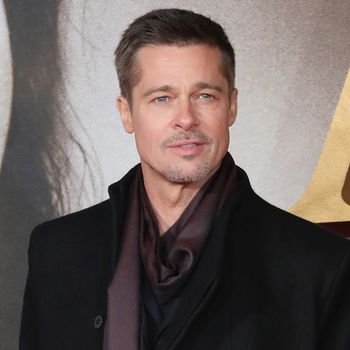 Brad Pitt.
Photo: 2016 Getty Images
"Page Six" reports this morning that amateur sculptor Brad Pitt went to rehab following his contentious divorce from Angelina Jolie. Pitt revealed he got sober in a colorful GQ Style cover story last week, but he did not disclose the alleged rehab stay. According to "Page Six," Pitt "attended meetings and therapy sessions" at a "discreet Los Angeles center designed for high-profile Hollywood figures." An unnamed source commented that he "used this time for a lot of self-reflection, self-improvement."
In the GQ Style interview, Pitt talked openly about his history with alcohol. "I can't remember a day since I got out of college when I wasn't boozing or had a spliff, or something. Something," he said. "And you realize that a lot of it is, um — cigarettes, you know, pacifiers. And I'm running from feelings. I'm really, really happy to be done with all of that. I mean I stopped everything except boozing when I started my family. But even this last year, you know — things I wasn't dealing with. I was boozing too much. It's just become a problem."
When interviewer Michael Paterniti asked Pitt how he managed to get sober, however, Pitt was vague. "So how do you just drop it like that?" Paterniti asked. "Don't want to live that way anymore," Pitt replied.
If Pitt did attend rehab, he would be the second high-profile, recently divorced actor to do so this year. Ben Affleck announced on Facebook in March that he completed treatment for alcohol addiction following his split from Jennifer Garner.
A rep for Pitt declined to comment.