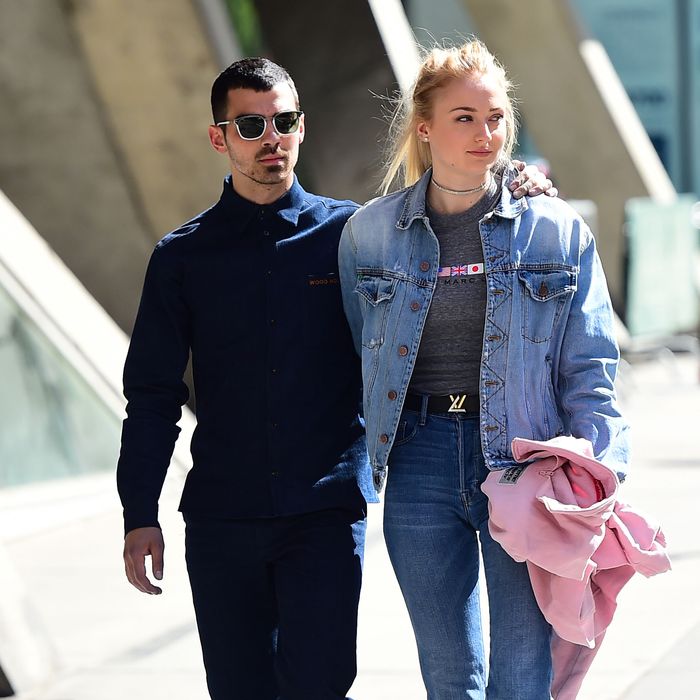 Sophie Turner and Joe Jonas.
Photo: Raymond Hall/GC Images
Sophie Turner, a 21-year-old Game of Thrones actress, recently started dating Joe Jonas, a 27-year-old Jonas brother. The two were spotted by paparazzi literally skipping around Manhattan yesterday, and they were also filmed working out in a private gym. The latter outing probably would have escaped attention, but for the fact that in one of the videos — now deleted — Turner appears to use the N-word.
The video was posted on Instagram by Brendan Fallis, a DJ/fitness guru. (He is set to marry fellow Instagram socialite Hannah Bronfman this coming weekend, but that's neither here nor there.) Fallis deleted the video from his Instagram "story" yesterday, but he kept a few other workout clips featuring Turner and Jonas public. In the deleted video, Turner appears to say "What's up, my n—" to Fallis. Jonas and Fallis laugh in response.
The website Gossip Cop, which is dedicated to busting incorrect tabloid stories, suggested this morning that Turner could have been saying something else: "Turner did not actually use the N-word, but actually said the expletive, 'motherf*cka.'" We have reached out to a representative for Turner for clarification on this point, and we will update this post if we hear back.
Update, 2:25 p.m.: In a statement provided to the Cut, Turner says she did not use the N-word. "I used the word 'motherf*ckers' in a recent video posted in an Instagram story and not a hateful racial slur that has been suggested," she said. "I am incredibly upset that anyone would think otherwise, and I want to make it clear that I would never use such an abhorrent word."