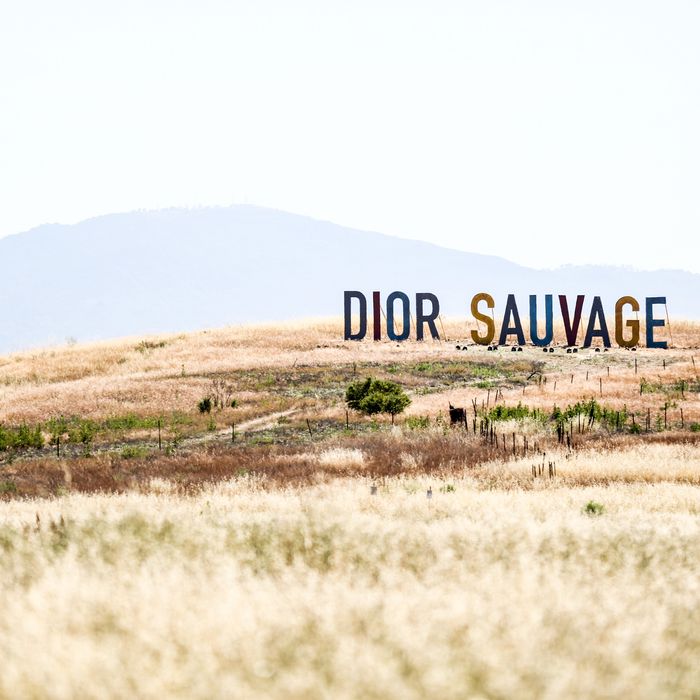 Dior Cruise 2018.
Photo: Rich Fury/Getty Images
In the Calabasas hills, "Dior Sauvage" was written up like the house's version of the Hollywood sign while printed-silk hot-air balloons and bonfires surrounded the venue. The glamp to end all glamps set the stage for Maria Grazia Chiuri's first cruise collection for Dior, presented in Los Angeles on Thursday evening. The Italian designer is not known for her restraint.
Guests, such as Rihanna, Solange Knowles, and Brie Larson sipped on Champagne or green juice spiked with vodka to watch the show. Rihanna's ensemble — off-the-shoulder fur, jeans, and combat boots — could have been ripped from the runway.
The 20,000-year-old Lascaux caves were a major source of inspiration in the collection. Many prints resembled cave paintings.
The collection itself looked like Dior's take on Western artist and muse Georgia O'Keeffe's wardrobe. Belts, fringe, and splashes of red accessorized the prairie dresses and Western prints that walked down the desert-cum-runway. Ruth Bell, Dior darling, opened in a skeleton- and snake-printed dress with fringe on the collar and the hem. Gaucho hats by Stephen Jones perched on messy braids and replaced last season's omnipresent beret.
After the runway, Solange Knowles performed in a white wide-legged pants with a white tulle top. She said mid-performance, "I've been very weary to dip my toe back in [the fashion industry]. But I gotta say, if I'm going to do it, the love that's in this space tonight is how it should be done. So, thank you for that."