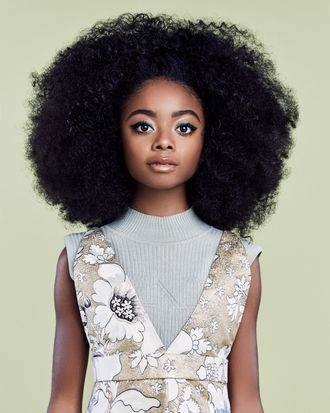 Being young and in the spotlight is a tricky combination — just ask Rowan Blanchard or Yara Shahidi, who've had to deal with real-life issues that most parents shelter their children from, like being asked about everything from sexual orientation and college applications to weight loss and pressure to perform in the future. Trying to live a "normal" life and develop as a young woman is more than most aspiring starlets can handle. But not so for 15-year-old Skai Jackson. She's managed to avoid all the clichés and pitfalls of fellow Disney Channel alums Miley Cyrus and Demi Lovato, who struggled with addiction, by refusing to get caught up in the whirlwind fame circus. Jackson is outspoken about what matters to her — from pop culture to politics — and she's proof that teenagers can harness a distinct type of power through social media. "It's kind of surreal that I have so many kids looking up to me," Jackson says at her photo shoot in downtown Brooklyn. "I never thought in a million years that I would be called a role model for girls and even boys, too. Even though I'm young, I really try to do the right thing."
It's an understatement to say that Jackson's career has progressed rapidly. As a child model, she was signed to an agency before she was even a year old, and she was walking in NYFW shows by the age of 4. After appearing on Nickelodeon, she got her big break when she was cast as Zuri, one of the leads in the Disney sitcom Jessie. By 2015, the show had done so well that the network created a spinoff, Bunk'd, currently in its second season and with Jackson in the starring role.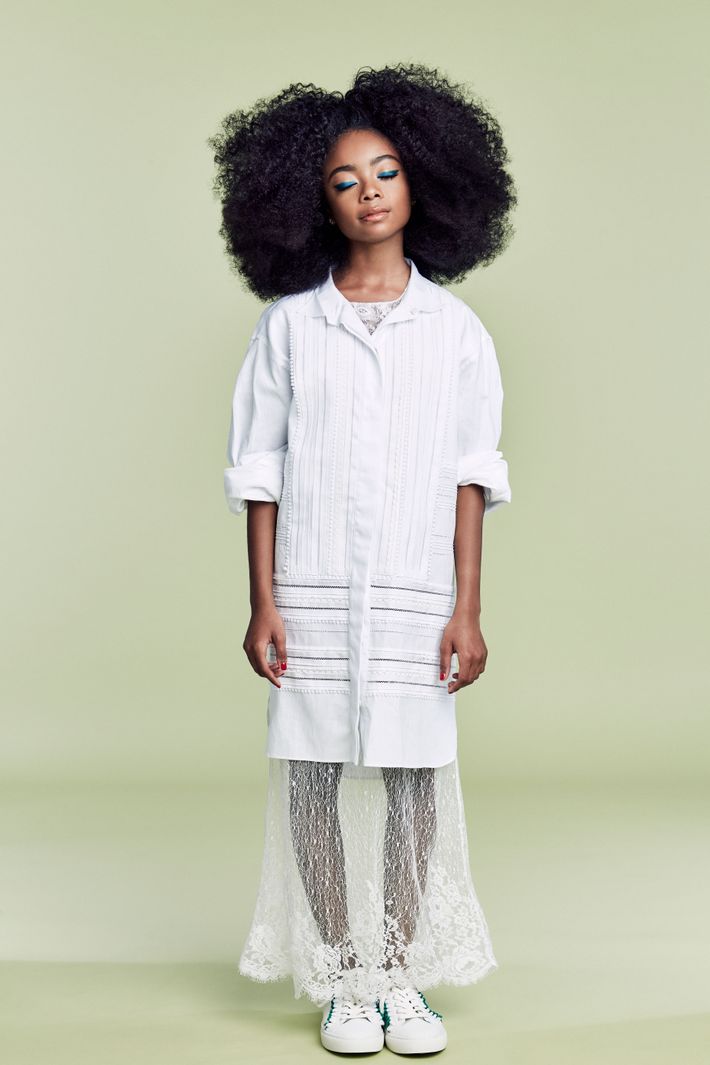 Burberry Shirt Dress, $1,195 at Burberry, Burberry Tulle Dress (underneath), Price Upon Request at Burberry, Tory Sport Sneakers, $225 at Tory Burch.
But what sets Jackson apart from the rest of young Hollywood is her blunt honesty. She's used her influence to show her fans (2.9 million Instagram followers and 320,000 Twitter followers) who she really is, posting unaltered photos challenging her haters online, or talking openly about her own struggles. "Because I'm so young, it's really important to me to speak my mind," she says. "A lot of people get scared to talk about real issues that are happening right now. And because I do, I get so many people sending me messages saying things like, 'Wow you really helped me, thank you so much, thank you for standing up to internet bullying.' That means a lot to me."
And as a young woman of color, the actress has created an important platform to talk about underrepresentation. "I really wish women of color would come together more and stand up for each other. In recent years women are feeling more empowered and helping each other but there's still so much more that could be done to support one another." It's the authenticity Jackson exhibits in this highly filtered world — whether she's talking about injustice or just complaining about having acne — that makes her feel like a girl's girl you'd want to be friends with.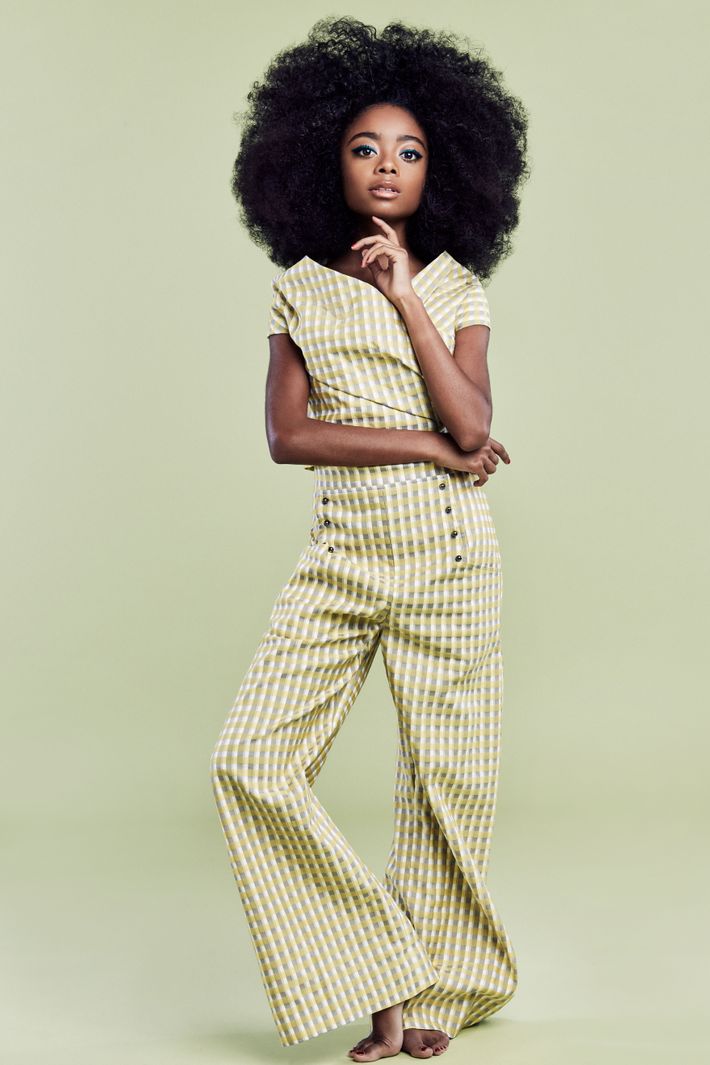 Lela Rose Top and Pants, Price Upon Request at Lela Rose.
On top of everything she's already accomplished (Time Magazine dubbed her one of the Most Influential Teens, and she's the inspiration behind RiRi Williams, the first black female character in the Iron Man saga), Jackson admits that nothing's ever as glamorous as it seems. "Of course there are struggles," she says. "I've been bullied a lot. I don't like how social media allows people to be so mean and say really hurtful, negative things. It's just not cool. "
When Azealia Banks body-shamed her on Twitter last year, Jackson, ten years Banks's junior, hit back: "When a no hip having 14 year old has more class than you. Worry about your career. Get one," she tweeted. She's learned to take no prisoners, and regularly talks about women needing to support one another more. "I have to stand up and say something," Jackson says, recalling the incident. "People like to get bold behind a computer or an iPhone, and say whatever they want. I don't stand for that."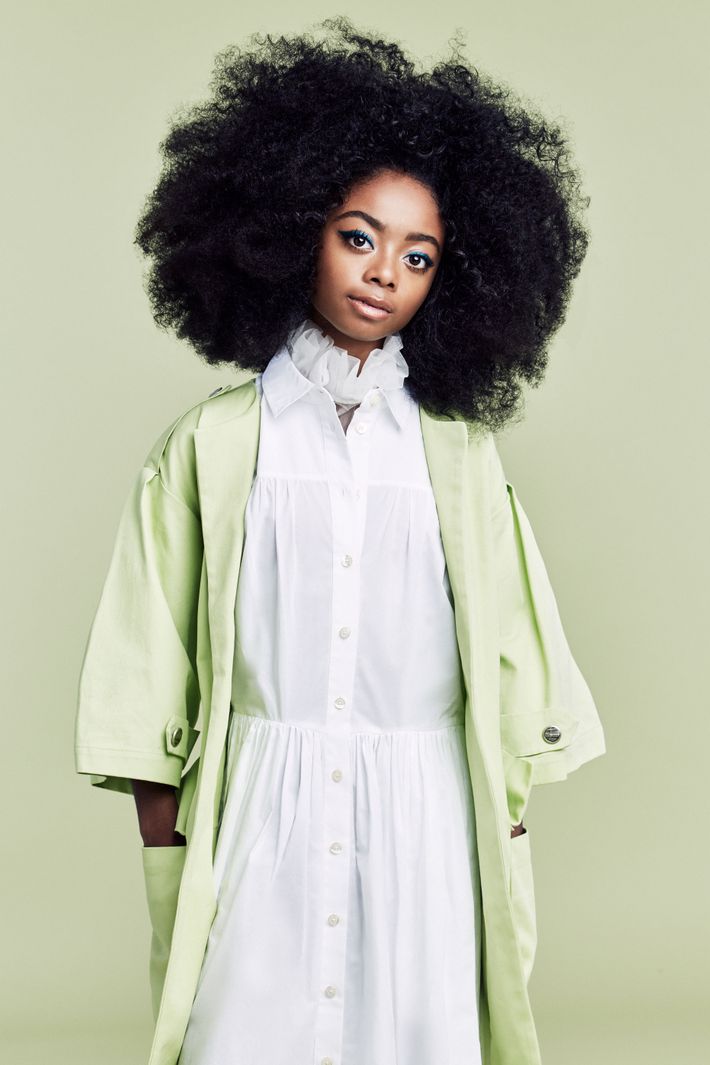 Burberry Chiffon Top, Price Upon Request at Burberry, Burberry Shirt Dress, (similar option), $695 at Burberry, Christina Economou Jacket, $531 at Christina Economou.
Jackson recently began to dip her feet in the fashion pool, and she frequently posts photos on Instagram clad in designers like Marc Jacobs, Self Portrait, and Alexander McQueen. "I'm trying to step up my fashion game now that I'm older and it's the perfect time for me to experiment with different designers and find what I like," she says. "Hopefully in the next year or two I'll be designing or have a collaboration with someone."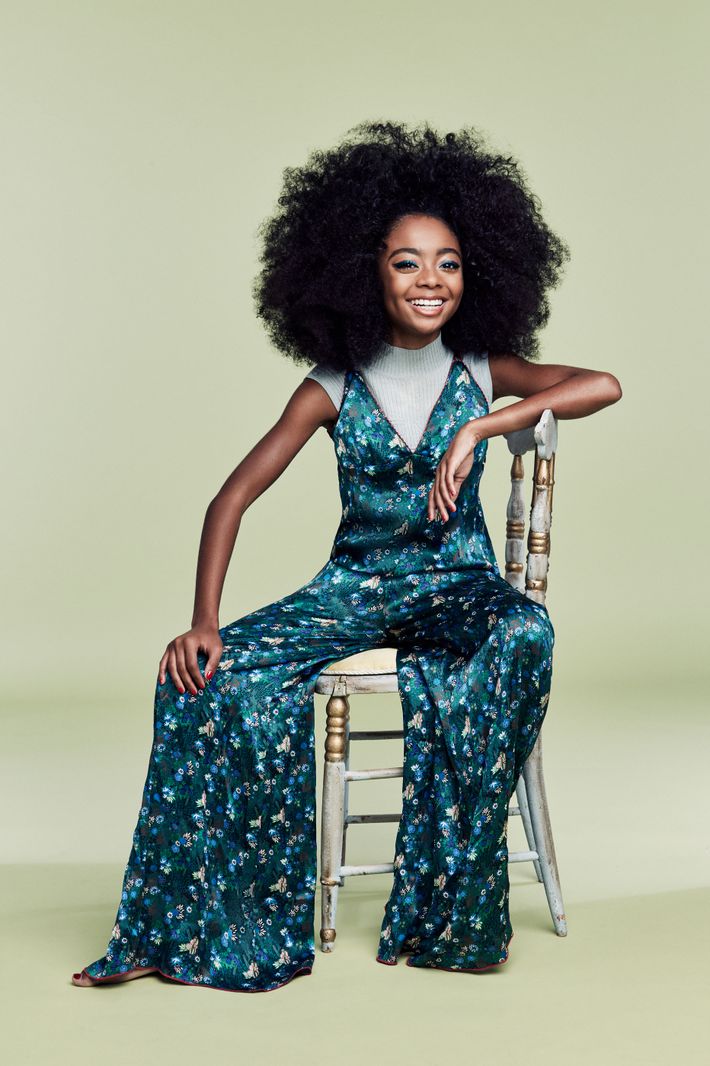 Fendi Logo Top, $650 at Fendi, Tommy Hilfiger Collection Jumpsuit, Price Upon Request at Tommy Hilfiger.
So does the teenage internet queen ever regret choosing a life in front of the camera? "It's been great to be on television since I was young; I always knew I wanted this. I didn't even like regular school, so I don't think I'm missing out on anything." She pauses. "Of course, there is prom to consider."
Lead Image: Fendi Logo Top, $650 at Fendi, Fendi Brocade Dress, $2,100 at Fendi. Photos by Jessie English, Styling by Lindsay Peoples, Makeup by Samantha Lau, Hair by Tymothe Wallace.