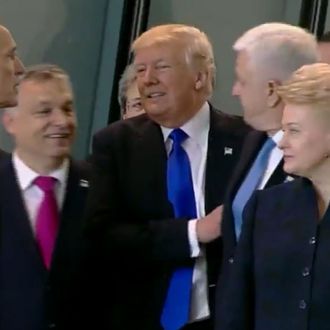 After touching an orb in Saudi Arabia and driving Pope Francis to the depths of human despair, Donald Trump's first international tour continues today with a NATO stop in Brussels. Today's agenda included being greeted by protesters, one very awkward handshake with French president Emmanuel Macron, and, apparently, making sure his pals at NATO know he's in charge. While walking with several of his NATO peers — Trump spoke with leaders earlier on Thursday — Trump appeared to shove Montenegro's prime minister, Dusko Markovic, out of the way, so he could assume the Alpha position at the front of the group.
Here it is again, in slow motion, courtesy of CNBC's Steve Kopack.
Of course, Trump's little push pales in comparison to reports coming out of Montana, where on the eve of a special election to fill a spot in the House of Representatives, GOP candidate Greg Gianforte reportedly body-slammed a reporter and broke his glasses. Apparently, these guys missed that lesson in kindergarten about using our words instead of our hands.