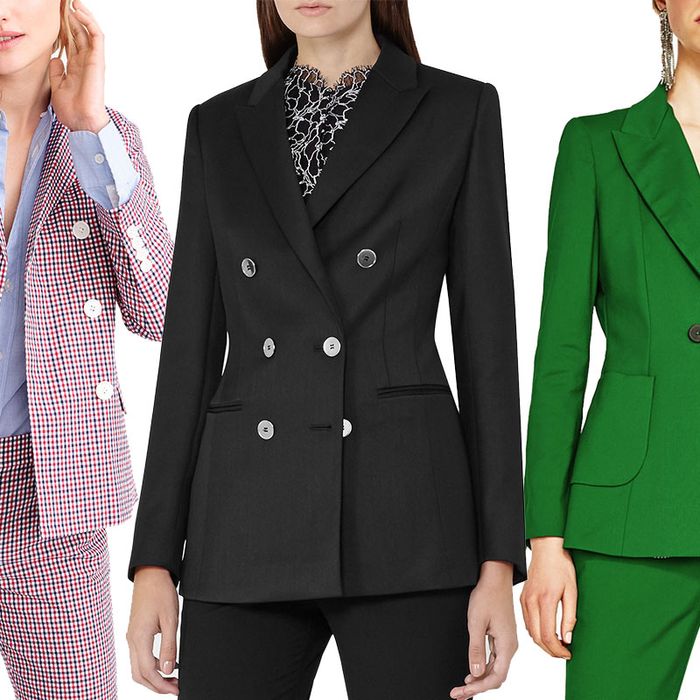 Figuring out what to wear to work shouldn't be a bore. To make your weekdays easier, welcome to Business Casual. Every Wednesday, we'll highlight the best office-appropriate clothes, whether it's for the job you have or the one you want.
A stylish mentor I admired once let me in on her secret whenever she felt like she needed an extra boost of confidence on big meeting days. Instead of fussing with a dress, she created a comfortable power uniform. It consists of pants, a blouse or T-shirt, and a perfectly fitted blazer. The jacket was the clincher: It was her shortcut to looking as if she had her life together, even if she didn't feel that way. When she put one on, she transformed into a woman who made decisions and commanded authority.
What constitutes a "perfect" blazer is arbitrary and ever-changing, but might we suggest trying a double-breasted version? The classic style has made a comeback — this time in an array of colors and patterns, depending on how conservative or flashy you want to look. The new jacket is meant to be fitted in the shoulders and roomier in the body — all the better for layering. Let it be your secret weapon the next time you need to dress like a woman who gets things done. Scroll ahead to shop our favorites.
If you want an affordable blazer that will look just as good two years from now, this navy-and-gold one is on sale.
Original Price: $255
This bright-peach jacket is ideal for a creative environment — it's eye-catching and shows off your love of color.
Peach too bright? Kelly green is another slick color to add to your closet.
Photo: Tsui, Diana
Should you want a jacket that's trendy but not brightly colored, go for a black-and-white plaid style.
For the woman who loves Céline, but not the budget to fund it.
Your office is buttoned-up, but you can't stomach another gray jacket? Try this red-and-blue plaid option that can fly, barring the most conservative environments.
Original Price: $198
On warm days, a silk blazer is more comfortable against the skin than any wool style.
Original Price: $317
If you can spend a bit more, you can't go wrong with a black blazer on sale. This one is nicely fitted in the waist, and flares out at the hips for a flattering silhouette.
Original Price: $495
If you buy something through our links, New York may earn an affiliate commission.