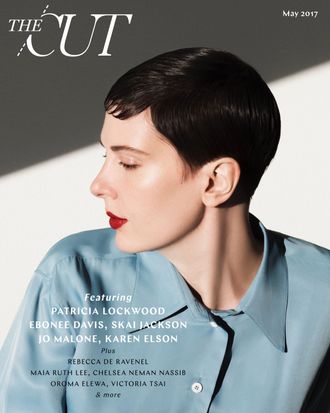 Today is May 1 — which coincidentally also happens to be the first Monday in May. As those of you who follow documentaries about Vogue will know, this is the day that a few very fashionable women have spent months anticipating in a state of nervous agitation and semi-starvation. This year the Met Gala will honor the singular genius of Rei Kawakubo, whose Comme des Garçons label has defined the avante-garde in fashion for decades. The Cut, for our part, will be covering the red carpet live, and doing our best to make sense of the outfits worn by the designers and celebrities in attendance. And even though we will not be at the gala itself, we've invited the world's preeminent Anna Wintour impersonator to party with us at the office tonight. Between that and a bottle of Tito's I happen to know is stashed in the beauty closet, we're definitely going to have more fun than Gwyneth Paltrow ever did at the event itself.
May promises to be a welcome change from last month, which we spent dwelling on popularity and ugly pants. In fact, April got quite dark at times, till the Fyre Festival came along. After spending the whole month obsessing about status symbols and the glamour of exclusivity, we found it oddly cathartic to witness a bunch of people stranded on an island in pursuit of those things.
It helps that we've got a great lineup of stories to look forward to: Poet Patricia Lockwood, our cover-woman (whose diet is one of my favorite things this organization has ever published) will be sharing part of her laugh-out-loud memoir, Priestdaddy. We're also adding a few more weekly columns to our roster. How I Got This Baby, the brainchild of our parenting writer Jen Gann, looks at how no two paths to parenthood look the same and invites parents to share their stories. Artist Ali Fitzgerald returns with the Golden Door, a heartwarming illustrated monthly comic devoted to the stories of immigrants. Meanwhile, Lori Gottlieb's What Your Therapist Really Thinks offers a dose of clinically trained real talk — if you've ever wished your therapist would stop gently guiding you toward personal insights and start actually telling you what to do already, this is the column for you. And fashion director Rebecca Ramsey collaborates with photographer Bobby Doherty on Finer Things, a photo series with a playful approach to elusive, glamorous fashion items we're fixated on right now.
What else? Fashion editor Lindsay Peoples styles the outspoken model Ebonee Davis in a shoot inspired by iconic images of black women in fashion. Fashion news editor Véronique Hyland goes record-shopping with Karen Elson, and senior writer Allie Jones hangs out with the Wildfire crew in Los Angeles, only to find out that "wellness guru" has replaced "waiter" as the new side gig for actors. Kim Brooks tries to understand MILFs, Rebecca Harrington goes deeper into Sephora than you ever dreamed possible, and author Mary Mann explains what boredom taught her about marriage. And I'm thrilled to say that Allison Davis rejoined the Cut after a year away. She'll be writing about all the things she loves: Oprah, bad sex on TV, and "culture" in the broadest sense of the term. And that's just a small sampling of what's in store.
Now we can just devote the rest of spring to getting our bodies caftan-ready for summer.
————————————————
On Patricia Lockwood: Céline Viscose Twill Shirt, $820 at 870 Madison Ave.; 212-535-3703.
Photograph by Thomas Slack; styling by Rebecca Ramsey; makeup by Laura Stiassni using Sisley at the Wall Group; hair by Takayoshi Tsukisawa; photography assistance by Kyle Kesse, Miguel Miranda, and Alex Rapine; fashion assistance by Indya Brown.