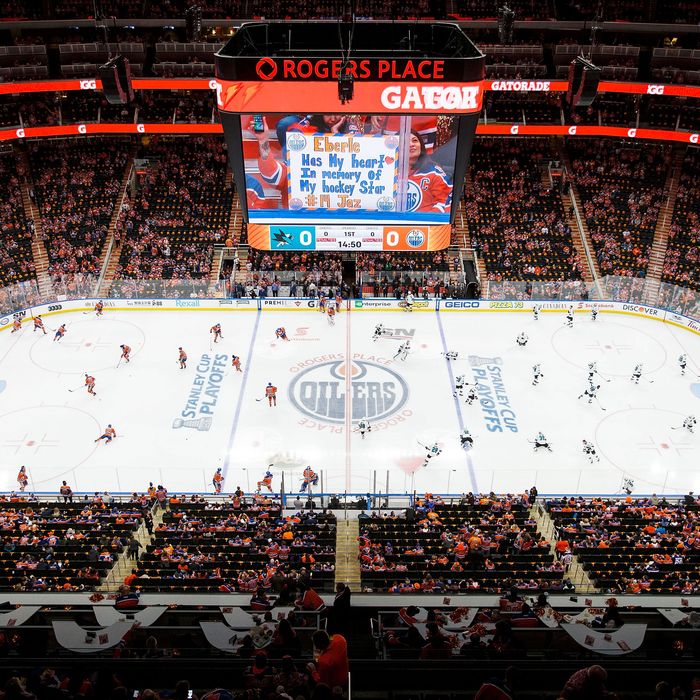 Rogers Place.
Photo: Codie McLachlan/Getty Images
Women who attended Sunday night's Edmonton Oilers NHL playoff game at Rogers Place in Alberta were in for a rude surprise: Many of the women's restrooms were converted to men's bathrooms, all so that men wouldn't have to wait in long lines. As a result, women ended up having to wait in lines of up to 25 minutes every time they needed to go.
As Global News reports, male Oilers fans had complained earlier in the NHL playoff series about the "lengthy" lines during games at Rogers Place. At first, Oilers Entertainment Group attempted to alleviate wait times by appointing a staff member to help point fans to empty stalls and using sticks to help fans line up. But during Sunday night's playoff game against the Anaheim Ducks, Rogers Place went a step further: They converted several women's restrooms into men's restrooms.
Of course, as it turns out, women also attended Sunday's game — and they were subjected to 60-person-long restroom lines, thanks to the reduced number of women's bathrooms. One fan told Global News, "There was no lineup at the men's washroom that was previously the women's washroom, so that made it even more frustrating."
Susan Darrington, general manager of Rogers Place, told Global News that more men than women had been attending the playoff games. "So we've adjusted our plans and we flipped a restroom on our main and on our upper concourse to be more available for men," she said. But now, given the backlash from women, the staff is apparently seeking to actually count how many men are attending the games as compared to women.
"We clicker count, we've got people watching the lines and again, we're studying them and doing everything we can operationally to make it as comfortable as we can for our fans," she said.
In the meantime, female Oilers fans might want to cut back on liquids if they attend games at Rogers Place.