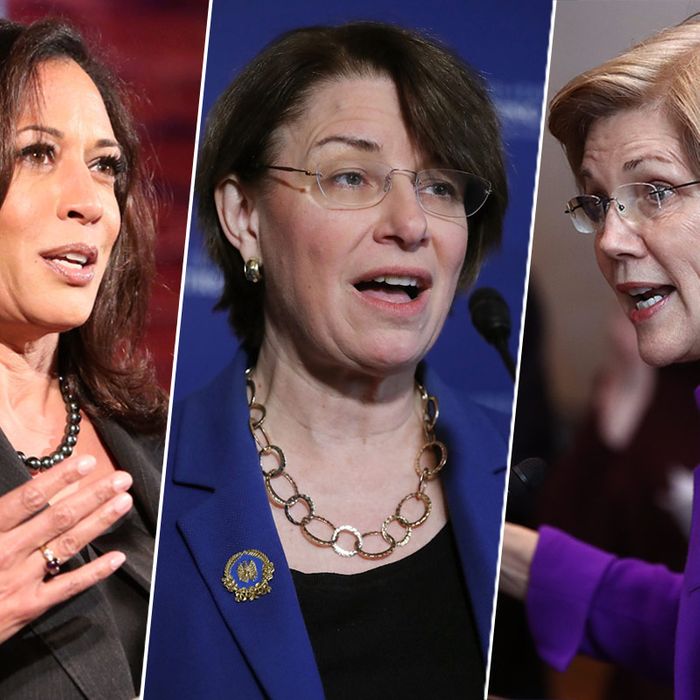 Kamala Harris, Amy Klobuchar, and Elizabeth Warren all spoke at the Center for American Progress's Ideas conference Tuesday.
Less than a month after Donald Trump was elected president, the lists came out: "Thirteen Women Who Should Think About Running for President in 2020"; "11 Democrats Who Could Defeat President Trump in 2020"; "Which Democrats Will Run for President in 2020?." And although each list was compiled by a different publication, they all had certain names in common: Elizabeth Warren, Amy Klobuchar, Kirsten Gillibrand, Kamala Harris.
In the weeks after Donald Trump was sworn in as president, many of those same women spoke out against him. And on Tuesday, while Gillibrand focused on her family-leave bill, Warren, Klobuchar, and Harris tested loosely bipartisan messages in front of a friendly crowd at the Center for American Progress's Ideas conference in Washington, D.C. — a gathering that's been seen as a testing ground for 2020 hopefuls, despite CAP President Neera Tanden's insistence that it's "not a 2020 event."
Minnesota Senator Amy Klobuchar was the first of the four to address the large audience in the ballroom of the Four Seasons Hotel. And as previews of the conference had suggested, she came prepared with a substantive economic proposal, which she tested on Jennifer Palmieri, Hillary Clinton's former director of communications. "Having an economic agenda that includes everyone is going to be very important in the coming elections," she said, before discussing her "package of infrastructure" that would address things like Wi-Fi access in rural areas.
Like others who would speak that day, she also angled to address parts of the country Democrats have been accused of overlooking in 2016. "I think when, as Democrats, we go into areas and say, 'Everyone needs a four-year degree,' that's just not true," she said. "As a Democratic party, I think it's important we stand up for the simple idea that not all paths are the same. And I think that's one way to reach [across] all kinds of divides."
New York Senator Kirsten Gillibrand also drilled down on a pet issue: her Family and Medical Insurance Leave (FAMILY) Act, which guarantees workers up to 12 weeks paid leave at at least two-thirds pay, and which she recently reintroduced under Trump. Gillibrand has said on the record that she's not about to make a bid for the presidency, and perhaps as a consequence, her speech devoted just a few sentences to Trump.
"Last night's reporting has created a whole new level of abnormal," she began, referring to the Washington Post story alleging Trump shared highly classified information with the Russian ambassador and foreign minister. "But we also cannot let Donald Trump distract us from our work, and [from] fighting for everyday working families."
California Senator Kamala Harris spoke just before Elizabeth Warren, and like Klobuchar she stuck to her strengths, using her time on stage to criticize Attorney General Jeff Sessions's recent order to double down on drug crimes. She called the order "outdated and out-of-touch" before mimicking Klobuchar and expanding her message to include Democrats and Republicans alike: "Instead of going after drug cartels and violent crime, he's calling for a new focus on neighborhood, street-level drug deals," she said. "I believe we have to stop this. And when I say 'We,' guys, I don't mean just progressives, I mean everyone. Because drug addiction is color-blind; it doesn't see red or blue."
"I believe there's an opportunity here," she added, referring to stats suggesting that Trump voters and progressives have similar views on criminal-justice reform. "There's a real opportunity to reach parts of America that feel overlooked and don't realize how much they have in common with people who look very different."
Massachusetts Senator Elizabeth Warren spoke right after Harris, and her message was familiar: get the money out of politics, and hold those in power accountable. She proposed several ways to do this (pass her Conflicts of Interest Act, require presidents to release their tax returns, upgrade the Office of Government Ethics), and she peppered her speech with one-liners like, "Goldman Sachs now has enough people in the White House to open a branch office," and, "Do you get the feeling that, if Bernie Madoff weren't in prison, he'd been charge of the SEC right now?"
She ended her speech with an energetic spiel against Trump in an oratory style that could be called presidential. "It is time to resist, it is time to fight back, and it is time to be clear about what we believe in," she said, adding, "I have news for Donald Trump: No matter how much he might admire Vladimir Putin's Russia, here in America, we will embrace and defend democracy, and we do that by demanding that everyone in our government is held accountable, even the president of the United States." She was met with a standing ovation, and her wave of acknowledgement wouldn't have looked out of place on the campaign trail.
But when she followed up her speech with a question-and-answer session, she too mentioned reaching a common understanding with Republicans — and would-be swing voters. An audience member asked about charging Trump with obstruction of justice, and Warren said that an investigation should come first. "We start by making sure we have documented the facts — and I want to be clear about this — in a nonpartisan way," she answered. "This is not a point of Democrats versus Republicans. Every American should care about the integrity of our democratic process. And that's how I think we have to do this."
Of course, there were also speakers like House Speaker Nancy Pelosi, who strayed from bipartisan language and called the current state of affairs "an all-out war on [Democratic] values" (although even she acknowledged that Democrats should "make sure people know we're not just having a Washington conversation that doesn't connect to their lives" when it comes to Russia), and Representative Maxine Waters, who said the word "impeachment" about 16 times during her almost-20-minute speech. "In the final analysis, [you're going to say] Maxine Waters was right," she told the crowd. "You've got to impeach him."