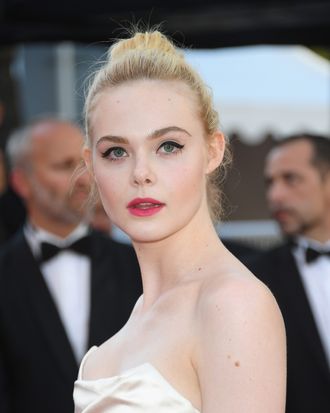 Elle Fanning at the Cannes Film Festival.
Photo: 2017 Venturelli/Getty Images
Elle Fanning started working when she was 2 years old. Since then, she hasn't been slacking, starring steadily in movies and campaigns for big brands such as Miu Miu, Tiffany's, and, now, as the newest face for L'Oreal Paris. In Cannes for her Sofia Coppola film The Beguiled, the newly minted beauty spokesperson talked to the Cut about the beauty advice Kim Basinger gave her at age 4, the tweezer direction Coppola gave the cast, and bath time.
So your first beauty campaign ever.
It's crazy. I'm beyond excited about it. The L'Oreal Paris brand is really special because it really feels like a family of all these strong, incredible ladies. I'm just happy to get to call myself one of them. Being "worth it" means a lot, and it's important for women and young girls to know you have to love yourself before you can love anybody else. Acceptance of your differences is what makes you beautiful. It's important to learn that at a young age, like when you're in high school and trying to fit in and be a part of the crowd. It's nice to gain confidence and feel comfortable to be an individual.
How do you tie beauty within to beauty products themselves, which go on the outside?
For me, makeup and hair are a part of my life because, in movies, you have to go into the trailer to get into your character. It's essential.
Of course, you don't want to be completely consumed by the outside. It's important that you don't dress up as anyone else or prove anything to anyone else. Makeup and hair are more of a creative outlet to experiment and try out crazy colors. It's self expression — it's an art.
How do you feel about no makeup?
I am someone who doesn't wear tons and tons of makeup, but sometimes it's fun to experiment with it for roles and stuff. It's important to take care of your skin. I'm so pale, I have to slather on sunscreen all the time. My off-duty makeup is not really wearing as much foundation and things like that. I like the no-makeup thing and letting yourself shine. It's more about moisturizing and learning about your skin. It's important to take care of yourself. It's a health thing.
What is your nighttime beauty routine like?
I definitely take my makeup off. I use a cleanser and then moisturize — tons of moisturizer. I'm someone who takes baths at the end of the day. Sometimes I use Epsom salts, but it's more the relaxation of being able to have quiet time and reevaluate the whole day. I like it really hot. If I'm feeling really sore, I throw some salts in.
I just got Netflix. I don't watch tons of things, but I love these long plane rides because you can catch up on movies and TV shows. In the bath usually, I'm quiet, or I'll sit there and scroll through Instagram.
Your film The Neon Demon shows the dark side of the pursuit of beauty. What did that film teach you about beauty?
That film shows the horror-like aspect of beauty and the downfall of it. The time we are living in, with so much social media — what girls are looking at is not real. It's airbrushed; there are filters. Girls think that is perfection. But we don't know what perfect is. That doesn't exist. This Instagram world has created this idea of "perfection" being what the world thinks is beautiful. That's a scary thing. The more and more we keep going like that, something like what happened in our film could happen.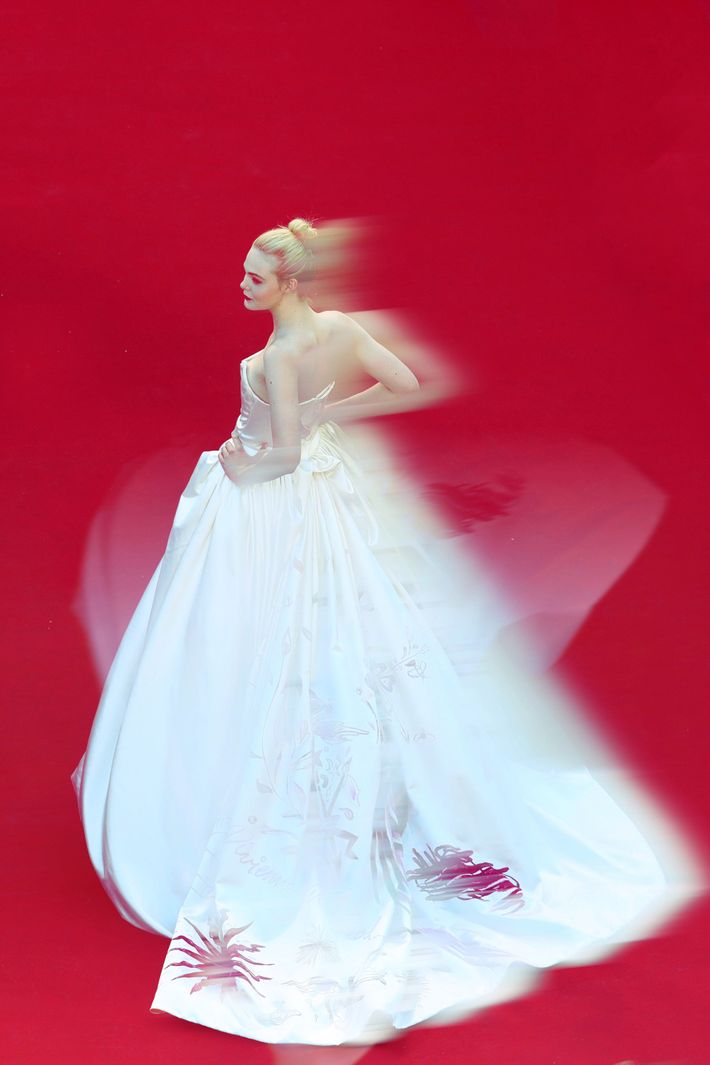 What do you think you've learned about aging and beauty, being an actress?
I started acting when I was 2. We've grown up in film and met a lot of actresses, and got a lot of great beauty tips from a lot of them. I met Kim Basinger when I did a movie with her when I was 4. She said, "Always protect your skin and have an umbrella." Patricia Clarkson says the same thing: "Put on a giant hat to keep your skin looking good."
I'm also surrounded by all these great women in my family, like my mom, my sister, my aunt. My grandmother lives with us. Aging gracefully is such a beautiful thing. I try not to get caught up in the materialistic stuff.
Have you gotten any strange beauty tips from actresses?
People say "Never pluck your eyebrows" to me all the time. So I've never let anyone do anything to me. One time someone did pluck and I had an allergic reaction to it, so I'm traumatized by that experience. For The Beguiled, the film in competition here [at Cannes], it's set during the Civil War. Sofia Coppola told all the girls, "Don't do anything to your eyebrows." She wanted them to really grow in since, during that time, they weren't so groomed.
What was the experience of filming The Beguiled like?
It was like hanging out with all my girlfriends. I met Sofia when I did Somewhere with her when I was 11. When she came to me with this script, it could have had anything — I just wanted to work with her again. The story is such a timely one and so compelling and cool, and set in a dream in the sweaty South. And we're objectifying Colin [Farrell]! It's perfect. It's set back then, but it's a supermodern story.
Was it difficult not to crack up when Farrell calls you all "vengeful bitches"?
I wasn't on set that day — he did that separate from us — but when I saw that, I thought it was hilarious. But on that set, we were laughing constantly. Kirsten [Dunst] is like my sister. We're friends. Looking at her in the face while filming, we would lose it. We had good memories in New Orleans.